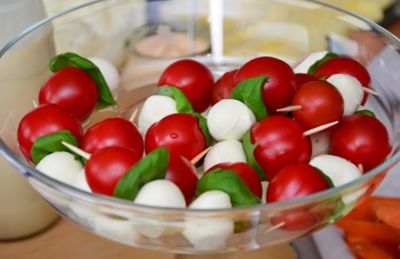 How to Make Mozzarella Cheese
Benjamin Kilbride, Editorial Assistant at The Old Farmer's Almanac
Why Make Mozzarella?
Mozzarella is one of the simplest cheeses to make at home. The process requires very little time and only a few ingredients and is fun for kids and adults of all ages.
Basic Mozzarella Recipe
You Will Need . . .
1-1/4 cups water, divided
1-1/2 teaspoons citric acid
1/4 teaspoon vegetable rennet
1 gallon milk (whole or 2%)
1 teaspoon salt
Note: You will also need a food-grade thermometer and a pair of heat-proof rubber gloves.
In a bowl, combine 1 cup of water and the citric acid. Stir until the acid has dissolved. Into a separate bowl, put the remaining 1/4 cup of water and the vegetable rennet. Stir until the rennet has dissolved.
Pour the citric acid solution and milk into a pot. Over medium-high heat, warm the milk to 90°F, stirring occasionally. Remove the pot from the heat, add the rennet solution, and stir gently for 30 seconds. Cover the pot and let the milk sit for 5 minutes. Remove the cover and check the contents. If the milk has set correctly, the contents should have the consistency of Jell-O. If it still appears more liquid than solid, cover again for another 5 minutes. Once the milk has set, use a long knife to cut it into a grid of 1x1-inch squares on top, while cutting all the way to the bottom of the pot.
Place the pot back on the stove over medium heat to warm the curds to 105°F. Stir the curds slowly around the edge of the pot, trying not to break up the grid pattern. The curds will clump together and separate from the yellow liquid (whey). Remove the pot from heat once the desired temperature has been reached.
Ladle the curds into a glass or ceramic bowl and save the whey for later. Microwave the curds for 1 minute and drain off the excess whey. Put on rubber gloves and gently fold the curds over themselves a couple of times. Microwave the curds again for 30 seconds and check their internal temperature: If the temperature has reached 135°F, you're ready for the next step. If the temperature has not reached 135°, repeat the microwaving process until it has.
Sprinkle salt over the curds, squishing and folding them to combine. Stretch and fold the curds between both hands five to seven times. The curds will begin to tighten and become firm. Form the cheese into one large ball or multiple smaller balls. You've done it! Fresh cheese is at your fingertips.
Yield: Makes about 1 lb. of mozzarella.
How to Store Fresh Mozzarella
Use the mozzarella immediately or store it in the fridge: Mix a teaspoon of salt with a cup of whey and pour over the mozzarella in a sealable container. Cover and refrigerate for up to a week.
Great Mozzarella Recipes
Need help figuring out what to do with all of your fresh cheese? Here are a couple of ideas!
Marinated Mozzarella Balls
Simple yet sublime, this recipe will have your mouth watering before you even begin.
INGREDIENTS
1/2 cup olive oil
1 teaspoon garlic powder
1 teaspoon red chili flakes
1/2 teaspoon kosher or sea salt
1/2 teaspoon fresh ground black pepper
1 pound very fresh, cherry-size mozzarella balls
1 pound cherry tomatoes, halved
3 tablespoons chopped flat-leaf parsley, as garnish
INSTRUCTIONS
In a bowl, mix oil and seasonings with a whisk. Add mozzarella balls and tomatoes and toss gently. Marinate at least 20 minutes, up to overnight. Pour into a serving bowl, garnish with parsley, and serve with toothpicks.
Yield: Makes about 12 appetizer servings.
Tomato, Basil, and Mozzarella Sandwiches
A steadfast recipe that's easy to make and easier to eat: Tomato, basil, and mozzarella were made for each other.
INGREDIENTS
1 small loaf French bread (or foccacia or other bread)
6 tablespoons basil pesto (or substitute olive oil)
6 large ripe tomatoes, sliced
salt and freshly ground black pepper, to taste
1 pound fresh mozzarella, thickly sliced
fresh basil leaves (about 24)
INSTRUCTIONS
Slice the French bread on the diagonal, making at least a dozen thin slices. Coat one side of each slice of bread with pesto or olive oil. Layer on the tomato slices, season with salt and pepper, add the mozzarella slices and fresh basil leaves, and top with a second piece of bread.
Yield: Makes 6 or more sandwiches.