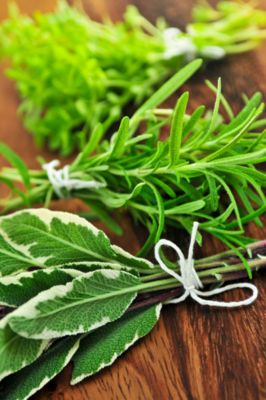 Herbs for the Holidays
Use herbs in your savory dishes, baked goods, and homemade gifts.
Contributed by The Old Farmer's Almanac Staff
Herbs can enliven meals, perfume rooms, and contribute to our well-being, so it makes sense to incorporate them into our holiday celebrations. Consider making a peppery herb rub for your roast, adding sage to your pineapple cake, or infusing the air with the relaxing scent of lavender. Be creative . . . find new uses for old garden favorites.
Perhaps this year you will want to tempt taste buds with a Marjoram Mushroom appetizer—a surefire people pleaser. If so, follow this simple recipe:
Marjoram Mushrooms
Ingredients
12 large white button mushrooms
3 tablespoons olive oil
1 clove garlic, minced
⅓ cup chopped fresh parsley
2 tablespoons chopped fresh marjoram
⅓ cup dry bread crumbs
¼ cup freshly grated Parmesan cheese
salt and freshly ground pepper, to taste
½ cup dry white wine
Instructions
Preheat oven to 350°F. Lightly butter a 17x11-inch baking dish. Wipe mushrooms with a damp cloth. Separate mushroom caps from stems and set caps aside. Mince the stems. In a saucepan over medium heat, warm olive oil, then sauté the stems with garlic for approximately 3 minutes. Remove saucepan from heat and stir in parsley, marjoram, bread crumbs, and cheese. Season with salt and pepper. Mound a spoonful of stuffing into each mushroom cap. Arrange mushrooms in baking dish, pour in wine, and bake for 10 minutes. Turn oven to broil and place pan 2 inches from heat for 1 to 2 minutes, or until mushroom tops are golden brown. Makes 4 servings.
There's nothing like warm homemade bread to round out a holiday feast. Add herbs to the dough for a loaf to remember.
Ingredients
2 ½ cups all-purpose flour
1 cup quick-cooking oats
¼ cup sugar
6 tablespoons freshly grated Parmesan cheese, divided
3 teaspoons baking powder
½ teaspoon salt
2 large eggs
1 cup milk
¼ cup (½ stick) butter, melted
3 tomatoes, peeled, seeded, and chopped
1 tablespoon fresh basil
1 tablespoon fresh oregano
Instructions
Preheat oven to 375°F. Generously grease a 9x5-inch loaf pan. In a bowl, combine flour, oats, sugar, 4 tablespoons Parmesan, baking powder, and salt. Whisk to blend thoroughly. In another bowl, beat together eggs, milk, and butter. Stir in tomatoes, basil, and oregano. Combine with dry ingredients. Pour into prepared pan and sprinkle with remaining 2 tablespoons Parmesan. Bake for 50 minutes to 1 hour or until a toothpick inserted into the center comes out clean. Cool on a rack for 10 minutes, then turn out. Serve warm. Makes 1 loaf.
Consider using herbs in crafty ways, too—a homemade (and homegrown) gift is always special. Rosemary-Infused Olive Oil, for instance, is a welcome addition to any cook's kitchen.
To make: Warm 1 cup olive oil with five or six rosemary sprigs in a saucepan over medium heat for 5 minutes. Remove from heat and cool to room temperature. Transfer sprigs to a bottle or cruet, then add oil and seal. Refrigerate up to 1 month.
There really is no shortage of ways in which to use herbs for the holidays!
Did You Know?
Once upon a time . . .
Romans paid taxes with anise.
Celtic warriors ate borage for courage.
The Greeks used caraway for upset stomachs.
Bunches of chives hung in the home drove away diseases and evil.
Dill kept witches away.
Fennel was used in love potions and as an appetite suppressant.
Aristotle noted garlic's use as a guard against the fear of water.
The Greeks believed marjoram could revive the spirits of anyone who inhaled it.
Mint was believed to cure hiccups and counteract sea-serpent stings.
Oregano was used for "sour humours" that plagued old farmers.
Parsley was believed to repel head lice and attract rabbits.
Native Americans used sage as a toothbrush.
Summer savory was thought to be a cure for deafness.
Tarragon was put into shoes to provide strength for long walking trips.