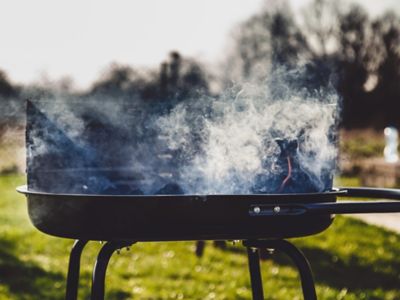 Host a Harvest Cookout
Benjamin Kilbride, Editorial Assistant at The Old Farmer's Almanac
Celebrate the harvest! Pick—or pick up, at a farmers' market—tasty vegetables for an end-of-summer cookout.
Three Harvest Recipes
Alter these recipes as you wish, depending on what you harvest from the garden. Write down the changes you make so that you can re-create any accidental masterpieces!
Tomatoes Provençale
Add a festive splash of red and green to the summer table with this simple tomato casserole dish.
INGREDIENTS
cooking-oil spray
4 cloves garlic, minced
1/2 cup chopped fresh basil
2 teaspoons fresh thyme
1/2 cup chopped fresh Italian parsley
6 medium tomatoes, cored and cut crosswise into 1/4-inch-thick slices
sea salt
freshly ground black pepper
1/2 cup crumbled Gorgonzola or blue cheese
1/4 cup seasoned bread crumbs
INSTRUCTIONS
Preheat oven to 350°F. Mist a 12- to 14-inch baking dish with cooking spray and set aside.
In a bowl, stir together garlic, basil, thyme, and parsley. Arrange half the tomato slices in overlapping layers in prepared baking dish. Season tomatoes with salt and pepper, to taste.
Sprinkle with a layer of half the garlic-and-herb mixture and half the crumbled cheese.
Repeat layers of tomato slices, then garlic-and-herb and cheese. Sprinkle bread crumbs over top. Bake 30 minutes. Remove from oven and let rest at room temperature, tented with aluminum foil, for a few minutes before serving.
Yield: Makes about 12 servings.
Eggplant Hoagies
As a delicious dish for lunch or dinner, cook the eggplants on the grill for a distinctly smoky summer flavor.
INGREDIENTS
1 pound eggplant, peeled and sliced into 1/2-inch rounds
kosher salt
1/4 cup tahini paste
1 tablespoon fresh lemon juice
1-1/2 cups peeled, seeded, and finely diced cucumbers
1-1/2 cups seeded, chopped plum tomatoes
1/4 cup chopped fresh parsley
1/2 small red onion, chopped
salt and freshly ground black pepper, to taste
peanut oil for frying
4 small hoagie or French rolls
1 cup hummus
4 hard-boiled eggs, sliced
INSTRUCTIONS
Sprinkle eggplant with kosher salt on both sides, place on a baking sheet or wire rack, and set aside for 30 minutes. Brush off salt and press eggplant slices firmly between paper towels to remove excess moisture.
For tahini sauce, whisk together tahini paste with fresh lemon juice and 3 tablespoons water. Add more water and lemon to achieve desired consistency. Set aside.
In a bowl, combine cucumbers, tomatoes, parsley, onions, and salt and pepper. Set aside.
Heat 1 inch of oil to 375°F, or very hot but not smoking. Working in batches, fry eggplant slices for 5 to 6 minutes on one side and 2 to 3 minutes on the other, or until brown and tender. Using a slotted spoon, transfer eggplant to paper towels to drain and cool.
Split hoagie rolls almost in half lengthwise. Spread 2 tablespoons hummus on each side. Divide sliced eggs, eggplant, and cucumber mixture equally among the 4 rolls. Drizzle each sandwich with 2 tablespoons of the tahini sauce.
Yield: Makes 4 sandwiches.
Roasted Vegetable Pizza
Put your hard-earned harvest to good use with this crisp-crust pizza. This recipe makes six 8-inch pizzas small enough to be cooked one at a time in a small earth oven or all at once in a conventional oven.
INGREDIENTS
1 medium red onion, cut into thin wedges
2 medium sweet onions, cut into thin wedges
1 red or green bell pepper, cut into thin strips
4 tablespoons olive oil, divided
1-1/2 teaspoons salt, divided
1/2 teaspoon freshly ground black pepper
1 tablespoon chopped fresh rosemary
2-1/4 ounces active dry yeast
1 teaspoon sugar
1-1/4 cups warm water (100° to 110°F), divided
3 cups all-purpose flour
1/3 cup grated Parmesan cheese
6 ounces goat cheese
2 cups (8 ounces) shredded mozzarella cheese
fresh rosemary sprigs for garnish.
INSTRUCTIONS
Preheat oven to 450°F. Toss together onions, peppers, and 2 tablespoons olive oil. Spread on a lightly greased 15x10-inch baking pan. Sprinkle with 1/2 teaspoon salt, pepper, and chopped rosemary. Bake for 20 to 25 minutes, or until vegetables are tender, stirring once. Turn off oven and set aside.
For the crusts, combine yeast, sugar, and 3/4 cup warm water in a 2-cup liquid measuring cup and let stand 5 minutes. Combine the yeast mixture with flour, 1 teaspoon salt, Parmesan cheese, and remaining warm water in a mixing bowl; stir well. Turn dough out onto a lightly floured surface; knead 5 minutes. Place the dough in a separate well-greased bowl, turning once so that entire ball is greased. Cover and let rise in a warm place (70° to 85°F) for 30 minutes, or until it is doubled in bulk.
Preheat oven to 425°F. Punch the dough down and knead it lightly four or five times. Divide dough into six equal portions and roll each portion into thin 8-inch circles. Brush each circle of dough with 2 tablespoons olive oil and cook on one side in a nonstick skillet over medium heat for about 2 minutes, or until lightly browned.
Spread goat cheese over pizza crusts. Top evenly with roasted vegetables and shredded cheese. Bake for 10 to 12 minutes, or until pizza crust is lightly browned and cheese is melted. Garnish with rosemary, if desired.
Yield: Makes six 8-inch pizzas.