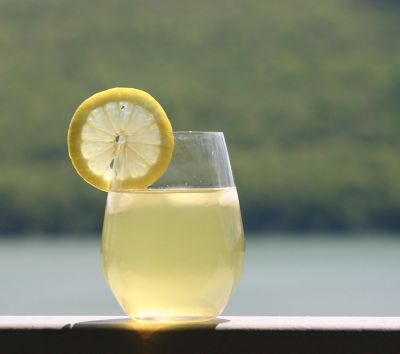 How to Handle the Heat
Benjamin Kilbride, Editorial Assistant at The Old Farmer's Almanac
Beat the end of the summer heat with these helpful tips and fresh recipes.
Hang Out in a Hammock
Hammocks are a great way to stay cool on hot days—you lie suspended over the ground, getting cooled with airflow from both above and below. Set up a hammock in a cradle stand on the lawn or hang one between two trees and get the added benefit of shade.
Stay in the Shade
It's always hotter in the sun, so stay in the shade! If that's not an easy thing to do, make some shade. Set up a sun umbrella in the yard or on the deck or, if you're with a crowd, go bigger. Attach the corners of a shade cloth or tarp to trees, buildings, or fence posts. Spread some blankets on the ground or open some lounge chairs underneath to cool down!
Wade in the Water
Bodies of water take longer to heat up than the air and will remain cool all summer long. Jump in a pool, pond, or lake to soak up the cold water. If you live close to the ocean, that's all the better.
Cold Concoctions for the Hot-Headed
Cool off from the inside out with a couple of tongue-teasing recipes.
Old-Fashioned Lemonade Stand Lemonade
Enjoy this summer staple—it's fresh, crisp, cold, and delicious—a classic drink for all ages.
INGREDIENTS
1-1/2 cups sugar
1/2 cup boiling water
1 tablespoon grated lemon rind
1-1/2 cups freshly squeezed lemon juice
5 cups cold water
lemon and lime slices for garnish
fresh mint sprigs
INSTRUCTIONS
Combine sugar and boiling water in a pot, stirring until sugar dissolves. Add lemon rind, lemon juice, and cold water; mix well. Chill. Serve over crushed ice garnished with lemon and lime slices and fresh mint sprigs.
Yield: Makes about 7 cups.
One-Week Ginger Beer
Plan ahead to brew a batch of refreshing and zesty ginger beer. Add some seltzer for a bit of pizzazz in your drink.
INGREDIENTS
3 quarts water
1 pound ginger, washed, unpeeled, and grated
1/2 cup lime juice (from 4 to 5 small limes)
1 to 1-1/2 cups light-brown sugar, loosely packed
INSTRUCTIONS
In a saucepan, bring water to a boil, then remove from heat. Add ginger and steep overnight. Strain mixture through a fine-mesh sieve, pressing ginger to release flavor, then pour into a 1-gallon bottle through a funnel. Add lime juice and 1 cup sugar; stir vigorously. Adjust to your taste with remaining sugar. Cover and store at room temperature; let mixture steep (and dregs settle) for 24 hours. Decant to a second bottle with a tight-fitting screw top and refrigerate for 3 to 5 days. Serve and enjoy!
Yield: Makes about 12 cups.