Fun and Easy Recipes for Kids
Share the joys of cooking with your wee ones.
By The Old Farmer's Almanac staff
Get your kids in the kitchen to make recipes they will enjoy and learn from. Introducing youngsters to dishes they can help make is a great way to get them thinking about the importance of good nutrition.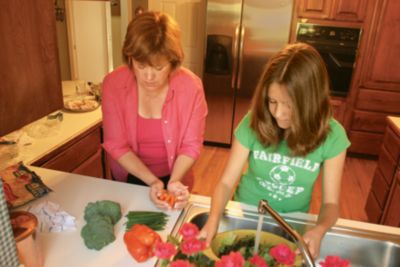 Make meals and memories with these four recipes:
French Bread Pizza
This little people-pleaser turns a staple food into a creative experience.
Ingredients
2 mini baguettes
1 jar (15.5 oz.) pizza sauce
1 ½ cups cheese
½ cup (each) chopped pepperoni, sausage, peppers, onions, mushrooms, spinach, and any other toppings of your choice
Instructions
Preheat the oven to 350°F. Cut the bread in half lengthwise. Layer the bread with sauce, cheese, and other toppings. Place on a pan to bake at 350°F for 15 minutes. Let cool. Makes 4–6 servings.
Did You Know?
Pizza that is made with fresh ingredients can be a good source of nutrients. It provides high percentages of the total daily intake of protein, fat, saturated fat, fiber, and calcium.
The Guinness World Record for the largest pizza in the world goes to a pie that was created in South Africa in 1990. It weighed 26,883 pounds, used almost 10,000 pounds of flour, and measured 122.6 feet!
Lady Bugs on a Log
Here's a way to sneak one of the world's healthiest foods (celery!) into your child's diet.
Ingredients
6 stalks celery, cut into 3-inch pieces
½ cup raspberry flavored cream cheese
¼ cup dried cranberries
Instructions
Fill each celery stick with flavored cream cheese and top with 3 or 4 dried cranberries. Makes 4 servings.
Did You Know?
Celery is high in antioxidants and low in calories. It helps fight infections, relieves heartburn, and aids digestion and weight loss.
The ancient Romans believed that celery had healing powers, especially when it came to headaches.
Easy Guacamole Dip
Mix, mash, and mush!
Ingredients
1 large avocado
1 clove garlic, minced
1 small bunch fresh cilantro, chopped
1 small purple onion, chopped (optional)
1 tomato, diced
1 lime
salt and freshly ground pepper, to taste
Instructions
Parents: Slice, dice, and chop
Kids: Mash, stir, and squeeze
Slice avocado around seed, separate, and scoop out flesh into bowl. Mash avocado well. (Kids love to do this step!) Add garlic, cilantro, onion, tomato and stir. Add a squeeze or two of lime and a dash of salt and pepper to taste. Stir well. Serve with tortilla chips. Tip: Place avocado seed in the middle of the dip to keep the avocado from browning. Makes 2 servings.
When the guacamole is gone, save the seed and try growing your own avocado tree. To learn more, visit http://www.almanac.com/content/grow-your-own-avocado-tree.
Did You Know?
Avocados are thought to improve our eyesight, digestion, and immune systems.
The avocado—also called alligator pear and butter fruit—is a fruit.
Roasted Sugar Snap Peas
This is most fun if the snap peas come from your own garden and the kids can help with the harvest!
Ingredients
1 pound sugar snap peas
1 teaspoon olive or vegetable oil
1 teaspoon soy sauce
½ teaspoon salt
¼ teaspoon freshly ground black pepper
Instructions
Place the sugar snap peas in a large bowl. Sprinkle with oil, soy sauce, salt and black pepper. Toss to coat. Place the peas on a metal baking sheet. Bake at 400°F for 8 to 10 minutes. Turn a couple times while roasting. Refrigerate leftovers within 2 hours. Makes 4 to 6 servings.
Did You Know?
A 100-calorie serving of sugar snap peas contains more protein than a whole egg or tablespoon of peanut butter.
Peas were among the first vegetables to be canned by the Campbell Soup Company; they began canning peas in 1870.