Chocolatier-farmer Grows Sweetest Business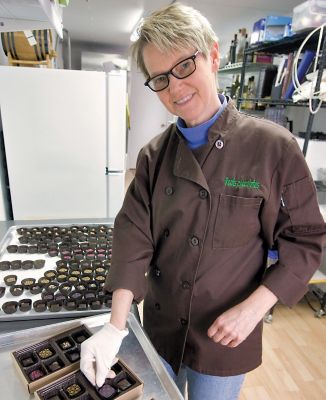 Lisa Nelson credits her mother with passing along a love for homemade goodies.
Featured in Out Here Magazine - Summer 2016
By Marti Attoun
Photography by Mary Langenfeld
On her childhood farm, Lisa Nelson grows tomatoes, squash, apples, strawberries, pears, and other familiar fruits and vegetables. But what she creates with that harvest is acres away from ordinary.
Lisa uses her fresh fruits, vegetables, and herbs to flavor her farm-crafted Roots Chocolates. The bite-sized beauties have fans close to her home near Wisconsin Dells, Wis., and from far away, thanks to her online store.
"I wake up thinking of chocolate and, 'Oh, I think these two flavors will go well together,'" Lisa says about her sweet obsession. "I dream in chocolate."
But being a small-batch chocolatier wasn't her first profession. For 15 years, Lisa worked in computer technology, until losing her management job in 2009 during the dot-com bust. In retrospect, it was the best thing that ever happened to her.
"I had to make a personal decision. Did I want to stay in corporate life, manage people, and deal with stress?" Lisa says. "I opted not to go back to that life."
Instead, she followed her heart — and sweet tooth — and studied at Ecole Chocolat, a chocolate-making school in Vancouver, Canada. In her quest to learn every aspect of chocolate making, she worked as an intern in a small Canadian chocolate shop and then a larger production shop in Kansas City.
Going Home
All the while, she felt the tug of the 1850s farm where four generations of her family had grown up, and an idea took root. Perhaps she could make a living as a small farmer specializing in hand-crafted chocolates flavored with fresh ingredients from her garden.
"I had my recipes in hand and thought, 'I'm going to make a go of it and if people like it, I'm on to something,'" says Lisa. She converted the farmhouse porch into a commercial kitchen and launched her chocolate business in 2010.
She chose the name, Roots Chocolates, because it describes her connection to the land and the farm. A 1930s black-and-white photo of her dad driving a farm wagon decorates the boxes.
"Roots" also refers to the fresh ingredients — from basil to paw paws — that she grows, picks, and processes to make the flavored creamy ganache centers in the dark chocolates.
She makes the chocolate from cacao beans grown in Costa Rica, Nicaragua, and Hawaii. Lisa has traveled to Nicaragua and Hawaii to meet and work alongside some of the farmers.
"I like to have a direct relationship with the farmers," she says. "People don't realize what goes into this product before it gets to our mouth. The beans have to be picked, fermented, dried, and bagged."
Back home in her farmhouse kitchen, she roasts, cracks, and grinds the beans into chocolate liquid, called chocolate liquor. A conch machine kneads the chocolate liquor between paddles and gives it a silky smooth texture. Lisa tempers the chocolate, which gives it a shiny finish.
Experimenting and blending different fresh ingredients to make the flavorful centers of the chocolate is Lisa's favorite part of the process. On her 28 acres, she grows a garden-variety of vegetables and fruits, plus many unusual ones, including aronia berries, elderberries, currants, figs, lingonberries, rhubarb, and quince. She sweetens her chocolates with honey from her own hives.
"I'll try virtually anything in chocolate," she says. "Nothing is safe with me. I've even roasted lemon grass and garlic for chocolate."
Her hand-decorated chocolate collection includes about 15 delectable flavors. The most popular is Ol' Fashion, named after the region's favorite drink. The dark chocolate is flavored with tart cherry juice, candied orange rinds, bitters, and alcohol.
Some Roots Chocolates are seasonal, such as Pumpkinator made each fall with pumpkin puree, honey, and gingersnaps, and summertime Tart Cherry packed with the flavor of cherries she picks at their peak ripeness.
Other tasty blends include raspberries and balsamic vinegar, mint and basil, lavender and honey, and heirloom tomatoes and honey.
"If I can't grow it, then I'll find a fellow farmer to source it," Lisa says. She sells her artisan chocolates at local farmers markets, retail stores, and at special sampling events.
Maria Kovach, an interior designer in Sun Prairie, Wis., got her first taste of Roots Chocolates at a chocolate and microbrewery event and was smitten.
"They're wonderful and totally works of art," Maria says. "Lisa's passion for chocolate shows in her product."
Family Tradition
Being able to return to her roots and make a living as a fourth-generation farmer fills Lisa with pride. When she tends her garden, she admires the big red dairy barn that her great-grandfather built in 1903. While picking pears and apples for her chocolates, she thinks about her grandfather and father enjoying fruit from the same trees.
But she especially credits her mother with passing along a love for homemade goodies.
"Mom was a homemaker and was always baking fresh bread and cakes and cookies," Lisa says. She remembers hopping off the school bus and following her nose to the kitchen.
"It's in my genes," Lisa says about her sweet career. "I'm the happiest I've ever been."