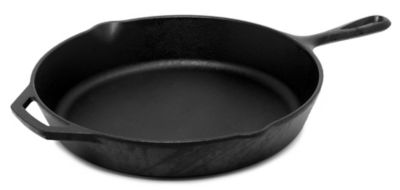 How to Restore and Clean Cast-Iron Pans
Benjamin Kilbride, Editorial Assistant at The Old Farmer's Almanac
Clean and properly maintain cast iron pans and they will last a lifetime.
What Are Cast-Iron Pans?
A cast-iron pan is a skillet made of extremely durable cast iron. While cast-iron cookware was first developed in China roughly 2,000 years ago, these pans gained popularity in the United States in the late 1800s. They were pushed aside in the 1960s and '70s when Teflon-coated pans were first introduced, but cast-iron skillets have been making a comeback because of their sturdiness and long life span.
Why Restore One?
If maintained properly, a cast-iron pan can last more than 100 years, making it a worthwhile investment not only for you, but also for your children and grandchildren. Even if it's covered in rust, a cast-iron skillet can be restored with little effort.
How to Restore a Rusty Cast-Iron Pan
Whether your cast-iron pan is an old family heirloom, was given to you as a gift, or was discovered at a yard sale, these steps will return it to its former glory!
You Will Need . . .
steel wool
dish soap
scouring pad or rough sponge
old kitchen towel
paper towels
vegetable oil
baking sheet
1. Scrub the rust from the cast-iron pan using steel wool. Scour gently but firmly, making sure to clean the inside, outside, and handle of the pan.
2. Wash the pan in warm, soapy water; scrub using a scouring pad; and rinse thoroughly.
3. Completely dry the pan using a dry old kitchen towel.
4. Pour a small amount (about a tablespoon) of vegetable oil into the pan and use a paper towel to rub it over the inside, outside, and handle.
5. Set your oven to 350°F and place the cast-iron pan upside down on the top rack. Place a baking sheet on the rack below to catch any oil that drips off of the pan. Leave the pan in the oven for 1 hour.
6. Turn off the oven after 1 hour. Once the pan is cool, it's ready to be used!
How to Regularly Clean a Cast-Iron Pan
To keep your cast-iron pan in good shape for day-to-day use, follow these instructions.
You Will Need . . .
rough sponge
old kitchen towel
vegetable oil
paper towels
1. Immediately clean the cast-iron pan after each use. Wash the pan in hot water; scrub using a rough sponge. Avoid using soap or steel wool because they may damage or chip the pan. Do not leave the pan in the sink to soak—it may rust.
2. Do steps #3 and #4 from above.
3. Store the pan where it will remain dry. A good option is to hang it on a wall from a well-secured hook.