Flour Power
By Carol Davis
Photography by Mark Mosrie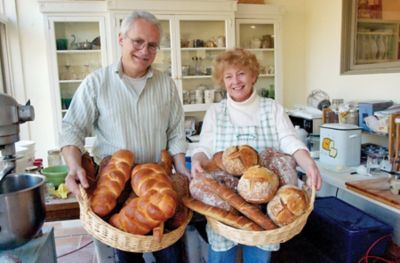 Two of the most dedicated supporters of western North Carolina's farmers have never raised a crop themselves. But Steve Bardwell and his wife, Gail Lunsford, have boosted local farmers by supporting and building businesses designed to do so — in particular, Wake Robin Farm Breads, with its European-style, brick-oven-baked artisan breads.
The couple operates the bakery just outside of Asheville, N.C., on a 70-acre farm that's been in Gail's family since the early 1800s.
After living in New York state for several years, she returned home with Steve and saw the effect that the dwindling tobacco market — once a backbone of the state's agriculture — was having on local farmers.
"We were quite inspired by the beginnings of the local agriculture (movement) in the Hudson Valley where we lived and had seen brochures from restaurants saying that they were using produce from local farms and their hope was to make more commercially viable local farms," Steve says.
"We said to each other, 'That is what Madison County needs — someone to find a way that farmers being forced out of tobacco have some alternative way of making a living without selling their farm to a developer.'"
Steve and Gail decided they were that, "someone," so in 1998, they partnered with several local people and the agricultural extension agent's office to start a farmers market in Madison County, just north of Asheville, and manage it for the first six years.
"It just made so much sense, especially for our area, which is a place where industrial farming is not going to happen," he says, referring to the mountainous region of western North Carolina. "If you don't have small family farms, then you won't have farms."
But the new farmers market was missing something.
"It was clear to Gail that you couldn't have a farmers market without fresh bread," he recalls. "Without that, it would not work."
After unsuccessfully trying to recruit local bakers, Gail decided to try it herself.
"She said, 'It can't be too hard to bake bread,' so she started and it took off," Steve says. "After a year, she said, 'I think we should do this right and build a brick oven and get seriously into this baking business,' so in 2000 we built a brick oven."
Steve researched the construction and built most of it himself, with a little help on the brickwork. The oven was conveniently built just outside the couple's commercial kitchen on their farm.
It gets fired up twice a week with fast-burning pine gathered from their farm to bake for markets, which are held on Wednesday afternoons and Saturday mornings.
"The bread for Tuesday is baked very early Tuesday, like at 4 or 6 in the morning," Steve says. "Bread for Saturday morning is baked overnight between Friday and Saturday."
That means that each Tuesday and Friday afternoons, the brick oven is heated up and the doughs are prepared to bake about 12 dozen loaves of fragrant artisan bread. The brick oven is heated to about 1,200 degrees and then closed and left for 8-10 hours to reduce the internal temperature to about 600-650 degrees. That's when the loaves are put in to bake.
After they're finished baking — coming out of the high-temperature oven with a crunchy crust and soft center — they're packed up, along with the same amount of sticky buns baked in the commercial kitchen, and taken to market.
Steve and Gail always have sold primarily at farmers markets only, with the exception of wholesale sales to local cafes.
"For 16 years, we've been selling more than 5,000 loaves a year, which means the oven has baked more than 80,000 loaves of bread," Steve says. "To a 'real' bakery, that's not much, but that's a lot of bread to us."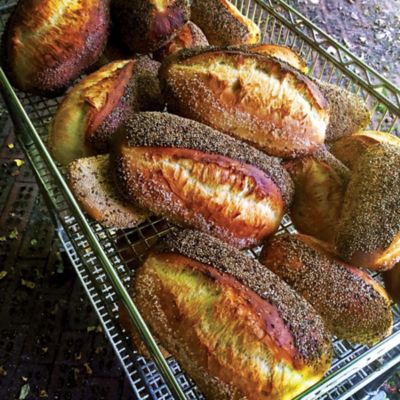 Simple But Tasty
Most of their breads are classic bread recipes that have been modified by Steve and Gail.
"We concentrate on European hearth-style breads — the kind of loaves that bake directly on the hearth," Steve says. "Most of them are sourdough breads in the sense that they don't use dry yeast. We have a sourdough starter from 15 years ago and every loaf is a descendant of that culture."
They rotate each week among 16 different kinds of breads, but their most popular is a French-style sourdough with assorted seeds, called "Bad Boy French Sourdough," Steve says. "We designed it to go with one really spectacular goat cheese."
His favorite, though, is among their simplest recipes with only three ingredients.
"It's got water, flour, and salt. That's all it takes to make it. It has sourdough starter, which is just flour and water," he says. "If you do it right, you end up with this spectacularly great bread, but if you don't it tastes like the flour salt that kindergarteners make."
Steve prefers the uncomplicated recipes. "I like the idea of the simplicity of ingredients and craftsmanship it takes to turn it into bread," he says.
"The really good breads have already been invented a long time ago," he adds. "The difficulty is making them correctly and getting the timings and temperatures and all the pieces of the puzzle together so you end up with wonderful bread, and this is what makes a good baker, in my opinion."
Now, their recipes are being used and tweaked by Beth Sollars, a longtime baker who apprenticed with the couple before joining and running a large part of Wake Robin Farm Breads.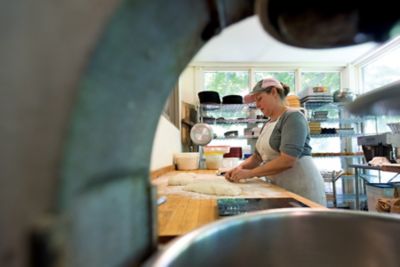 Local, Local, Local
Because Steve and Gail's original objective was to always support local agriculture, Wake Robin Farm Breads always has contained as many locally grown ingredients as possible.
Indeed, Beth gets all of her eggs, tomatoes, fruits, vegetables, cheeses, and other necessary ingredients from other market vendors, she says. She also picks herbs from Gail's garden and uses water from their well.
"There is always something you can get locally," Beth says.
But their bread's largest ingredient — flour — was not available locally, so they set out to change that.
"About five or six years ago, we and four other local bakeries decided that we ought to start a mill and mill our own flour from wheat grown in North Carolina," Steve says.
The Carolina Ground mill, operated by longtime brick-oven baker Jennifer Lapidus, contracts each fall with local farmers to plant a certain number of acres in the wheat varieties that the bakers want, Steve says. In late summer, it's harvested, delivered to the mill, and ground over the next 9-12 months.
The small mill can't provide all of the flour that the bakers need — Wake Robin alone uses 300-400 pounds of flour per week — but it provides another cash crop for local farmers.
"Setting up the mill was a big direction in increasing economic opportunities for local farmers," Steve says. "This was a crop that farmers were not (growing) before but (they are) now because they can sell it to our mill."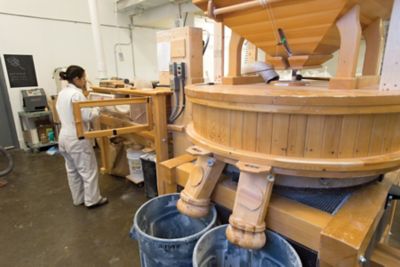 Culinary Culture
Steve and Gail's outreach into Asheville's agricultural and culinary culture includes founding the Asheville Artisan Bread Bakers' Festival 13 years ago.
"After we started the bakery, we thought it would be great to get local bakers together to collaborate (and) compete and to bring in outside big names to teach workshops," he says. "We've had a tremendous amount of success."
Indeed, Asheville's vibrant food culture has more artisan bakeries and artisan food places than many cities with a much larger population.
Much of that has been because of the region's "cultural peculiarities," Steve says.
"This area of the Blue Ridge Mountains had been isolated for a long time, so people were more self-sufficient and encouraging of eccentricity and for doing it the way you see fit to do it," he says. "That creates an environment where a small bakery doing high-quality bread gets very well received, along with the idea of making changes in the food system for small family farms gets the support that they deserve."
"People are aware of how that makes sense," he says, "and they go with it."