Hermann Living History Farm & Museum
New open-air museum shows visitors an 1850s farm
By Diana West
Photography by Whitney Curtis
Nearly 200 years ago, members of the German Settlement Society of Philadelphia felt they were becoming too Americanized and sought a remote place where they could keep their German customs.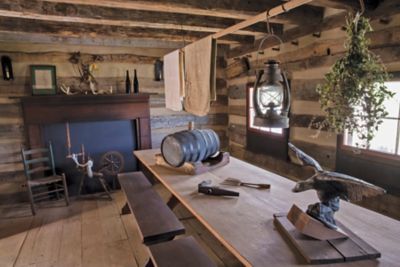 They found it in 1837 in Missouri among the rugged and rolling hills along the south side of the Missouri River. They founded a town and called it Hermann.
Today, Hermann is known as one of the best-preserved immigrant towns in America, where German festivals, architecture, music, food, and winemaking are still very much alive. And as of spring 2016, the new Hermann Living History Farm & Museum tells the story of this unique area.
The farm site and related properties preserve and present the agricultural, social, and economic history of German and French immigrants who settled in Hermann in the mid-1800s.
"We want to share with the world the contributions of Hermann on the wine industry and show the simple life of farming in the 1850s," says Darryl Coates, farm manager.
The living history farm was created by Jim Dierberg, a retired St. Louis banker and collector of antique tools and equipment.
"In the early '70s, my wife, Mary, and I attended a Maifest celebration in Hermann," he says. "We fell in love with the area."
Successive Landowners
Charles Teubner, one of the earliest owners of the living history property, established a successful grape vineyard and nursery and completed a press house/wine cellar and brick Greek Revival mansion before his death in 1851. His wife's brother, George Husmann, took over the business and sold grape plants, fruit trees, and seeds throughout the United States.
Charles Manwaring later joined the business and he and Husmann became the wealthiest men in the area.
By 1900, winemaking put Hermann on the map with 3 million gallons produced annually. Visitors came by steamboat from St. Louis, 80 miles east, to sample the wine.
But all that ended in 1920 when Prohibition began. Time stood still in the town until the 1960s when grape growing and winemaking resumed, but slowly.
In the meantime, Julius Kallmeyer bought the farm in 1908 and, with his son, William, established a successful dairy. William later started a mule and horse-trading business, supplying mules to the U.S. Army during both World Wars. The family's third-generation property owner, Joy Kallmeyer, and his wife, Carol, sold 150 acres to Dierberg in 2008 but kept enough acreage to retain their Missouri Century Farm status — a designation celebrating farms that have remained in the same family for at least 100 years. Dierberg began restoring the property to its 1850 opulence.
Take a Tour
Start at the Mercantile shop, also called the Visitor's Center, to purchase a tour ticket. Visitors can take either a self-guided tour or a two-hour narrated tour aboard a tractor-pulled tram.
The Mercantile is stocked with products from Missouri crafters, such as jams and jellies, honey, candles, soap, spices, and linens.
Other stops include a 1790 log trading post, wash house, summer kitchen, smoke house, and Wagon Works and Forge, each filled with tools and equipment for its particular purpose.
The Schutzen Halle was a German sharpshooter's club where men practiced shooting but also conducted business and relaxed. Inside on its walls hang eight Civil War rifles and decorative 18-inch diameter plates, which were awarded for superior marksmanship.
The Early Trader's Museum houses a tinsmith shop with tools and equipment once used by a Hermann tinsmith; a broom-making shop and rope-making equipment; and woodwright tools once used to construct cabinets and furniture.
The restored log barn features seed-cleaning equipment, a weaving loom, early fiber arts, and carding tools.
Visitors will marvel at the Shire Draft horses weighing upwards to 2,000 pounds each and their foals. There's also Pat and Jane, mules that Joy Kallmeyer used on the farm, that are also favorites in local parades.
The restored mansion features its original plank floors, period furniture, and symmetrical porches reaching to the second story that look out over the Missouri River. A ginkgo tree planted in 1852 by George Husmann on the east side of the home is believed to be the largest and oldest such tree in the nation.
The distiller's log home and office, distillery, spring house, and barn reflect the rustic architecture of French settlers who made whiskey.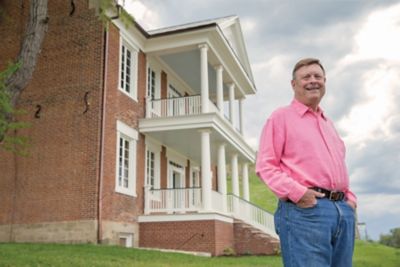 "We want to show accomplishments of both the French and German cultures who settled this area," Coates says.
Even more is planned for the living history farm, including walking trails and restoration of the press house/wine cellar.
"It's a work," Dierberg says, "in progress."