FFA students grow bountiful harvests to feed the hungry
By John Commins
Photography by Joe Kaleita
It's August in Florida. If the summer sun and afternoon rains cooperate then the corn will be golden ripe and ready for harvest when students return for the start of the school year on Cedar Key, a dot-sized island just off the Gulf Coast.
Though small, Cedar Key School, a K-12 public school with 240 students, boasts one of the most successful "Food for All" programs in all of Florida. Funded in part with a small grant from the Future Farmers of America, and led by agricultural sciences teacher Rachel Wetherington, the students grow crops year round.
Depending upon the season, the spring, summer, and winter harvests reap corn, squash, peas, okra, peppers, potatoes, green beans, tomatoes, cucumbers, mustard and collard greens, and turnips that are donated to the Cedar Key Food Pantry, which serves about 75 families on the island.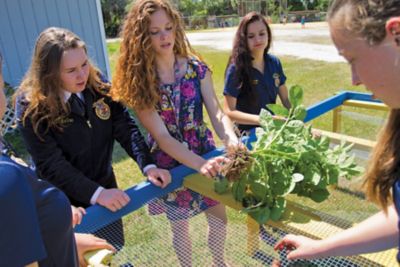 "We planted the corn in May so that when we come back in the fall we'll have a crop to harvest so we can start the school year off with food to donate," says Wetherington, who is also the FFA adviser at Cedar Key School. "Including the summer harvest, we expect to have about 1,500 to 1,600 pounds this year."
Cedar Key's Food for All has won national recognition for its bountiful accomplishments but it could not succeed, Wetherington says, without the dedicated efforts of student volunteers.
"On any particular day we have 15 kids working in the garden on a rotating schedule," she says. "We get a lot of kids after school who volunteer. They want to stay after to school to make sure the program succeeds. They are very invested in the program."
Hannah Brinkman is entering her sophomore year this fall and a Food for All volunteer. She says students gain tremendous satisfaction from meeting a community need.
"We've been to our food pantry and we've helped out," Brinkman says. "It's a good feeling because you see the people who need help and you give them something that you grew with your own hands."
'We Make Use of What We Can'
Located about 120 miles north of Tampa, and about 50 miles west of Gainesville, Cedar Key is home for about 700 people, many of whom earn a living from tourism, commercial fishing, and clam and oyster harvesting. The soil on the key is mostly crushed clam shells, piled up over millennia.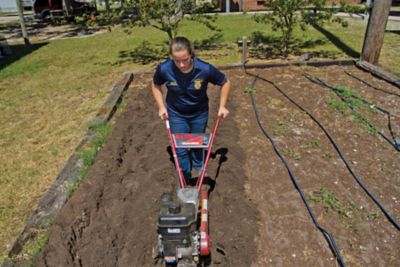 Growing vegetables in a soil composed primarily of clam shells can prove challenging.
"We have to bring in new soil every couple of years," Wetherington says. "It's hard for us to get ahold of soil."
Cedar Key School sits on 2 acres of land, one-quarter acre of which is dedicated to a hodgepodge of vegetable gardens wherever space allows.
"It is profoundly small but we make use of every inch possible," Wetherington says. "We have one garden that is only a foot wide and runs down the length of one of our preschool playgrounds. We use the fence for our climber beans. We make use of what we can and we try to irrigate as much as possible, but I've got a bunch of kids out there every day out there with watering cans."
The Food for All program began seven years ago under now-retired ag science teacher Denny Voyles. The idea came from his students.
"We were talking about hunger in class and one of the kids asked if we had hunger in our community," Voyles recalls. "I was embarrassed that I hadn't looked at it. I took the FFA president from my high school, we went to the food pantry and asked how many families they served and they said about 40 to 60. We were just taken by that. Holy cow!"
Voyles asked the food pantry volunteers what the students could do to help alleviate food shortages on the key.
"They said, 'You teach agriculture. Can you grow some food?' We said, 'Yes.' We took it as our mission. We are going to make a difference for our community," he says.
For these teenage volunteers, the program "opens their eyes" to the world around them, Voyles says.
"We used to talk about this in class. Hunger doesn't come out and show its face. Hunger hides. People don't say, 'I don't have anything to eat.' For some reason that is embarrassing in America," he says. "We found there are issues in our community that we don't know about but we should have known about."
Jeri Treat, a Cedar Key resident and community volunteer, laughs as she describes the parade of students toting their produce to the food pantry each Thursday.
"They harvest that day and put it in the truck and drive it over, marching in with all of this food — turnips or green beans or whatever it is they're harvesting," she says. "They are just so proud to be doing that, and really enthusiastic. When you talk to them you see that this is way more than just growing crops. They learn so much more."
Life Lessons
This fall, the students hope to expand their menu and offer fresh fish as part of an aquaculture program that began in the spring with the installation of four tanks.
"We ordered 50 one-inch blue gills and we are going to try those out first," Wetherington says. "We started small because if something dies off you don't want to have a complete loss."
With space at a premium, Wetherington says the student will put plastic foam layers over the fish tanks and grow herbs hydroponically.
"As we harvest the fish, we will be able to harvest the herbs and donate them all to the food pantry," she says. "We're hoping we can make it into a little kit: Here is a nice fish dinner."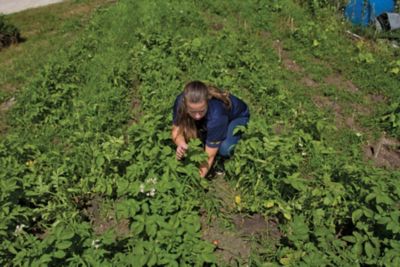 There are also plans to build a small chicken coop that will supply the pantry with a few dozen fresh eggs each week.
The Cedar Key students learn lessons that can't be taught from a book, Voyles says.
"I vividly remember going to the pantry with four of my students and my pickup truck would be stacked with vegetables, green beans, carrots, cucumbers, tomatoes, and potatoes," he says. "One time this frail, elderly woman stopped one of my students and said 'Y'all are angels.' Me and those kids cried all the way back to school. The impact can't be measured."