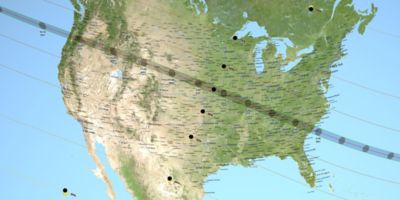 Image courtesy of NASA.
Solar Eclipse
The 2017 solar eclipse has a lot of people excited to see this rare celestial phenomenon. Before you make plans to see the event, you should learn more about solar eclipses and how to view them.
What Is a Solar Eclipse?
A solar eclipse occurs when the moon comes between the earth and sun in a way that blocks the sun and casts a shadow on the earth. Partial eclipses occur when the moon blocks a portion of the sun. Total solar eclipses happen when the moon covers the entire sun.
How Often Do Solar Eclipses Occur?
Complexities involving the earth, moon and sun's orbits mean that total solar eclipses do not happen on a regular schedule. After 2017, another total solar eclipse will not occur until July 2, 2019. After that, total solar eclipses will take place on:
December 14, 2020

December 4, 2021

April 20, 2023

Whether you get to see these total solar eclipses will depend on your location.
When Is the Next Solar Eclipse?
The upcoming solar eclipse will happen on August 21, 2017. It has been called the Great American Eclipse because the event will traverse the United States, starting in the southeast and ending in the northwest.
Best Place to See the Solar Eclipses
You cannot see a solar eclipse from all locations on earth. Ideally, you should stand within the eclipse's path of totality, an area where the moon will block the sun completely.
Some of the best places for viewing the upcoming eclipse include:
Hopkinsville, Kentucky

Casper, Wyoming

Carbondale, Illinois

Madras, Oregon

The longest duration of totality will occur in Carbondale, where viewers will get to experience the total eclipse for two minutes, 41.6 seconds.
Safety Measures for Viewing and Taking Photos
Once the moon completely covers the sun (totality), a small ring of light around the moon will be visible. During totality, the light is not as strong.
Viewing the eclipse during totality and the moments leading up to and after totality require careful planning. Never look directly at the sun without the right level of eye protection.
If you want to watch the solar eclipse happen, you can help protect your eyes with eclipse glasses that have extremely dark lenses. Many types of eclipse glasses only cost a few dollars to purchase. Similar lenses are available for cameras, binoculars and telescopes. Use them if you plan to take pictures.
You can also make a pinhole camera to watch the solar eclipse occur.
Total solar eclipses do not happen often, so many people plan to view the upcoming event. With the right information, you can find a way to experience the eclipse safely.
The content of this article is for informational purposes only, and is not intended to provide, and should not be relied upon for, medical advice. Readers with medical questions should contact a licensed eye- care professional.