Cornhusking contests showcase sport and tradition
By Marti Attoun
Photography: Whitney Curtis
Emma Johnson heads down a row of corn, grabs an ear, rips off the husk with a hook strapped to her palm, snaps the ear from the stalk, and tosses it into a wagon — in well under two seconds.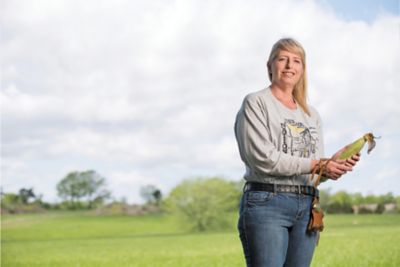 For 20 minutes without a break, Emma picks corn as fast as she can and helps keep alive America's grand rural tradition of cornhusking contests.
During the Great Depression, as many as 100,000 spectators gathered each fall for the National Cornhusking Contest. A newscaster in 1938 called cornhusking "the most grueling sport in America."
The champion farmer-athletes were national heroes, as popular as baseball stars. They endorsed products and received fan mail and even marriage proposals.
The competitions ended in 1941 with the beginning of World War II, but were revived in the 1970s as a way to pay tribute to the nation's farming heritage.
"When you're out in the field, you have the same feeling as in the 1930s contests," says Emma, treasurer of the National Cornhusking Association, and a state and national champion. "We keep our wagons historical. Some of the bang boards were used in the '20s and '30s." Bang boards keep the corn from sailing over the top when competitors toss it. Yesteryear and today, champion huskers can toss 40 to 50 ears a minute into the wagon.
Emma got hooked on the corn-picking contests 32 years ago at age 8 when she tagged along with her father, Henry Deal.
"It was raining and muddy that day and my shoes got stuck in the mud and then I was barefoot," she recalls. "Dad said, 'Keep pickin'.' I remember how much joy it brought me. Dad was teaching me a new hobby."
Her father no longer competes, but has won numerous state and national contests.
"He picked three or four years ago and young men couldn't beat him," says Emma, who farms in Montgomery City, Mo. "He looks like a machine and sings the whole way through. He has a technique he's developed over the years."
Emma's siblings, nieces, and nephews all compete or help with the contests, which feels like a family reunion. Her extended family includes other regular competitors, such as 2015 national champion Nancy Miller, whom she's grown up with through the years.
"I've never been in a competition like this one where you're crying because your best friend wins," Emma says. "It's a very humble sport. It's a time of remembering how the sport was run and keeping that alive."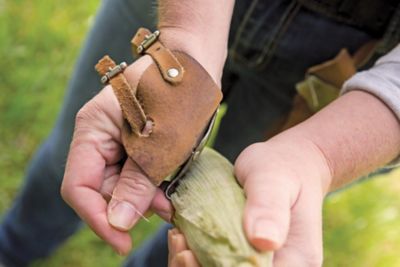 Cornhusking Craze
Credit for the cornhusking craze is given to Henry A. Wallace, editor of Wallaces' Farmer and later secretary of agriculture and vice president, who promoted the first statewide contest in 1922 in Iowa. Two years later, state champs competed at the first National Cornhusking Contest.
The Depression-era contests provided welcome and free entertainment. Festivities included a parade and crowning of a national cornhusking queen. Farm implement dealers displayed their latest mechanical corn pickers and tractors. Radio stations broadcast the contests from "ear to ear."
Mitchel Burns, winner of the 2015 men's open division, became fascinated with the contests after entering his first one in 1988. The retired history teacher wrote The National, a book about the revived contests with profiles of champion pickers.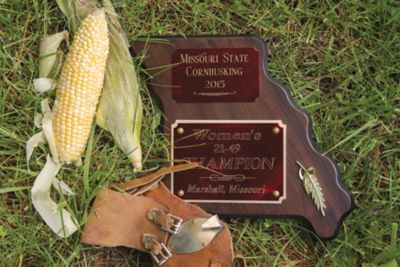 "The skills needed are the same today as they were before World War II," says Burns, of Brookfield, Mo. "You need good eye-hand coordination, lots of speed and dexterity, and the stamina to do a 20- or 30-minute run. Everyone can pick corn, but not everyone can do it at that winning speed."
Men only competed in the early contests and picked for 80 straight minutes. Today, women and children participate in different age divisions. Nine corn-growing states hold contests: Missouri, Kansas, Nebraska, Ohio, Illinois, Indiana, Iowa, Minnesota and South Dakota. Winners in each division advance to the nationals.
As with any sport, practice makes faster. Nancy Miller of Manchester, Ill., gets in shape for the contests by picking in her brother's cornfield.
"It's an aerobic workout," she says. "You don't have to be a marathon runner, but you can't be a couch potato."
She tunes out the modern world when husking at contests.
"It's just me and the row I'm picking," she says. "When it's over, I want to know that I did the best I could."
Gleaners follow each contestant and collect any ears of corn that were missed. Those are deducted from the final score. Huskers are penalized for "dirty" corn, too, that has too much husk clinging to it. The rules are the same today as during the glory days of the contests.
"Before there were combines, when it was time for farmers to harvest in the fall, that's what they did," Nancy says about harvesting corn by hand. "It's part of our farming heritage and it's an art."
The art and sport of corn husking will be on full display at the 2016 National Cornhusking Contest Oct. 15-16 in Goodhue, Minn.