Keep your flock laying year round
By Erin McIntyre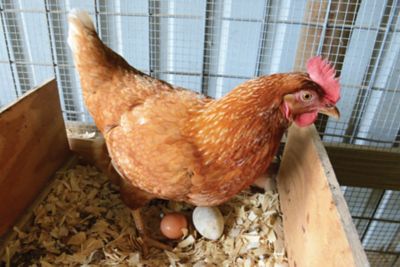 Collecting eggs is one of the most rewarding things about having backyard chickens. There's no denying enjoying the fruits of your hens' labors are a definite advantage to keeping a flock.
But when the days shorten and winter approaches, nature triggers a physical reaction in the hens that slows their laying habits, which can leave you with fewer eggs to collect, or none at all.
When faced with feeding their chickens for months with little return, some chicken owners opt to fool their chickens' biological clock a little bit with supplementary light. This is an easy, simple way to ensure you'll still receive maximum egg production even when the sun isn't out long enough to do the job for you.
After the summer solstice, the amount of daylight decreases gradually until the shortest day of the year, the winter solstice. After the amount of light dips below 11 hours per day, the hens' bodies stop producing eggs consistently, says Brigid McCrea, Delaware State University associate professor and extension poultry specialist.
The shortening of days provides a trigger for their bodies to know it's not a good time to reproduce, which is the point of eggs.
While chicken owners think of the purpose of eggs as being destined for the plate, in nature, eggs are about hatching chicks and procreation.
Some varieties of fowl are bred to keep laying through the first winter of their lives, and owners won't notice much of a slowdown. But that changes as the hens grow older, McCrea says.
One of the misconceptions about supplementing light is the idea that hens will have a shorter lifespan or shorter laying time if you "fool" their bodies into laying, McCrea says.
"Chickens don't run out of their appropriate number of eggs in their lifetimes," she says. "Even if a bird laid (eggs) every day for 10 years, that would be nowhere near running out."
A Simple Setup
McCrea's tips for keeping your hens laying through the darkest part of winter include being safe and not overdoing it. Add just a couple of hours of light in the morning or night, she says.
This can be accomplished with a simple setup, including a timer. If you have a small coop, it might require only a single light bulb providing full-spectrum light.
This requires less light than most people realize, McCrea says. For high-production laying breeds, such as leghorns, you need the chickens to be exposed to only half a foot-candle, a measurement of light. Half a foot-candle is exactly what it sounds like — you could see the distance of half a foot in that light, which is dimmer than you would think.
"If you took newsprint and stuck it six inches in front of your nose, could you read it?" she says.
Check to see how bright the light appears to the birds when they're on the floor of the coop or their perches, McCrea recommends.
Often, a single light will do the job, and if it's secured in a place where chickens can't peck at it, and it won't come into contact with bedding or other flammable materials in the coop, it will be safe.
McCrea cautions against using the heat lamps used for brooding chicks for lighting the coop.
"Heat lamps are for heat, not for light, and to make them do double duty messes with your birds," she says.
If your supplementary light is too bright or lasts too long, it could trigger unwanted reactions with your birds, McCrea says. One of those consequences is a photorefractory response, which causes the chickens to stop laying eggs and molt — something you don't want happening in wintertime.
There's no hard and fast rule about whether to supplement light in the morning, the evening, or both, as long as the total amount of light adds up to 14 hours. Some people like to supplement light in the morning, so their chickens just get up a little early and lay their eggs earlier in the day. This also helps if you want to collect eggs before they have a chance to freeze in the nesting boxes.
Others prefer to extend the end of the day so they can see their chickens after they get home from work. It's really up to you, McCrea says.
"You need to know your own flock," she says, and do what works best for the birds and for you.