Urban Backyard Chickens
By Carol Davis
Laura Mikulski decided that it would be nice to put a few chickens in her back yard. An avid organic gardener, she used compost tea — a liquid fertilizer made by steeping compost in water — which then led her into considering chicken manure for fertilizing.
"I thought, why am I buying this, when it would be wonderful if I could have chickens," she recalls. "They would add value; I would get the manure, they would eat bugs, and I'd get eggs."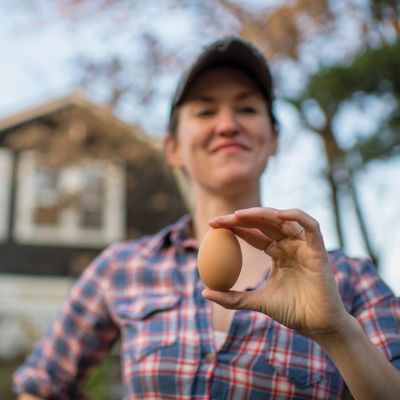 Even though she lived in the middle of an urban area — Ferndale, Mich., just outside of Detroit — the idea wasn't far-fetched. Urban backyard chickens have been a growing phenomenon for several years. Cities such as Nashville, Tenn., Los Angeles, Philadelphia, and Phoenix, Ariz., are among the cities large and small that have passed laws allowing backyard chickens.
But Laura quickly discovered that her city wasn't one of them. Codes were so restrictive — a chicken coop had to be 75 feet away from any other structure — that building a coop was impossible.
"I was shocked," she says. "I knew I didn't have 75 feet in my stereotypical small suburban back yard."
She initially resigned herself to living without chickens, but then she reconsidered.
"I thought, 'Wait a second; who has that much space in Ferndale?' It seemed needlessly restrictive," she says.
When she pulled the city's plat maps, which show property lines, she realized that only two homes in all of Ferndale could qualify to house chickens.
"Because of that, I approached the city council people and said that it didn't seem right to have something like this on the books, because it reduced it to where nobody could have chickens," she says.
Thus began Laura's four-year battle to allow backyard chickens in Ferndale.
Fast-Growing Community
Laura is among the hundreds of thousands of people who realize the benefits of raising a small flock of backyard chickens, says Rob Ludlow, owner of BackYardChickens.com, the largest — it has more than 420,000 members — and fastest-growing community of chicken enthusiasts in the world, and co-author of such books as Raising Chickens For Dummies and Building Chicken Coops For Dummies.
The trend toward raising backyard chickens has grown quickly over the past few years for three primary reasons, Ludlow says:
Many people want to become more self-sufficient and take part in the local-eating movement.
"Unfortunately, most of these individuals do not have the resources — land, time, money — to have a huge garden and raise cows, pigs, etc." he says. "Having a handful of egg-laying hens in a relatively small yard allows people to participate in these 'movements' without having to move or drastically change their lifestyle."
People tend to prefer eggs from chickens at were raised humanely.
"When you collect eggs from your backyard flock, you know exactly how they were treated, fed, and cared for," Ludlow says.
It's fun and easy to raise backyard chickens.
"People are quickly realizing that chickens are a multi-purpose pet," Ludlow says. "Chickens eat the bugs and weeds in your yard, generate fantastic fertilizer, and of course are a pet that makes you breakfast."
Winning Them Over
Laura knew the reasons that many urban dwellers wanted backyard chickens, but she also had researched enough to know why others didn't.
City officials and some residents feared that backyard chickens would be dirty, dusty, smelly, noisy, and attract rats, Laura says.
"The fears come from a collective unconscious that thinks of chickens in terms of Grandma's old farm out in the country," she says. "Because of that, I had to win them over," she says.
The No. 1 fear was noise, with residents fearing that they would be awakened too early by crowing roosters, which some thought were required for hens to lay eggs.
"You don't have to have a rooster to have eggs," she notes, "and (that misperception) really started a dialog… people thought, 'Gee, what else don't I know about chickens?'"
Some feared that chicken coops would attract rats, but that rationale was akin to closing the stable door after the horse had bolted, Laura says.
"We have a thriving downtown with lots of restaurants and rats are everywhere; we just don't see them," she says.
Rats, she says, are attracted to pet bowls, fruit trees, gardens, and food. Still, to allay rat-related fears, she suggested that the backyard-chicken ordinance be written to require chicken feed be contained so that rats can't get to it.
But convincing city officials, she found, was more of a challenge than getting fellow citizens on board.
"By the time we got the issue into (city council) meetings, more people were aware of it, there was more interest in local food and being attached to that food source," she says. "People said, 'Let's listen to this. Maybe I don't want chickens, but I can buy eggs from my neighbor.'"
"I wore them down over time," she says with a laugh. "Anytime they presented something, I backed my position up with evidence. It took a while, but eventually we prevailed."
Ferndale's backyard-chicken regulations include:
3 hens maximum
No roosters
Residential areas only
Chickens must be maintained in a fully enclosed structure within a fenced back yard.
The coop must not be closer than 10 feet to any residential structure on adjacent property.
An annual permit is required.
Laura was the first in Ferndale to apply for and be approved for a coop.
"I knew I would be heavily watched, so I decided that we were going to be flawless," she says. "It's a beautiful coop. We adhered to the letter of the law and then some. It's not only structurally sound, but it's good for the chickens and looks good in the back yard."
The coop, built to look like the pergola at the back of their house, also was built to be secure.
"With our coop, we took the half-inch hardware cloth and extended it below dirt by 2 feet and out 2 feet; then, we loaded rocks on hardware cloth," she says. "I basically built it to be flawless to keep rats and raccoons out. It's like a bomb shelter."
A Flock of 40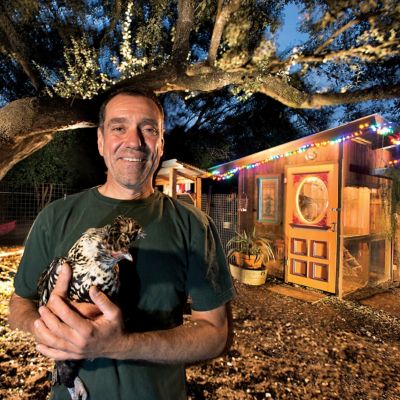 Brett Davis may have lived in a city all of his life, but his backyard chickens and other animals provide him with a touchstone to agrarian life as it used to be.
"This is how we used to live as human beings, living in conjunction with these animals on farms 100 years ago. We don't do that as much now," he says.
He had been considering chickens at his Austin, Texas, home, and an unusual event that he and his fiancée attended, the Funky Chicken Coop Tour®, which encourages city residents to raise chickens at home, convinced him to take the leap.
Four years later, Davis' coop on his acre-sized back yard houses a flock of about 40 chickens with a unique and beautiful henhouse made of recycled materials, including an antique stained glass window and antique door from his fiancée.
The size of Davis' flock in Austin's city limits illustrates the disparity in city ordinances governing backyard poultry.
"You can have as many as you want as long as they're being cared for humanely and they have a clean living environment," he says.
Besides clean conditions, Austin requires that chickens not be allowed to roam free; that a henhouse be at least 50 feet from each neighbor's residence; and that the birds are not too noisy.
That means a chicken coop can't smell and, though roosters are allowed, they can't excessively disturb the peace — much like a barking dog.
What He's Learned
In progressing from a rookie chicken farmer to a skilled flock manager, Davis has two bits of advice to pass along to others contemplating adding poultry to their back yard:
Research breeds to determine which one fits your needs.
"How many eggs are you looking to get?" he asks. Some breeds tend to lay more eggs, such as the Rhode Island Red or Buff Orpington, while the exotic, unusual-looking breeds, such as Silkies, don't lay as many.
Also, research breed personality, he suggests. Ameraucana chickens, for example, are generally non-aggressive and calm, which makes for a good family chicken.
Be prepared to handle their entire life cycle.
"They can get sick and you're not going to take a chicken to the vet to be euthanized; you have to be prepared to do it yourself or to have someone do it for you," he says.
The learning curve has been more than worth it, Davis notes.
Raising his own backyard chickens allows him to claim a bit of the natural, agricultural life, even in an urban setting.
"It's put me back in touch with who we should be as human beings," he says, "caring for animals and understanding where our food comes from."