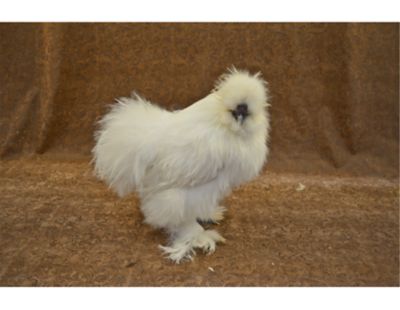 Silkies: The Teddy Bears of Chickens
When building a flock, learning about different breeds, their laying and brooding habits, and distinct characteristics and personalities is essential for choosing the right chickens for your backyard coop.
One of the most unique and popular breeds for egg production, for use as a show chicken and to keep as a pet is the Silkie or Silkie Bantam. Silkies originated in the Far East. The birds have black skin and bones underneath loads of downy feathers that feel like silk, hence their name. Silkies are sweet and chatty, love company and are considered the "lap kitty" of chickens. If you're looking for a chicken and a pet, then Silkies offer the best of both worlds. Consider the following before adding Silkies to your backyard flock:
Laying Habits
Silkies are fairly good egg producers, but not as good as other breeds. Silkie hens will lay on average three eggs per week or 100 to 120 eggs each year. Silkies begin laying between 7 ½ to 9 months of age, though some have been known to start as early as 6 months. Silkies often stop laying in the summer months of the temperature gets too high. Their eggs are typically creamy or light brown in color.
Brooding
Silkies are born mothers, and their favorite thing to do is raise a clutch of eggs. They are also known for raising eggs that aren't their own, including ducklings! Because of their gentle personalities, Silkies fit in well with other non-aggressive breeds, so having a few Silkies for brooding along with higher egg producers makes for a balanced flock.
Backyard Suitability
Silkies are hardy for winter, and their docile nature makes them perfect hens for backyard confinement. These sweet and tame birds enjoy company and will start following their owner around, chattering contentedly, at about 6 months old.
All Silkies are crested and have a walnut comb. They also have five toes instead of four. Silkies are bearded or non-bearded and come in black, white, buff, gray, blue, splash, and partridge. This breed does best on well drained soils without muddy areas because of their profusely feathered legs. Sources: