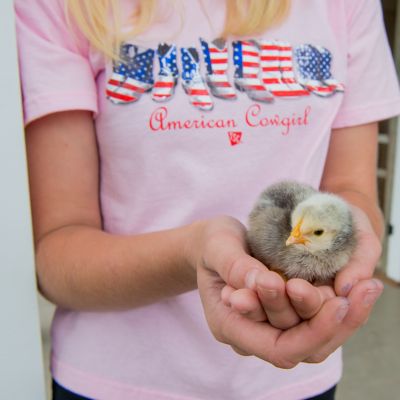 Handling Chickens and Salmonella
Article submitted by Hoover's Hatchery
As spring arrives many people are interested in bringing new baby poultry, such as chicks, ducklings, and other fowl into their backyard, small farm, or acreage. It is important to understand that all poultry at any age can carry harmful germs called Salmonella. After you touch a chick, duckling, or other baby bird, or anything in the area where they live and roam, wash your hands. This is the first step to prevent yourself and your family from getting sick.
Children and adults can be exposed to Salmonella by holding, cuddling, or kissing the birds and by touching things where the bird lives, such as cages, or feed and water bowls. The reason for this is poultry may have Salmonella germs in their droppings and on their bodies including feathers, feet, and beaks, even when they appear healthy and clean. The germs can also get on cages, coops, hay, plants, and soil in the area where the birds live and roam. Additionally, the germs can be found on the hands, shoes, and clothing of those who handle the birds, work, or play where they live and roam.
People become infected with Salmonella when they put their hands or other things that have been in contact with bird droppings in or around their mouth. Young children are especially at risk for illness because their immune systems are still developing, and because they are more likely than others to put their fingers or other items into their mouths. It is important to wash hands immediately after touching poultry or anything in the area where they live and roam. The germs on your hands can easily spread to other people or surfaces.
How do I reduce the risk?
DO
Always wash hands thoroughly with soap and warm water right after touching live baby poultry, or anything in the area where they live and roam. Use hand sanitizer if soap and water are not readily available.
Adults should supervise hand washing for young children.
Clean any equipment or materials associated with raising or caring for live poultry outside the house, such as cages or feed or water containers.
Give live poultry their own space to live, outside of your home.
Children younger than 5 years of age, older adults, or people with weak immune systems should not handle or touch chicks, ducklings, or other live poultry.
DON'T
Don't snuggle or kiss the birds, touch your mouth, or eat or drink around live baby poultry.
Don't let live baby poultry inside the house, in bathrooms, or especially in areas where food or drink is prepared, served, or stored, such as kitchens or outdoor patios.
Don't eat or drink in the area where the birds live or roam.
Don't give live baby poultry as gifts to young children
Everyone enjoys baby chicks and poultry for their cuteness, beauty, and egg laying. Education about Salmonella is the number one prevention against it. Hoover's Hatchery and Tractor Supply work diligently to educate employees, and customers about Salmonella. From the breeding farms, all the way to the customer, Hoover's Hatchery cares about your experience in raising chickens and live poultry. Whether you are interested in having poultry for the first time or have cared for poultry for years, Salmonella is everyone's responsibility.