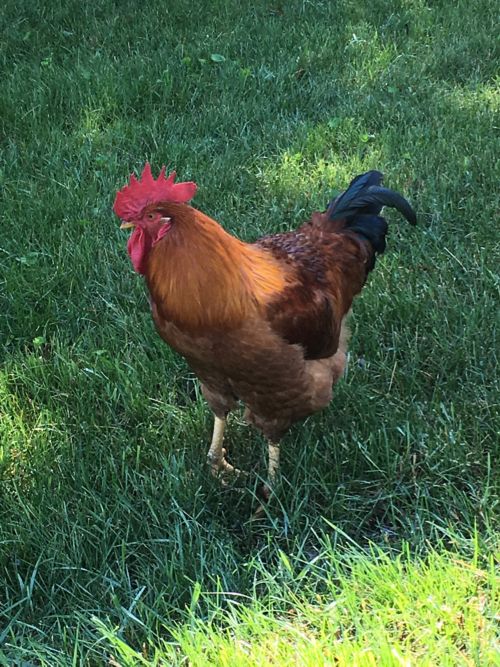 Red Broiler Chicken
Provided By Hoovers Hatchery
The first word that comes to mind when thinking about the Red Ranger meat bird is indomitable. For years, the Cornish Cross broiler dominated the meat market because of its dependability in feed conversion rates and its quick rate of gain, making it great for large and small poultry producers. Where it lacked was flexibility in its living environment, and its lazy tendencies. The Red Ranger makes up for what the Cornish Cross Broiler lacks, and has even more desired features than the shortcomings of the Cornish Cross.
The Red Ranger is a wonderful forager and can have a very efficient feed conversion rate because of its expertise in foraging. This makes them great for free range or pasture raised operations. They are resilient birds that can be raised in almost any environment, but prefer to be running around yards and pastures finding their own food. The Red Ranger has been bred to do this and the parents are just as tough as their offspring.
These birds do not finish off as quickly as the Cornish Cross Broiler. The Red Ranger takes about 12 weeks to reach maturity, but the window for processing the birds is much bigger than its Cornish counterpart. The Red Ranger is a very energetic bird that resembles a Rhode Island Red breed. This allows the Red Ranger to remain healthier for a longer period of time after they reach maturity.
The Red Ranger breast meat is comparable to the leg meat. The breast meat is longer, more firm, and has dark meat qualities making the meat taste better and more desired with consumers. The quality in the meat itself makes it worth raising the Red Ranger. The male birds will reach six to seven pounds at ten weeks and the females reach five to six pounds at ten weeks. Their dress weight averages 70% of the live weight. This bird has yellow legs, yellow skin, and red plumage with dark brown or black feather tips at the end of their wings and tail feathers.
The Red Rangers were developed by the French Broiler Industry and they are increasing in popularity across America because of their wonderful qualities. The breed is so dependable, and with all of the wonderful qualities is possesses, it's hard not to overlook it when picking out birds to add to your flock or farm. The next time you enter your Tractor Supply store seeking meat birds, look for the Red Ranger or Red Broiler, you won't be disappointed in what it can bring to the table.