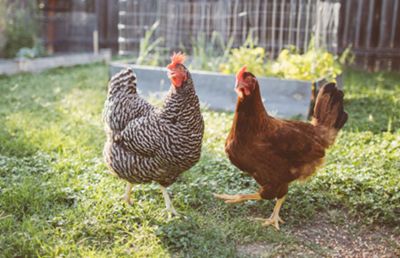 Preparing to Raise Chickens
Gathering Supplies
A daily supply of eggs from a backyard coop are not only fun to collect, they mean better-tasting meals and baked goods, as well as gifts for friends and neighbors. Hens that produce the best eggs need high-quality feed, the opportunity to forage, fresh water, and a clean and safe environment. Raising chickens requires the right supplies and a little know-how. Tractor Supply carries a full line of complete poultry feed, feeders and waterers, supplements, accessories, and chicken coops, in stores and online. The first step for beginners is gathering the right materials. The following items will get your chicken coop up and running easily:
Chicken Wire
Chicken wire encloses the coop, keeping chickens in and predators out. Two-inch chicken wire is the most common for chicken coops, but if predators like raccoons, are common in your area, consider smaller 1-inch wire Hardware cloth is another option and the best defence against mink, weasles, and snakes. Although it is slightly more expensive, and it's fairly predator proof if secured properly. You should use hardware wire to completely enclose the windows and doors of the chicken coop when it's closed at night the birds will be safe. The walls and roof of the chicken run can also be constructed of hardware wire if daytime predators are a real issue. In any case burying 6 inches of hardware wire underground along the entire perimeter of the coop will help keep out digging predators such as dogs, foxes and skunks.
Framing and Hardware
Use 2 x 4's to frame the chicken coop and door and standard plywood covered by a sheet of tin, sheet metal or corrugated steel for the roof. Determine the dimensions of the coop by deciding how much space you have available and how many chickens you intend to keep. Chicken coops require two square feet of floor space for every chicken, so choose or create your design according to how many chickens you plan to raise. Purchase wood screws for frame assembly and roof attachment, galvinized ¾ inch poultry staples to attach the chicken wire to the frame, hinges to hang the door, and some sort of door latch with a simple lock to keep out raccoons and other crafty predators. A good coat of quality paint will go a long way to keep your coop in good condition for years to come. Consider painting all surfaces before you mesh in the coop so the wood is sealed and easier to clean.
Coop Accessories
Chickens need fresh food and water daily. Purchasing extra chicken waterers can make switching them out and keeping them clean easier. Chickens are sensitive to extreme heat, so you may need multiple waterers in the coop and run to ensure there is plenty for all. The same can be said for feeders. Chickens can be very competitive so make sure you provide enough feeder space for all to have a chance to eat. You can get a large round feeder, a feed trough, any combination of either. It's good practice to provide a nesting box or space for your laying hens. Most owners keep one box for every 3-5 hens but there will be non-broody breeds that prefer just to lay on the floor no matter what you provide. Usually a 6 inch layer of pine shavings or straw to fill each nesting box will satisfy most hens. If you have a solid floor in the coop then a 2-4 inch layer on the floor will be sufficient to keep the area clean and absorb bird droppings. In the winter you can go deeper to make things more cozy for the birds in cold weather. Keep a ready supply of the straw or shavings, because it's a good idea to clean the coop regularly. You can pick up droppings and add additional bedding about once a week and once every 3-4 weeks strip the coop so it does not become overly dirty and a great place for pests, such as fowl mites, to call home For extra protection against mites you may consider a layer of diatomaceous earth under your shavings when you strip the coop.