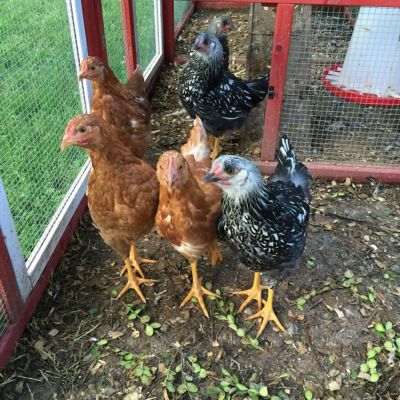 Adding Chickens
Adding Mature Chickens
Article Submitted by Hoover's Hatchery.
From time to time, nearly everyone who keeps backyard chickens wants to add a few birds to a flock. Often, it's because a friend must get rid of his birds or simply to expand the number of hens or add a new breed.
Bringing in new birds comes with some danger. There is always the chance that the newcomers will bring a disease or parasite into a healthy flock, so it needs to be approached carefully. Most experienced chicken raisers either won't bring in new birds, or they quarantine the newcomers for abouta month at a distance away from the existing birds. If the new birds show any signs of sickness they are disposed of.
Introducing new birds into a flock can be done but it can be tricky. Chickens are social animals and the existing flock has a well-established pecking order, and adding new birds creates upsets and can stress the other birds. The flock will need to reset its pecking order, and often existing birds will persecute the newcomers to establish their dominance. It's common to expect fighting for a few days before the flock settles down. Here are some tips for successfully merging birds into an existing flock:
Make sure the new hens are about the same size as the existing ones. Don't try adding half grown chickens or small breeds into a larger bird flock.
Add several new birds instead of just one. If a single bird is introduced all the existing birds are likely to gang up on her and may even kill her.
Introduce the new birds at night when the flock is roosting.
Make sure the flock has plenty of space. Crowding always causes stress and the bigger the coop and run is in relation to the number of birds housed the less the stress and fighting.
Keep an eye on the flock for a day or two after the newcomers are added. If fighting is severe, the newbies may need to be removed.
Usually after a few days the existing birds will accept the newcomers and the fighting will subside.
Adding New Chicks to an Existing Flock of Hens
As a hen ages, she will lay the most eggs in her first lay cycle, slightly fewer in her second, and then fewer still as she gets older. Commercial egg producers normally only keep a hen during her first laying cycle, but usually people with small backyard flocks keep their birds longer. However, sooner or later hens need to be replaced, and it creates a dilemma for people who have only one coop.
It is never wise to introduce chicks into a coop with mature hens. They are likely to quickly kill the babies. Some effective methods for transitioning the flock to younger hens include:
THE TWO COOP SYSTEM: With a two-coop system, chicks are raised separately from older birds.Once the newcomers are ready to start laying, the old birds can be given away, sold, or converted tostew meat. Then, sanitize the old coop and move the new birds in. This is an ideal situation for peoplewho have enough room for two coops.
DISPOSING OF THE OLD HENS BEFORE CHICKS ARRIVE: Old hens can be eaten, sold, or given away and their coop thoroughly cleaned and disinfected just before new the chicks arrive. When the babies are ready to leave the brooder, they can be raised in the recently vacated coop. Unfortunately, there's a downside, you can expect four to five months with no egg production after the old hens leave and before the chicks begin laying. This method may not be ideal for those who are selling eggs.
BUY REPLACEMENT PULLETS: This is the best way to switch to young productive hens without a gap in egg laying. Old laying hens are disposed of just before the 16 to 20-week-old replacements arrive. Clean and sanitize the coop before adding the pullets. It may take them a couple of weeks to begin laying but this system enables a transition to younger birds without much loss of eggs.
Chickens are very social and are not particularly welcoming to new birds. Always be cautious when adding new birds to an established flock. Hoover's Hatchery is committed to helping you introduce new birds into your flock after purchasing more chicks from Tractor Supply.