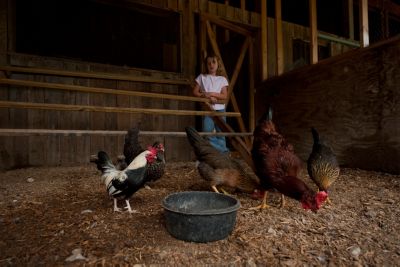 Feeding Table Scraps to Backyard Chickens
This article provided by Hoover's Hatchery
In many ways, people and chickens are alike. We are both omnivores who love diet diversity and devour many of the same foods. Fortunately, kitchen scraps that families often discard can be epicurean delights to a backyard flock.
Hens love human food so much that they'll often come running when they see a person approaching with a bucket of scraps. Among their favorites are bakery items (even stale bread), rice, wilted salad greens, cooked vegetables, popcorn, beef or pork scraps, fish skin, fruit, cheese, yogurt, and cottage cheese. They relish these and dozens of other foods that might otherwise be stuffed down the garbage disposal or put in the trash. Perhaps, their very favorite is picking tiny corn bits that people miss when they enjoy corn on the cob. Chickens love red watermelon, yet shun the rinds. They quickly devour winter squash meat clinging to the skins and the yellow squash pigment helps brighten their yolks. Many other common human foods are equally enjoyed by hens.
As much as they like most human foods, chickens won't, or shouldn't, eat some kitchen waste. The list of off limits food is short but includes fruit and vegetable peelings that mat down. Most chicken keepers especially avoid feeding potato skins. Opinions differ on whether it is a good idea to give egg shells to chickens. Some people feel this encourages hens to begin eating eggs. Others, crumble up the calcium-rich shells and enjoy watching the hens snap them up. Avoid giving hens trimmings from decorative house plants. Some may be toxic.
Chickens have an amazing ability to choose foods that provide a healthy balanced diet. As long as they have food choice, they'll avoid items that might be poisonous, inedible, or cause digestive problems. Owners who have the healthiest chickens always have nutritious commercial feed available all the time and supplement it by allowing the hens to forage for insects, seeds, worms, and other tasty morsels provided by nature and discovered in the run. Together, commercial feed and forage provide a balanced and healthy diet. If a small number of chickens have a large run they'll find much of their food on their own during the warm months and eat less commercial feed. That helps keep cost down. Come winter, wild food is scarce and chickens will eat much more commercial mash. Augmenting a chicken diet with kitchen scraps adds even more diversity and nutrition, but human food scraps are treats and supplements rather than staples.
Be cautious about feeding too many scraps to chickens. Kitchen waste generated by a family of four people is a good amount for five or six hens, but bringing in a huge quantity of waste food from a cafeteria could cause the birds to overindulge and attract unwanted pests. Most scraps are usually moist. To keep coop litter dry it's best to feed them in the outside run.
Kitchen scraps are gold. Chickens can eat some of them and convert their nutrients to eggs. What they won't eat is too valuable to toss out. Coffee grounds, banana peels, grapefruit and watermelon rinds, avocado skins and other normally discarded food items can be transformed into rich compost. When it's added to garden soil, vegetable and flower plants seem to jump toward the sky.
Several systems work well to transform food waste into either chicken food or compost raw material. An easy way is to keep a small bucket near the kitchen sink to hold waste that the chickens will and won't eat. Position the compost bin adjacent to, but just outside, the run. Stand by the bin sorting the waste. Toss delicious items to the chickens and everything else into the compost heap. Keeping two small buckets near the sink allows indoor sorting. Simply put the scraps the chickens should get into one and compost items into the other. An even easier system is to dump all kitchen waste, except things that might be toxic, into the run. The chickens will quickly do the sorting, but they'll leave orange peels, avocado skins, and other items scattered about. Raking them up occasionally and putting the uneaten items in the compost bin keeps the run tidy.
Chickens love kitchen scraps, but remember they are treats, not a main diet. By feeding some waste to the flock and converting the rest into compost converts organic items normally discarded into valuable resources that result in healthy chickens and garden plants. Great commercial feed can be found at your local Tractor Supply store year-round. Hoover's Hatchery encourages a fun an varying diet, but not without nutritious chicken feed found in Tractor Supply stores.
This article provided by Hoover's Hatchery.