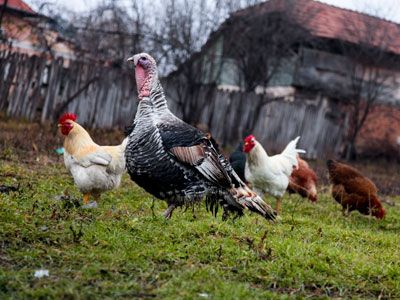 Gardening with Chickens
Article Submitted by Old Farmer's Almanac.
Why keep chickens? What are the benefits of garden chickens? How much work are garden chickens?
With increased interest in growing vegetables in the backyard has come an interest in backyard (or "garden") chickens. For a gardener, the benefits are numerous:
fresh eggs (approx. 1 every day)
nutrient–rich manure (when composted)
help with weed and pest control
fun and companionship
maybe a blue ribbon at the state fair
If you are thinking about keeping chickens, consider this egg-cellent advice.
Check with your local authorities.
Some communities have restrictions or ordinances on the number of chickens allowed, the space required, even the distance to/from your neighbor. Speaking of neighbors, let them know of your plans. And be a good neighbor: Promise them eggs once in a while. (You may in fact end up having more than you need!)
Before you get cooped up . . .
Chickens need space to roost as well as room to roam. Study a layout of your house on your landscape, the size of your garden, the access the chickens will have to your plot(s), and the ease of access you want to have to the chickens in order to provide food and water and clean the coop. Map it out, then mark it out with a garden hose or the like.
Do count your chickens . . .
Hens need to nest, and they do this in a coop that provides protection from cold or inclement weather and predators (e.g., raccoons, owls, hawks, cats, rats). Coops can be handmade, adapted from existing structures, or purchased at feed, farm, and hardware stores. Plan for 3 to 5 square feet per bird and one nest for every four or five hens. The coop should be wired for a lightbulb or heat lamp (for winter), as well as ventilated and insulated. Provide wood shavings, sawdust, straw, or hay for bedding.
How do chickens help in the garden?
When you have finished harvesting your garden in the autumn, let the chickens in! They will uproot the stems and stalks of weeds and gobble up any damaged or overripe vegetables that remain. They'll eat any weed seed or insect they find on the soil surface (they do not know the difference between weed seed and vegetable seed, which is why you shouldn't let them into the garden in spring), and they will peck apart and digest tasty vegetable remnants—e.g., broccoli stems, carrot tops, chard, and kale. When that's done, they'll scratch the soil with an eye to any unwary worms or hiding insects, mixing up the organic matter in the process—all with endless enthusiasm and curiosity.
How to compost chicken manure
In about 6 months' time, you will accumulate about 1 cubic foot of manure per chicken—but you will need to clean the coop of it almost daily. It will be great for the garden . . . after being aged and composted. Collect and pile up the poop (a "green part") and bedding materials (a "brown part"). To attain satisfactory decomposition, the pile should be 2 parts brown to 1 part green. Additional green parts include lawn clippings and fruit and vegetable kitchen scraps; additional brown parts would include leaves, twigs, and shredded paper. Soak the pile and, over the next year or so, wet and stir it regularly to add air. A temperature of 130°F to 150°F is recommended to eliminate bacteria.
How to win a blue ribbon
Before entering your hen in a local county fair or pet show, wash her in a mild dish detergent and give her a final rinse of water with a spoonful or two of lemon juice in it (to bring out the highlights in the feathers). Preen the feathers with your fingers as they dry. Rub a little canola oil and rosemary on the legs and feet to make them shine.