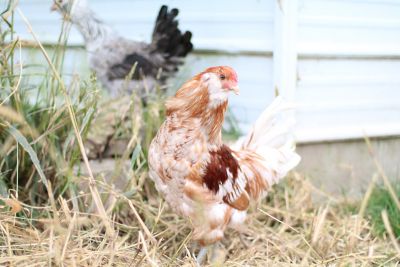 Easter Egger
Hoover's Hatchery contributed to this article.
The Easter Egger chicken is not technically a recognized breed. Any chicken that does not fall into a known breed and lays large eggs of a light blue to a light blue green color is considered an Easter Egger or an "Ameraucana". Ameraucanas are the pure bred version of the bird and will be more expensive.
The egg color does not change from egg to egg but stays the same for each hen throughout the hen's life. The chicken has a small body size and tolerates heat well and is known to have a sweet temperament.
The Easter Egger chicken was first bred in the United States in the 1930s. It has an excellent cold tolerance and reaches maturity about 20 weeks of age. It is often referred to as one of the best breeds to have in your flock if children are involved.
The Easter Egger chicken is a good fit for a family-friendly flock. Known as a friendly and generally calm chicken, the Easter Eggers vary in color and egg production. They can lay approximately 240 medium sized light blue, light green, or brown eggs per year. The Easter Eggers are a great addition to any backyard flock giving you a fun break from the normal white or brown colored eggs!