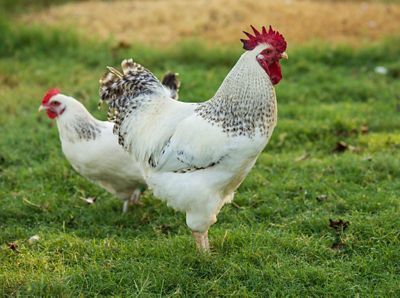 Delaware Breed Chickens
Originally from the state of Delaware, the Delaware chicken is one of the best dual-purpose chickens sold in Tractor Supply stores. The males make great meat birds while the hens can lay approximately 260 large brown eggs per year. The Delaware chickens have a docile temperament that makes them easy to raise, they are both gentile and friendly. The Delaware chicken is considered an endangered breed of chicken.
The Delaware chicks are known to mature and feather quickly. The breed has red colored combs and waffles. Males typically reach about 8 pounds and females about 6 pounds. Females lay large to jumbo brown eggs. The breed will thrive in free range situations.
The Delaware chicken thrives in free-range environments, this should be kept in mind when selecting this breed to add to your flock or backyard. They have white plumage with barred feathers towards the tips of their wings, tails, and hackle.