Crèvecœur Chicken
Few heritage livestock and poultry breeds have seen such rise to fame and subsequent fall because of that success as the Crèvecœur chicken.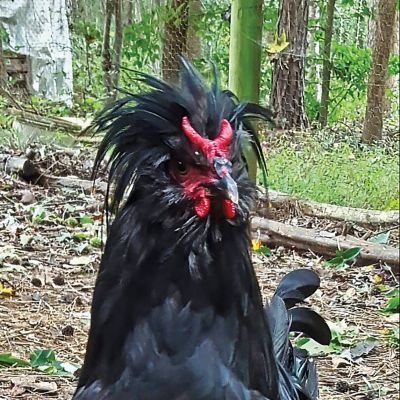 The breed is among the oldest of the standard-bred fowls of France and gets its name from the village of Crèvecœur en Auge in Normandy, France.
"Crève Cœur" translates as "broken heart. Local history suggests the name came from the land in this region being less fertile than was hoped by its farmers, breaking the hearts of the peasants. But they soon discovered that raising chickens brought them farming success.
Little is known of the breed's exact origins other than they existed in Normandy for a very long time. By the 12th century, the Crèvecœur was known as a source of pride and valued so highly that tenant contracts from the era indicated that farmers had to provide two Crèvecœur birds to the landowner each year as part of their rent.
By the late 1800s, more than 150,000 Crèvecœur were produced annually as high cuisine for the upper middle class in Paris. In today's dollars, a person back then would spend more than $100 to enjoy a Crèvecœur for dinner.
The Crèvecœur had reached America by 1852 — a time when French breeds were becoming the rage in America. In France they were still popular; indeed, one notable distinction for the breed occurred in 1889 when two sets of awards were offered for poultry at the first Exhibition Universelle (World's Fair) held in Paris. One was reserved for the Crèvecœur and the other for all the other chicken breeds at the exposition.
Despite their great success as the perfection of poultry for the table, things changed dramatically for the Crèvecœur when the German army reached Normandy in 1940. During the World War II invasion, officers wishing to eat as the well-to-do French sent troops with the task of collecting Crèvecœur chickens for their tables.
Within two years, nearly all of the birds were eaten and only a modest few avoided consumption. The breed never recovered and today it is still critically endangered, according to The Livestock Conservancy. Fortunately, new interest to recover this historic breed and bring it back to the culinary world is emerging in France and the United States.
Crèvecœur chickens are black with a beetle-green sheen to their feathers. They have small, fine bones, yet are very meaty. They grow slowly, reaching mature size in about 10-12 months, and fatten easily.
Crèvecœur chickens are delightful birds that have large crests and beards that stand them apart from the average meat chicken.
The challenge with crested breeds such as the Crèvecœur is predators. They are vulnerable from ground predators, aerial predators, and even non-crested coop mates.
The birds' crests often result in a limited visual range so they may not see threats from all around them. Non-crested birds will often pick on individuals that don't see them coming, so if you want a mixed flock with Crèvecœurs, it's best to do it with other crested breeds. A cover or protective barrier on the top of the coop is always a good idea as well.
The Crèvecœur makes a charming addition to any farm or back yard. They are typically sweet natured and will lay plenty of eggs for the family. They are peaceful birds and will become almost dog-like once they figure out where their next meal comes from.
Most importantly, their personality and striking looks are guaranteed to always put a smile on your face whenever you venture to the coop.