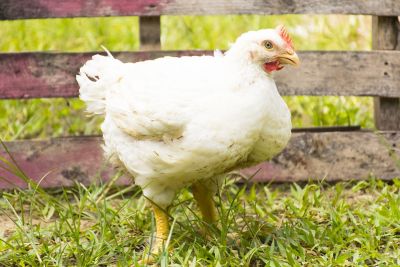 Cornish Cross Broiler
Hoover's Hatchery contributed to this article.
The Cornish Cross Broiler chicken has a broad chicken breast and is bred to be a meat bird. The chickens reach their mature weight quickly. Their mature weight can be reached by seven weeks of age. Typically, activity levels for the birds diminish as they grow and gain weight. Females can also produce about 140 brown eggs per year. The Cornish Cross Broiler is a submissive bird and does require special feeding to keep them from overeating. The breed has white feathers and light-yellow skin.
The Cornish Cross Broiler is susceptible to Ascites by overeating due to the growth pattern of the breed. Ascites is a disease where the rapid growth of the chicken exceeds the capacity of its internal organs. To prevent Ascites, restrict access to feed to 10 hours per day for the first 3 to 4 weeks of life. Be sure the chicks have adequate feeder space so most of the chicks can eat at the same time.
The broiler is responsible for changing the eating habits of Americans everywhere. These birds made chicken meat a staple in the American diet because of their rapid growth characteristics. Before the Cornish Cross Broiler, a chicken dinner was a rare treat because most birds were kept around for years to mainly produce eggs. They are extremely efficient in converting feed to their overall weight. Before the Cornish Cross was developed, meat chickens were expensive to raise because their feed to weight conversion ration was very high.