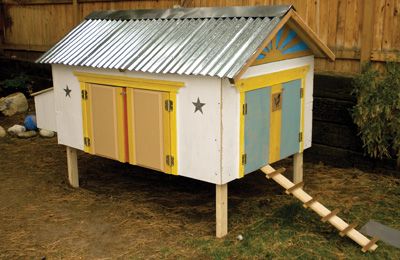 Chicken Coop Location and Layout
The location of a chicken coop can often make or break a novice chicken keeper's experience. A location in your yard or garden that is accessible and in plain view from household windows makes feeding and caring for chickens easier. The following tips can help you choose the perfect location for your growing flock.
Against a Fence
One of the more popular locations for garden chicken coops is against a fence. And many chicken keepers find it easy to make the fence an actual part of the chicken coop and run. A solid privacy fence can serve as a good wind break for a chicken coop as well as a source of shade at certain times of the day. When using a fence in this way, it's important to bury12 inches of sturdy wire mesh into the ground along the entire perimeter of the coop's fence line to help keep predators out. A location along a fence allows the chicken coop and run to blend naturally with the rest of the garden rather than having its own location in another part of the yard. If the garden is completely fenced in with a gate, it can be a nice opportunity to give chickens some time to free range outside the coop, as long as someone is in the garden to keep an eye on them.
Under a Tree
Under a tree is also a good choice when it comes to finding the best location for a backyard or garden chicken coop. Trees are an excellent source of shade as well as a natural rain barrier. And the ground around trees tends to have lots of insects and worms that chickens love to snack on. Because certain predators, like cats and foxes, can climb trees, it's important that a coop and run in this location is enclosed in wire. The down side of being under a tree is leaf litter. In the fall it can be a challenge to keep build up off the top of your coop and run. Lastly, chickens can impact the health of a tree over the long term if they are confined constantly on top of the root system and allowed to compact the soil. Make sure the birds have plenty of room to roam to avoid that problem.
Coop Layout
There are many different types of chicken coop layouts that are pleasing to the eye and are a great natural habitat for your flock. Tractor Supply offers a large variety of chicken coops available that require just a small amount of assembly. Whether designing your own or choosing a layout that you love, all chicken coops should have at least 2 square feet of room for every chicken housed. The coop will also need enough room for nesting boxes -- at least one for every three hens -- waterers, feed troughs, and perches where chickens can roost off the ground at night but placed in a way that the birds do not soil their water and food when they deficate.
It's also helpful if the chicken coop is visible from your house. That makes it easy to keep an eye on chickens throughout the day or to check quickly when your birds alert you that there are predators and other problems around the coop.
Sources:
http://www.fresheggsdaily.com/2015/11/all-about-roosting-bars-in-your-chicken.html
http://www.downthelane.net/where-to-put-your-chicken-coop.php
http://www.tractorsupply.com/tsc/search/coop
http://www.tractorsupply.com/know-how_pets-livestock_chicken_how-to-raise-chickens