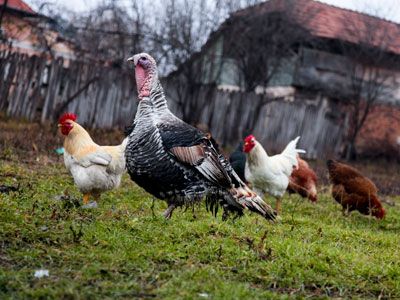 Chicken Breeds and Feed
Choosing the right chicken breed is important for success in raising a healthy flock. Some chickens prefer cool conditions while others can tolerate heat. Different breeds have varied laying capacity, so the size of your family and your egg needs should be considered.
If you're planning a backyard flock, a breed's noise level is an important factor, as well as how the breed responds to being confined — some breeds are better suited for free range rather than being cooped up.
And when it comes to chicken feed, high-quality nutrition is a must no matter what breed you choose. Understanding a bit about some common breeds can help you pick the right chickens for your setup.
Rhode Island Red
The production type Rhode Island Red is one of the most popular breeds for backyard or garden coops. The Rhode Island Red is a friendly bird that is hardy to most kinds of weather. Rhode Island Reds lay year-round, and chicken keepers can expect a yield of approximately 250 brown eggs per year per chicken.
Buff Orpington
Buff Orpingtons, named for their beautiful buff coloring, are sturdy, soft and friendly. A healthy Buff Orpington will produce approximately 180 medium-sized light brown eggs each year. They produce a bit less than other breeds because they are more of a dual purpose bird than just a layer. They are also known for being excellent broody hens.
Plymouth Rock
The production type Plymouth Rock is also a popular backyard breed. Plymouth Rocks are active birds that do well in a free-range environment. Plymouth Rock grow quickly and often lay year-round, so owners can expect approximately 200 medium-sized brown eggs per year.
Feed Basics
Chicken feed is formulated with a mixture of protein, grain and fat. These ingredients are balanced in different ways depending on the age and stage of the chicken. Chicks are fed a crumble formula that is easy to eat and is made of 18 to 20 percent protein. From eight to 20 weeks, or up until a hen's first lay, many breeders use a growth formula. Once hens begin laying, a feed change to a layer diet is necessary to provide the added calcium. It's also a good idea to offer free choice oyster shell in case a bird's calcium needs are greater during heavy laying times.
Chickens have no teeth so to process food they need grit (loose particles of stone or sand) which they swallow and keep in the crop of their throat. The crop has strong muscles that allow the birds to use the grit to mash up their food like teeth would. Free-range chickens with access to natural soil, plant foods, and insects will not typically need supplemental grit but it would be good practice to offer it to birds who are predominantly in the coop
Scratch grains have little to no nutritional value for chickens and are to be used only as an occasional treat.
Tractor Supply offers everything a backyard chicken-keeper needs for their flock, including chicken feed, coops and accessories, as well as live chicks during certain times of year.
Sources:
http://www.thehappychickencoop.com/best-beginner-chicken-breeds/
http://www.almanac.com/blog/home-health/chickens/raising-chickens-101-choosing-chicken-breeds