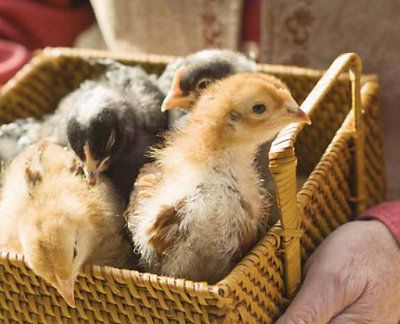 Feeding & Caring for Chickens 8-16 Weeks Old
When pullets reach 8-10 weeks of age, they enter what might be considered their awkward teenage phase. They still have half their fuzzy down but have full-grown feathers cropping up in bunches, too. With their combs starting to develop, you'll soon be able to tell your roosters from your hens (or if you accidentally brought home a rooster you weren't expecting!) Pullets seem to be eating all the time, yet their growth isn't as obvious - making you wonder where all that feed is going. This is no time to skimp on nutrition, though. Pullets' bodies are still developing rapidly, getting ready to produce eggs.
Grower feeds are specially formulated for the nutritional needs of pullets 8-16 weeks old. They contain less protein than starter feed, without the high levels of calcium that will be needed later for egg production. In fact, too much calcium at this age can result in kidney issues for your pullets. You may be tempted to start feeding scratch grains, but it is best to save these until at least four months of age. Growing pullets need a carefully balanced ratio of energy to protein to support the proper leg, muscle and skeletal development needed for a lifetime of egg production, and too many scratch grains throw this ratio out of alignment.
Like starter feeds, grower feeds are typically offered in both non-medicated and medicated varieties, with medicated formulas including ingredients to help prevent Coccidiosis, which is most likely to affect chickens up to 16 weeks. Make the transition to grower feed gradually over a period of several days by mixing their starter feed with the new feed, adjusting the ratio until it is 100% grower feed. Always provide enough feeders that all your pullets can reach the feed at the same time.
Water remains an important aspect of your flock's nutrition. If your pullets and their water are outside, make sure the waterer is located in a shady spot where it stays cool and inviting. Chickens drink twice as much water in the heat of summer as they do in winter, so check the waterers frequently to be sure they don't run dry, and clean them regularly.
By the end of this phase, your pullets will be covered with fully developed feathers that help regulate their body temperature, so they can be moved to a larger coop or outdoors to free range. Start slowly, with a few hours a day, and make sure that they don't seem distressed. You can introduce newer chickens into your current flock, but try to wait until they have grown to the same size as the chickens in the existing flock, so that the older chickens don't peck at the newbies. Make sure all your chickens have ample space to spread their wings; allow a minimum 2-3 square feet per chicken inside the coop and 4-5 square feet in an outside run, but more is always better.
As your pullets get toward laying age (around 18 weeks), they will need nesting boxes at the ready. Plan for one nesting box for every 2-4 chickens, at least 12" square with 16" of vertical height – but not so roomy that they comfortably fit two chickens. Pine shavings and straw both make good bedding material. To teach your pullets what the boxes are for, put a fake egg or golf ball in the boxes; chickens like to lay eggs where they think others have already done it.
Sanitation continues to be important for raising healthy pullets. Clean the coop & outdoor area weekly to prevent manure buildup and maintain good ventilation. Store chicken feed in a dry area free of rodents and other vermin, preferably in a metal can or plastic bin with a lid. And always use all the old feed before adding new feed to the container to avoid having old feed go rancid or lose nutritional potency.