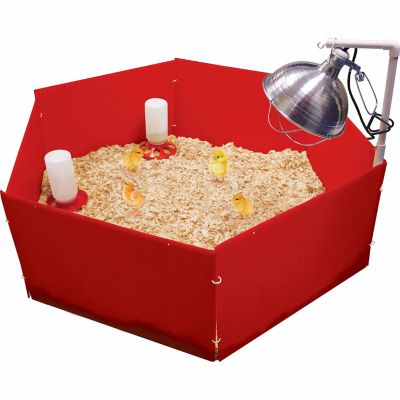 Building and Preparing a Brooder
Article provided by Hoover's Hatchery
For most of the hundreds of years that people have been keeping chickens, incubating eggs and brooding chicks was the task of a mother hen. She provided the perfect nest temperature for embryos to mature until the magic day when they hatched. Then she'd provide warmth, protection, and education for her brood.
Today few chicks have the good fortune to be raised by a mother. Their first view of the world is a massive hatchery incubator. As soon as they dry off they're shipped to Tractor Supply Company or directly to customers.
A brooder is an artificial and efficient broody hen. Brooders provide warmth, safety, food and water but not the gentle education of a mother hen. Fortunately, chicks quickly learn how to eat and drink without a parent's help.
Before you get your chicks, set up the brooder well before the babies arrive. Brooders can be purchased, but most families choose to make their own. It's not hard. All that's needed is a sturdy box, heat source, waterer, feeder, and a thin layer of bedding, or litter, to cover the floor.
The most common homemade brooder is a cardboard box, but an old camping cooler or plastic storage bin also will work. A few square feet of space are all that's needed for six or eight chicks during the first few weeks of their life.
Chicks must be warm. They once could snuggle deep in their mother's feathers to stay toasty but today they rely on heat lamps for warmth. During their first week of life chicks prefer a temperature of about 95 degrees. Their need for heat drops about five degrees a week. Tractor Supply sells inexpensive heat lamps specially made for brooding chicks and special bulbs that are usually either 250 or 125 watts. These bulbs get hot so brooder lamps have a porcelain or ceramic collar made to safely withstand heat.
Suspend the lamp above the brooder floor. Brooder lamps have a ring to enable hanging. Because they get hot it is wise to use either a length of wire or light metal chain to suspend the lamp. Be fire prevention safe! Cardboard, wood chips, and many other articles in and around most brooders are flammable. Don't let the hot bulbs come close to or in contact with anything that might burn.
Well before the chicks arrive, set the brooder up and put a thermometer on the floor beneath the lamp. It should read about 95 degrees. Lower or raise the lamp to adjust the heat. Sometimes it takes a while to get the temperature just right. To further warm the brooder, cover the top corners with cardboard, but keep it away from the hot lamp. Place the feeder and waterer off to the side of the warmest spot. The brooder is now ready for peeping occupants.
Most families raising just a few chicks put the brooder in the basement. A heated room helps keep it warm, and having it inside makes it easy to frequently check the babies to make sure they are comfortable and have food and water.
Chicks will choose the temperature they are most comfortable in. If they are all huddled directly under the heat lamp they are too cold and need more heat. If they are hugging the brooder wall as far away from the heat as they can get they're too hot. If the temperature is just right chicks will scamper around eating, drinking, sleeping, and peeping.
Most people buy chicks in early spring when the outside temperature is still cool but warming. As feathers develop chicks gradually need less artificial heat just as nature is warming the world. They will likely need to be in the brooder for a month before they can be released into a snug coop, and if the weather is cool they will appreciate a heat lamp for a few more weeks.