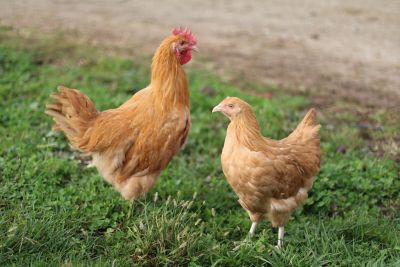 Avoid Chicken Bullying with These Breeds
There are many benefits to raising chickens including farm fresh eggs, pest control, natural compost and even companionship. There is nothing really better than a flock of happy birds to bring a taste of farm life to your own backyard.
Chickens aren't always happy, and if stressed or aggressive, they can do a lot of damage to other birds. In fact, the term "pecking order" comes straight from the chicken coop. Chickens literally peck at each other to establish dominance within the flock and to let smaller, weaker birds learn their place.
If left unattended, chickens that exhibit this behavior can contribute to serious injury and even death within your flock. Even when the bully isn't bothering all the the entire flock, the behavior can cause stress that leads to health problems and reduced egg production. Although addressing bullying as soon as it's noticed will prevent injury, building your flock with breeds known to have more docile personalities, even when mixed with other breeds with more even temperaments is the best way to prevent the problem.
1. Orpington
Orpingtons are beautiful, big and friendly. Of the three varieties of Orpingtons, the Buff are considered the most tame. Buff Orpingtons have a lot of fluffy plumage and are a wonderful backyard breed. Orpingtons make great brooders, good mothers, and, and if the timing is right, they will usually accept hatching eggs placed under them that are not their own. Buff roosters have even been known to sit on the nest while mom takes a break.
Buff Orpingtons don't mind frequent handling, which makes them a good choice for 4H projects or showing. They also do well in closer quarters and are generally quiet, so they are an excellent option for urban gardens, provided they have enough space. Due to their mild temperament, Buffs don't do well with more aggressive birds and can often be found at the bottom of the pecking order.
Occasionally, Buff Orpingtons can become overly broody, which can result in reduced egg production. Their easy-going nature means that Buffs are the perfect chicken for building a flock. When raising Buffs, bullying is rarely a problem.
2. Cochin
Cochins, like Buff Orpingtons, are known for their beauty and their friendliness. Hens are large with feathered- legs that make them look they are wearing stylish boots or high-heeled shoes. Cochins are decent egg layers and are known as gentle giants as they can weigh up to 10 pounds. They will need well drained soil to keep their leg feathers clean and dry.
Because of their gentle nature, Cochins are often used as foster moms for hatching and brooding other birds' eggs, including ducks and geese. Cochins love their coop and are happiest when close to home, but they also enjoy a little foraging each day. They are born pleasers, and unless they're feeling poorly, will not be prone to bullying.
3. Brahmas
Brahma chickens are often called the King (or Queen) of all Poultry. These large birds are strong and beautiful, and they are especially resiliant to colder temperatures. Brahmas are great winter layers and, Brahmas produce the majority of their eggs from October through May. The hens can be moody in the warmer months and want to spend most of their time on the nest. They can easily reach 10 or more pounds, which means you should watch chicks carefully after they hatch to protect them from being stepped on by mom. These gentle giants need a lot of room so make sure you've got a good amount of space in the coop.
Brahmas, like Cochins, are calm home bodies and do well in confinement. Tight and beautiful feathering makes this breed is a great choice for northern climates where temperatures are mostly cool. However, this bird does not do well in hot weather. Despite their size, Brahmas are not naturally bullies.
Bully Reform
Although these three breeds are known for their gentile nature, even the best backyard chickens can have a bad day. A bully is most likely to materialize in your flock while you are introducing new birds. That's why it is important to provide space for chickens places to get away from each other when needed within the coop. Adding simple things like boxes and hanging burlap or wooden ramps into the run or coop gives chickens natural places to hide if they want a time out.
One way to stop bullying is to remove the offending chicken from the rest of the flock and put it in a separate pen where it can still see and hear the other birds. Chickens are social critters and don't like being alone. The bully chicken should get the message after a few days. A lot of times birds are bullied because they are weakened by underlying health issues. Even simple things like mite infestations can weaken a bird and make it an easy target. If trouble breaks out again, separate him or her from the rest of the group again until the problem is solved. In the event it cannot be resolved, it may be time to consider finding another home with more space and a change of scenery for the bird.
Proper assessment of a situation and prevention of bullying will go a long way. Chickens with enough floor space, perching space and space at the feeder and waterer are less likely to peck at each other. Assess the size of your flock and make adjustments if a bully starts to emerge. Also, remember that chickens can be easy targets when they don't feel good or are stressed. This can be especially true during breeding season and molting. Proper nutritional supplements, plenty of quality feed, clean water and electrolytes help to support the immune system and increase overall well-being during these stressful times.
Find everything you need to maintain your backyard flock at Tractor Supply. We offer high-quality feed, supplements, treats, coops, and other accessories to keep your chickens happy and healthy.