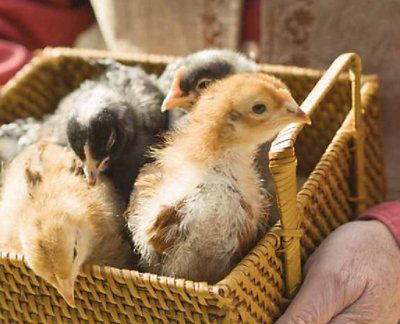 Top Three Reasons to Add Chickens in the Fall
No matter when you raised your first batch of chicks, adding to your flock in the fall has some definite advantages over sticking to a strictly spring chick schedule. Spring is typically the focus for purchasing chicks, but seasoned chicken owners know growing your flock in the fall can bring big benefits. Some of these include:
1. Early layers. Pullets that mature during the dark of winter are ready for egg laying when most breeders are just getting started with chicks. This means you'll have no interruption in egg production. Chickens reach point-of-lay at around 20 weeks of age depending on the breed, so chicks hatched in the fall will be laying eggs in very early spring. Also, pullets hatched in the fall will be more mature when they start to lay in the spring, so their eggs will be bigger.
2. Delayed molting. Chickens molt annually to grow a fresh set of feathers before winter. The exact timing of the molt is based on a chicken's breed, age and the season. But all chickens delay their molt until they've laid a certain amount of eggs, and then egg production stops until the molt is over. Fall flocks have feathers that are still fresh and healthy in the spring, and since they don't molt until after they are a year old, egg production isn't interrupted in the summer.
3. Spring pest control. Starting a fall flock means pullets are ready for pest control as soon as insects begin hatching, crawling and flying in the spring. Chickens are avid bug eaters and can greatly reduce the number of ticks, mosquitos, spiders, grubs and a host of other pests, giving you a virtually bug-free yard all summer.
Check out Tractor Supply's full line of poultry products, including brooders, coops, feed, supplements and more!