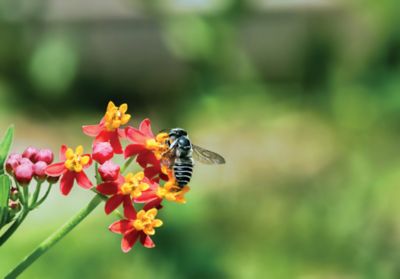 Raising Solitary Bees
By Carol Davis
Mention beekeeping, and the first thing that usually comes to mind is the honeybee — for its sweet honey harvest or because of its steep population decline in recent years. But another kind of bee has such prolific pollination power that not only can it help the honeybee by helping pollen sources flourish, but it also can triple a garden's harvest. This super pollinator is referred to as a solitary bee, which consists of both the mason bee and leafcutter bee, explains Jay Williams, expert beekeeper and Director of Farm Operations for Crown Bees.
Honeybees are social insects that work together in hives for the good of the queen bee — which lays the eggs — and her offspring. Solitary bees, as their name suggests, are single, or lone bees. Rather than living in a colony, like honeybees, they make their own nest in such places as wood or crevices in walls where they lay their eggs and then gather pollen and nectar to feed their own offspring.
The way that solitary bees gather pollen is beneficial to growers. "The honeybee flies straight to hive, but the solitary bee goes from flower to flower to flower, so cross pollinations is incredible," Williams says. Pollen is carried dry on the solitary bee's hair, so it falls off easily as she moves among blossoms. Consequently, she pollinates more flowers than the honeybee, which wets the pollen so it sticks to the legs as it's transported to the hive, according to the Honeybee Conservancy.
"One solitary bee is equivalent to 100 honeybees ... so they're very advantageous for orchards or a farmer to put them on their land, and they're awesome for the backyard gardener."
Beginning beekeepers may want to consider raising solitary bees, Williams says. "The solitary bee won't give you honey, but in exchange, can double or even triple the production in your backyard garden or farm," he says.
Honeybees will fly five miles from their hive in search of pollen, but solitary bees stay closer to home, usually flying only about 300 feet from their nest, Williams says. Therefore, if you're growing organic produce, solitary bees won't be flying to other pollen sources where pesticides may be used and bringing them back to your plants, he notes. "Solitary bees area a way to create a little bubble in your back yard or farm to maintain your organic or all-natural nature," he says.
Solitary bees also are not susceptible to the same pests and problems — such as the deadly varroa mite — that that plague the honeybee, Williams says, so you won't lose large numbers of bees each year, as honeybee keepers do.And every bee will go back to nest it hatched from, which means multiple generations of solitary bees will call your yard home, according to Williams.
One advantage to keeping solitary bees is that they are safer for novices, Williams says. "Females have a stinger, but they never sting, but if you were to get stung, it feels like a mosquito bite," he says. "And the bite doesn't cause anaphylactic shock, so these bees are very safe around schools and pets and your kids," Williams says. "It's very advantageous to go that route if you're concerned with any sort of safety issues."
POLLINATOR PIT STOP
Designate part of your yard as a "pollinator pit stop" to attract and keep bees and other pollinators in your yard, Williams recommends. That means letting some of your grass go to weeds and planting native perennials, he says. "The most important thing is to create an area where plants will leapfrog each other," he says.
That means planting so that you'll have blooms in early spring, summer, and fall, creating a continuous pollen source for your bees. "You need to create a habitat that's going to feed them. You want to make sure there's pollen out there in your back yard," Williams says, "because they will leave if they don't have the food they need."
GET THE KIT
A kit makes it easy to get started raising solitary bees, Williams says. The kit, which you can get at your local Tractor Supply, consists of housing that resembles a birdhouse, nesting trays, mud, and, ultimately, bees. You simply mount the house four feet off the ground, facing the early morning sun. The warmth will wake your bees, so they start pollinating earlier. If you've purchased mason bees, you either add water to the mud mix included in the kit or dig a hole in the ground for them to obtain moist dirt to seal their eggs. If you've purchased leafcutter bees, they'll seal their eggs by collecting nearby foliage.
They take tiny bites, so they will not ruin your roses or other flowers, Williams says. "You'll never know they're there," he says. When the bee house is up, you'll contact the kit manufacturer to send your bees. Not only will you be helping honeybees and your garden harvest, but you'll find personal satisfaction in raising solitary bees, Williams says. "You feel like you are part of something bigger," he says. "I never feel more grounded to this earth than when I am with my honeybees or taking care of my solitary bees."