Raising honeybees keeps hobbyists buzzing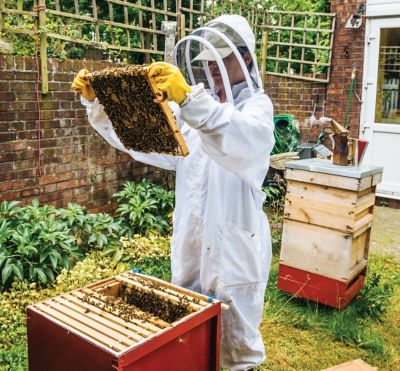 Jason Waite got hooked on honeybees about 12 years ago.
By John Commins
Jason Waite got hooked on honeybees about 12 years ago, and he vividly remembers the first taste of honey harvested from his own hives in Tooele County, Utah, about 35 miles west of Salt Lake City.
"It's like when you bite into your first green bean or radish that your grew yourself; the sweet reward of it," Waite says. "The taste was unbelievable."
When they first started apiculture, or beekeeping, Jason and his wife Rhonda were looking to boost the yield from their 1-acre garden.
"The first year we put a garden in we got some produce, but not a whole lot. We looked online to see what we could do to increase production and we found out about natural pollination with honey bees," Waite says.
Like most beekeeping newcomers, the Waites decided to start small. When they went shopping for hives at a local beekeeping supply store, however, they came away unimpressed.
"The boxes were flimsy and poorly constructed," says Waite, a professional woodworker.
"I thought that with my background I could design something that was stronger and last a lot longer in the elements than what was for sale on the market. I went into the garage, got all my tools out and made some good-looking boxes and tops and covers and bottom boards and put them out in the weather."
The results were dramatic.
"In the first year the yield was up about 80 percent," Waite says.
Not only that, Waite's bee boxes were drawing attention from other beekeepers.
"A guy came over and said we should sell those boxes and bee products online," Waite says. "From there we launched our website and found that there is a big need for people who want to get into beekeeping."
And with that, Harvest Lane Honey was born.
The Waites, who run the beekeeping supply business with her parents and 30 employees, still operate about 150 hives that produce as much as 6,000 pounds of honey every year, which they sell at a small retail operation. The bulk of their energies, however, is supplying other beekeepers and offering advice for hobbyists who are drawn to apiculture.
Available To All
As daunting and intimidating as apiculture may sound, there really aren't many limitations on who can keep bees and where they can do it, Waite says.
"Just about anybody can do it. We have customers who live in apartments in New York. They either put them on the deck, or they talk to the building owner or the landlord and put them on the roof," he says. "You think bees in the city isn't a good idea but they do really well because there are a lot more flowers and gardens in the city, little 10x10 gardens, and they need bees too."
Once the hives are up and running, there really isn't much to do. "You look maybe every other week to see how the queen is doing, if she is laying good eggs, or if they need extra food," he says.
In fact, Waite says it's far more likely that new beekeepers will want to do more than is necessary for the bees, which are fairly self-sufficient and tend to do better when people get out of the way.
"You don't want to be in the hive too long because it cools the bees down and sets them back on their production," he says. "If you go every two weeks it gives them time to build the hive up so they are not distracted."
For those who'd like to try beekeeping, Waite advises beginning by studying up via online resources.
"You should also consider going to beekeeping class," he says. "Get with your local (beekeeping) association and see where those meetings are. Go and ask questions. Get the pointers from them about the pros and cons of beekeeping."