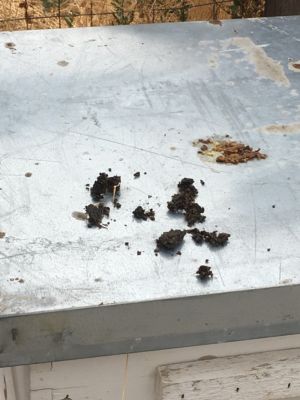 Do you have a predator amongst your bees?
Content supplied by Harvest Lane Honey
Maybe your hive has been acting a little more aggressive, and maybe you are noticing a sudden decline in numbers despite their being an active queen that is laying. You may have a predator that is bothering your hive. Some of the most known predators are Bear, and Skunks. Bears will decimate a hive in one-night vs. a skunk who will decimate a hive over time. The best way to protect your hive from most nuisances is prevention:
Ensure you hive is raised off the ground at least 12". This allows the bees to defend against predators like skunks, because the skunks under belly is exposed allowing the bees to sting in defense. Also, a raised hive will help prevent other smaller predators from having easy access to the hive.
If you are in an area that is prone to bears, you will want to have the hives in an area that is not accessible to bears or have bear fencing.
Signs of bears or skunks: Look for scat that contains bees. If you find scat with bees you know you have a predator, you could consider using a trail cam to best identify your predator and from there decide how best to deal with your bees' not so friendly neighbor.
Predators can also be domesticated, cows can be attracted to hives and cause damage. The best way to deal with any farm animals is to provide fencing as a separation between animals and bees.