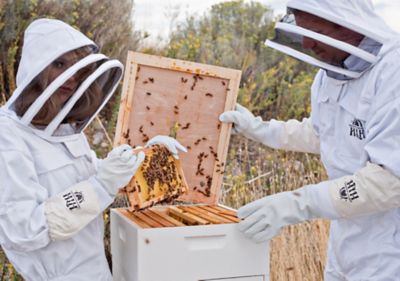 Getting Started with Bees: Q&A with Harvest Lane Honey
Interested in starting with honey bee hives? Beekeeping experts from Harvest Lane Honey and Tractor Supply answered Facebook fans' questions and offered tips and tricks for becoming a successful beekeeper, from advice for beginners starting their hives, to extracting fresh honey, to the best beekeeping equipment, and much more.
Thanks to the Tractor Supply team and Harvest Lane Honey for participating in this Facebook Q&A.
Q: When is it too late in the year to start a new hive? I am in southeast Alabama.
A: HLH: If snow is not a concern you can start a hive late into the summer. You won't necessarily get honey that year, though.
Q: Where is the best place to buy bees and hives to get started?
A: HLH: Check out https://www.tractorsupply.com/know-how_pets-livestock_bees_beekeeping.html and https://harvestlane.com/pages/buying-bees.
Q: How do I get rid of the ants near my hive? Cinnamon doesn't work.
A: TSC: I put a pan under my hives and filled it (not all the way) with used motor oil. I had one hive that was more susceptible to ants than the other.
Q: How do you treat for bee stings?
A: HLH: If you are working in your beehives, I would smoke the sting with your smoker. When bees sting they release a pheromone that alerts the other bees to attack, smoke covers that scent.
Q: We've managed to lose four hives through winter so far. Two this past winter and two the year before. We are in Northern VA where winters are unpredictable. We put up wind blocks both times because they are out in the open but the snow piled up and drifted around the wind blocks. We're thinking we won't put them up this year. The outcome cannot be worse than any other year. Any other tips for overwintering?
A: HLH: This last winter was very rough. If they have honey reserves it may be a queen that dies during the winter. Beekeeping certainly isn't risk free, but keep trying.
Q: I just bought my first bee keeper suit and gloves from TSC. I have a local bee keeper helping me remove bees from our home and storage building in Neiderwald, Texas. We are moving them to hives and they seem happy. How do I keep the bees from trying to come back to rebuild?
A: TSC: As long as you are sure the queen is gone and any openings are sealed, you should be fine.
Q: How did you originally decide beekeeping was for you? I have been be interested, but haven't made the emotional decision.
A: HLH: Its has to be something you want to do, because it is a commitment and you want to be a good steward to those bees. We suggest read and study.
A: TSC: I took a full year to read as many books as I could. I also took a class offered by my local beekeeping club. This definitely made me want to start beekeeping. You're not only discovering a hobby for yourself, but you're helping the bee population.
Q: For a beginner, How many hives is a good to start with?
A: TSC: I started out with 2. That way you can see any differences in the hives. You can also "help out" one of the hives if it needs a boost.
Q: Can you have a hive in a city/suburb backyard?
A: HLH: Check with your local agricultural extension office. They will have all the regulations handy for you. Here is a link to help find regulations https://harvestlane.com/pages/hive-registration.
Q: Is it better to find a hive in the wild or to order bees from a distributor?
A: HLH: If you want a particular breed, then ordering from a farm is your best bet. Swarms are good if you have access and knowledge of capturing. https://www.youtube.com/watch?v=W2fAbDKOp8U.
Q: What's the best way to get propolis off one's iPhone screen?
A: HLH: Rubbing alcohol works the best -- we call propolis bee caulk.
Q: Is there a better time of day to relocate a hive?
A: TSC: When I moved my hives, it was in the middle of the night. I had a few guard bees come out to see what the ruckus was. I put on the entrance reducer and put a small amount of duct tape on that hole. Ratcheted all the hive boxes down and moved them, all in one piece. They were none the wiser the next morning. Granted, it was only about a mile away from the original area.
A: HLH: We had to move a hive in the middle of winter and had to transport them 10 miles away, with winter activity being low, we were able to join lock the boxes together with L Brackets and then ratchet straps for the tops and bottoms. Also secure the front entrance with nails in front of the reducer or duct tape. Commercial beekeepers have to move their hive all the time and the bees do just fine.
Q: Are liquid feeds mixed with water or used full strength out of the container?
A TSC: This is the Harvest Lane Honey feed that does not need to be mixed: https://www.tractorsupply.com/tsc/product/harvest-lane-honey-liquid-bee-feed-wessential-oils?cm_vc=-10005
Q: How much time should you expect to spend on a hive?
A: TSC: If I am doing regular maintenance on my hives, it will take about an hour to sort out both. If it's ridiculously hot, I will take breaks between the two hives.
A: HLH: 1 hour is reasonable. Very low time commitment overall.
Q: I would like to encourage bees to hang around. Do those little pre-made bee houses work?
A: HLH: Yes, they can they are usually for mason or leaf cutter bees, won't hurt to try. We have these houses for sale, mason bees included: https://www.tractorsupply.com/tsc/search/mason%20bees
Q: What kind of hive do I need if I just want the bees to pollinate? I want them to keep their honey for the winter.
A: You can attract native, solitary bees to your garden by building a bee station, or you can purchase a mason or leaf-cutter bee kit: https://www.tractorsupply.com/tsc/search/mason%20bees
Q: What are the best flowers or plants to attract bees?
A: TSC: Bees will find their way to pollen and nectar across a large area. You don't have to provide the plants, but I did make a little bee garden.
A: HLH: Anything that butterflies like -- salvia, bee balm to name a few, but we have a list of few on our FB page.
Q: Do you have to get bees from the area we live in specifically?
A: TSC: If you can get bees from your area, that's good because they are already used to the weather and plants available in your region.
Q:What species honeybee do you personally have?
A: TSC:I have Italians!
A: HLH: We have Italian, Yugo's, Carniolans.
Q: How many boxes do you need to start out?
A: TSC: I started with 2 hives. It's always better to have them to compare. You can also help out a struggling hive with parts from the healthy hive. You'll start out with a deep super. This will be one of your brood boxes. You'll generally end up with 2 deep supers per brood. You'll add medium or shallow supers for honey after your brood supers have filled out. One hive colony per stack of supers.
Q: Are they allowed in most city limits?
A: TSC: Most cities are welcoming of bee hives. You can check with your local agricultural extension office for any regulations in your area. You may have to register your hives with certain government offices. If you do get them, give your neighbors a heads up. You can offer some honey as a thank you!
A: HLH: Here's a link that may help you https://harvestlane.com/pages/hive-registration
Q: How long does it take a person to learn all the basics of Bee Keeping, for beginners? If you live in zone 5, is there any specifics on protecting bees from heavy snow? Thank you. We don't know much about bee keeping, but since we are looking towards buying a farm, we do want to help increase bee population, and have those awesome pollinators to help out too.
A: HLH: Learning is not a problem, we say it's more like parenting in that there is a lot to learn and sometimes you just have to get in and try it before you know. Heavy snowfall isn't an issue, and many hive survive in very cold climate. They keep bees in Alaska very successfully.
Q: How many bee hives per acre do you recommend?
A: HLH: We recommend do 2 if you can, 4 per acre is usually a good number to go off. There are people (including me) who have more but this is a good start.
Q: I have a weak hive and a strong hive. Can I take a brood frame from the nuc and put into the package to boost it? And if so what's the best method of achieving that.
A: HLH: Yes, this is a good example of why it's recommended to have 2 hives. Shake the bees off the frame into the old hive and then put that brood frame into the new hive.
Q: I have a colony of bees that moved into my porch a few weeks ago. I would rather buy supplies and get a mentor to keep them on the back of my 5 acres than to pay to have them picked up and relocated. Everyone I have talked to says not to get started this way, but what is your suggestion? They are nice bees, I am always close by them.
A: HLH: Honestly we have done removals from homes -- it's iffy at best. You have to know you have the queen and then get them to take to the new hive. Not it's saying impossible, and it may be worth it to see if you like the experience but certainly more challenging than other ways. Can't hurt and you need to get rid of the bees anyway.
Q: I have known SHB in a hive. Can I stop them or reduce their numbers? If yes, what do you use? This is in a foundationless langstroth hive. It may be too late but would like to know for future.
A: HLH: SHB is a stinker for sure, we recommend a screened bottom board open with a pan of oil below, it will prevent the dropped ones from climbing up. If the infestation is to bad and you lose the hive I would recommend getting new supplies and moving the area of the hive if possible, we know people who use rock salt around the base of the hive to help prevent.
Find more info and Q&As on TSC's Facebook page: https://www.facebook.com/TractorSupplyCo