Out Here Magazine - Fall 2016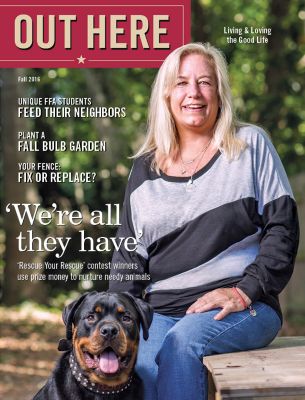 Out Here Magazine - Fall 2016 Issue
'Rescue Your Rescue' contest winners use prize money to nurture needy animals
When Jake the homeless dog had been hit by a car, mangling all four legs, Cindy McManus and her colleagues at Imagine Pet Rescue never considered having him euthanized.
Jake had one leg amputated because of damage, but he was tenderly cared for and allowed to heal from his massive injuries. Some six months later and more than $5,000 in veterinary bills, Jake was adopted into his forever home.
Like Jake, most of the dogs taken in and eventually placed into homes by Imagine Pet Rescue have some kind of medical issue: some have Parvo, a highly contagious viral illness that is deadly to dogs or heartworms; some need medical help, such as a Rottweiler who needed surgery on both eyes; others have been abused or neglected; and others are senior dogs whose owners have relinquished them because they can't, or won't, pay for increasing veterinary care.