Doctors repaired the heart of Virginia Beer's husband, Michael, five years ago with a valve made with tissue from a cow. She jokes that post-surgery he felt compelled to own cattle.
The "Little Big Farm" in Hilliard, Fla., just south of the Georgia border, however, spanned only about 3 acres, too small for traditional cattle. Instead, the couple bought a 6-month-old miniature zebu bull.
"I wanted to name it Spare Parts," Virginia says. "But, he wouldn't let me. The bull's name is Harry."
The breed fit not only the size of the farm but also the couple's joy of animals. To meet the breed standard of a miniature, a zebu must measure no taller than 42 inches at the hip, or roughly waist-high on a typical adult person.
"When we bought the little bull, we put it in a dog crate in the back of my car," she says. "That's how little it was, and then we started finding some girls for him."
Harry and the five cows make great small-farm companions, Virginia says. None of the Beers' zebu weigh more than 450 pounds — well less than half the weight of a full-sized cow.
"We lead-trained them, and they are real gentle and sweet," she says. "They get along with the goats, and they get along with the dogs. They get along with everyone. They'll eat cookies out of your hands."
And they also provide a practical resource. "Their job is to keep the grass cut, keep everything weed-whacked and to fertilize the lawn," she says.
The International Miniature Zebu Association based in Crawford, Neb., provides a resource for tracking zebu bloodlines and serves as a repository for zebu information.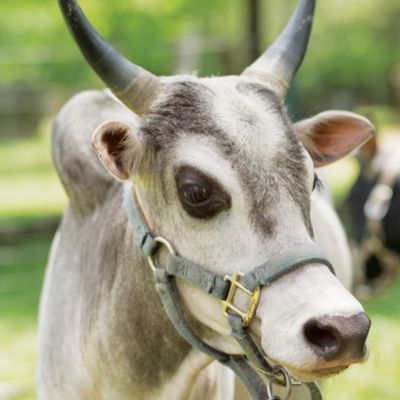 Rick Bogle serves on the group's board of directors. With 50 zebu cows on his 49 acres in Sorrento, Fla., he considers himself one of the nation's largest zebu breeders.
"They're a sub-tropical animal, and they are a cousin to the brahma. It's important for people to know that they were not bred down," he says. "They were naturally this size, and they were brought over from Africa and India."
While a few of the animals will nudge the upward boundary of the breed standard height, small is generally considered better.
"Most people try to keep them around 36 inches (tall) or so, and that seems the optimal size," Bogle says.
With a heritage rooted in hot climates, zebu are suited for the warmest regions of the United States.
"On a super-hot summer day where an Angus or Hereford would be looking for shade, the zebu would be laying out in the sun," Bogle says.
He knows of people in Minnesota and Wisconsin who raise zebu, but a heated barn becomes a necessity.
"They do not handle the cold well, at all," he says, "If it's below freezing, the cows will probably be fine but you certainly don't want to do calving or have young ones in the cold weather."
Otherwise, the breed is extremely hardy. "They don't get the normal afflictions that an Angus or Hereford would have," he says. "They don't get pinkeye. They don't get rot foot."
A zebu's hooves can grow quickly, particularly in well-fed animals. Expect to trim hooves at least once a year, Bogle says. Also, they require a good mineral supplement, as do most cattle breeds.
No one makes livestock-handling equipment, such as head gates or squeeze chutes, for zebu-sized animals, but Bogle adapted equipment designed for calves of traditional breeds, which are often about the size of a full-grown zebu.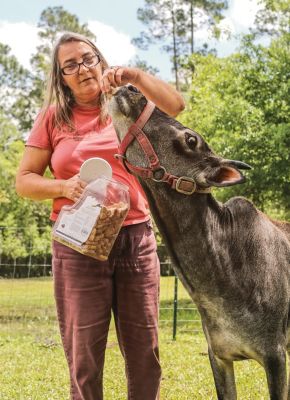 MORE AFFORDABLE, LESS LAND
Like their full-sized counterparts, Zebu provide milk and serve as a source of meat.
Each milking, typically done twice daily, can produce more than a pint of milk, Bogle says. That's enough for a family, with no need to worry about spoiled leftovers.
Similarly, a full-size zebu can produce about 150 pounds of meat, which makes good hamburger or roast, Bogle says. "That's all we eat and it's very good meat that is low in cholesterol and fat."
Finally, Bogle believes zebu provide an ideal introduction for children to cattle.
"Anyone who has ever been to a county fair has seen a 1,000-pound steer pulling a 100-pound girl around the arena," he says.
Zebu cattle offer a more affordable, less land-intensive option.
"Kids can learn about animal care, reproduction, and the animals' place in the food chain, but they do it on a much, much smaller scale," he says.
Or, you follow the example set by the Beers and just enjoy the rare breed.
"I understand they can live to be 30 years old, and we plan on them being around a long time," Virginia says. "It's a lot of fun."
Georgia writer Noble Sprayberry is a frequent contributor to Out Here.