Clean jars and green beans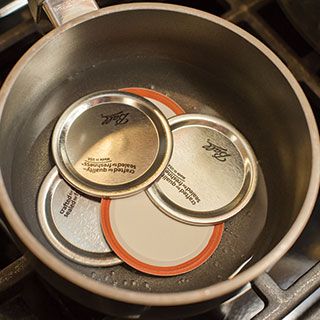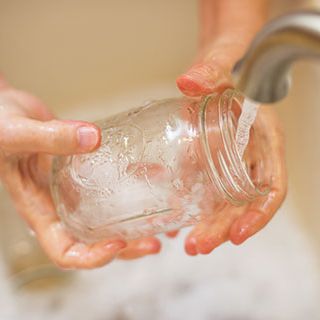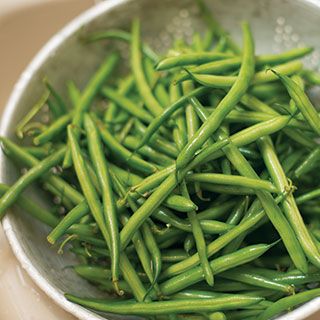 Wash your canning jars, lids, and rings in hot, soapy water. Check the jar rims to make sure they have no nicks, which will prevent the lids from sealing correctly, Judy says.
Carefully wash dirt and bacteria off vegetables and fruits under cool running water. Or put them in a sink full of water, swoosh them around, drain the water, rinse off, and repeat once or twice, Judy says.
"Don't soak them, because you will end up with water-logged vegetables," she says.
If you've harvested the produce from your own garden or a farmers' market, hose them down before bringing them into the house. "You don't want to bring all that dirt and bacteria into your kitchen," she says.
Place clean lids in a small saucepan, cover with water, and put on the stove. Bring to a slight boil, then turn off the stove, leaving the lids in the hot water to soften the sealing compound, making them ready to use on the jars.
Prepare the Vegetables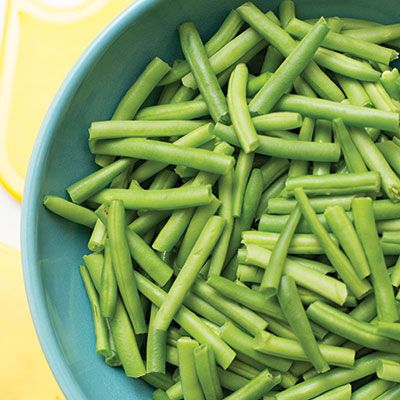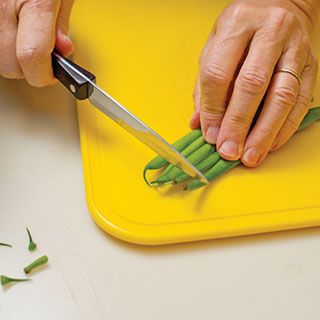 You can leave them whole or cut or snap them into 1-inch pieces. Be sure to remove the stems and tips.
Heat Jars and Precook Beans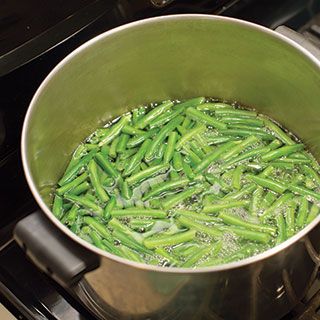 Green beans taste and look better if you cook them in water and pack them hot in the jar, rather than canning them raw, Judy says.
If you're going to pack hot food, then you must warm the jars as well, because placing hot food in cold jars can cause jars to crack.
Place about 2-3 inches of water in your canner and turn the heat on low. You don't want it to boil, but you do want it warm. Place the jars in the canner, making sure the rack is in place. Setting them directly on the bottom of the canner can cause breakage.
While the jars are heating, place the beans in a cooking pot, cover with water, and cook for 5 minutes.
Pack the Jars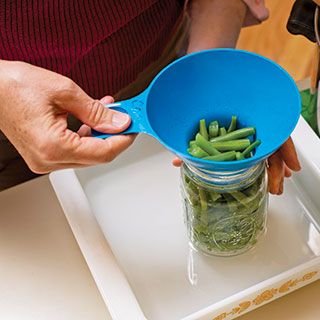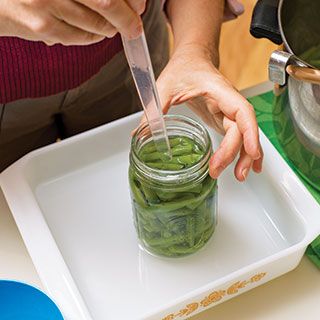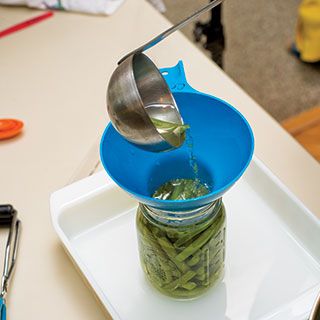 Avoid messy spills by using a wide, flat pan under the jar as you pack. Before you start your first jar, scoop out about a cup of water and pour it into the flat pan; this will keep the jar's temperature even so it doesn't crack.
Use a slotted spoon and canning funnel to fill the jar with beans so that you leave slightly more than 1 inch of headspace, which is the space between the lid and the food. Then add the cooking liquid to leave 1 inch headspace.
This space is needed for expansion of food as jars are processed, and for forming vacuums in cooled jars, according to The National Center for Home Food Preservation.
Headspace requirements differ, depending on what you're canning. The center specifies leaving one-fourth inch for jams and jellies, one-half inch for fruits and tomatoes processed in boiling water, and from 1- to 1¼-inches in low-acid foods to be processed in a pressure canner, such as the green beans.
After filling the jar, you'll "bubble" the jar to release the trapped air bubbles that can prevent the pressure canner from creating a vacuum seal. Simply use a plastic knife and wiggle it in a circular direction beginning with the outermost part of the beans and working toward the center.
Bubbling will create more room in the jar, so add enough beans or liquid to leave the correct amount of headspace.
Clean the top of the rims with damp paper towels, place a lid on top, and screw on a ring. "Take the ring to the point where it naturally stops, then twist one more time," Judy says.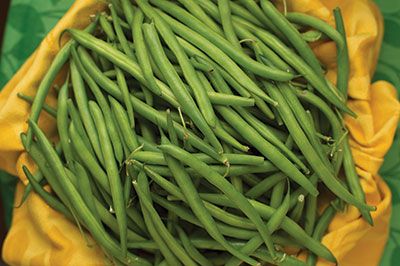 Start the Process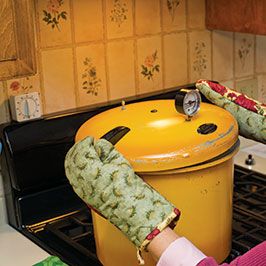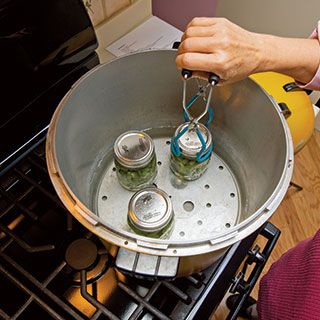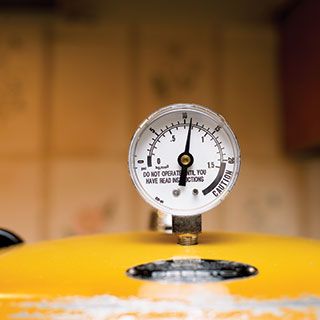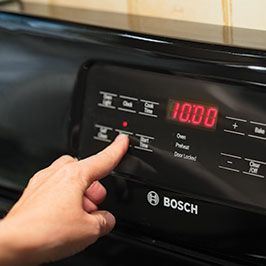 Place the jars on the rack in the canner and close the lid, Judy says.
Watch for steam coming out of the vent port – also called the petcock. Once the steam has come to a full head, set your timer for 10 minutes and let it continue. This is removing all the air from the canner.
After 10 minutes, place the closure over the petcock. This is when pressure starts to build to the required pressure – depending on your altitude – but you don't want it to build too rapidly. Watch it closely and adjust your stove burner so that pressure rises slowly.
Once the appropriate pressure is reached, or the weighted gauge jiggles correctly, set your timer for the correct processing time. In this case, Rochester, N.Y., where Judy lives, is less than 2,000 feet above sea level, so the correct pressure is 11 pounds. She is canning pint jars, so the processing time is 20 minutes. If she were processing quarts of green beans, processing time would be 25 minutes.
Removing Jars and Cooling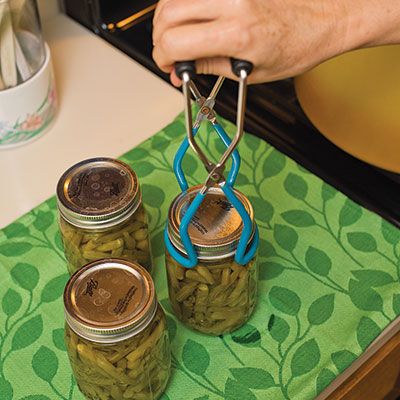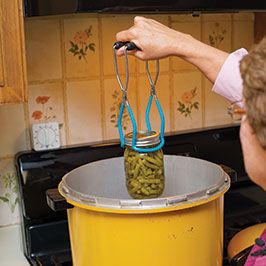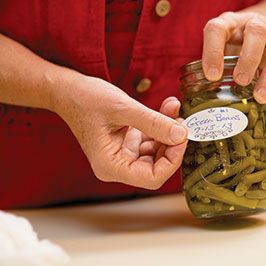 After the correct amount of time, turn off the stove burner and allow the pressure canner to naturally drop back to zero, Judy says. Once the pressure is gone, open the petcock by removing the weight closure, she says.
Wait 10 more minutes and then remove the lid, lifting it so that the steam safely billows away from you. Using a jar-lifting tool, lift the jars out of the canner and place them on a cooling rack or towel with about an inch between each jar to allow air to flow to aid cooling.
"Lift them straight up out of the canner," Judy says. "You don't want to tip them because it might affect the seal."
"Everybody wants to tip the water off the top, but don't do that," she says.
As the jars cool, you'll hear the welcome sound of a slight "pop" as the lids seal. Let them sit in place overnight to allow them plenty of time to cool and seal.
Final Steps and Storage
HOT PACK GREEN BEANS
Wash, beans, trim ends.
Break into 1-inch pieces or leave whole.
Cover beans with boiling water and boil 5 minutes.
Pack hot beans into hot jars, leaving 1-inch headspace.
Add

½

teaspoon salt if desired.
Fill jars to 1-inch from the top with boiling cooking water.
Remove air bubbles. Wipe jar rim.
Adjust lids and process pints 20 minutes (quarts 25 minutes) in a Dial Gauge Pressure Canner at 11 pounds pressure OR in a Weighted Gauge Pressure Canner at 10 pounds pressure. Check altitude at location where processing.
Turn off heat. Allow pressure to drop to zero. Open vent and let stand 10 minutes.
Remove lid. Place jars on towel or cooling rack.
Approximately 1½ pounds fresh beans yields 1 quart canned.
Adapted by Judy L. Price from:
So Easy to Preserve, 5th Edition

, Cooperative Extension University of Georgia, 2006
Remove the rings, wash the jars, and label each jar with the name of the contents, the date it was canned, and, if you canned more than one batch, the batch number.
"You want to put the batch number, just in case," she says. "Then, if you have a problem with one jar not sealing or something, you can watch the other jars that were done in that batch."
Rings are to be used during the canning process only, not storing.
"If you leave a ring on, it might have debris under it and it will get rusty and moldy," she says.
Wash and dry the removed rings and place them on a cookie sheet in a hot oven.
"That way, you know they're completely dry and then you can store them in a plastic bag until you need them again," she says.
Now, you're ready to place your newly canned food in your pantry and admire your handiwork.
Out Here editor Carol Davis' canning specialties are tomatoes, her mom's salsa, and hot garlic pickles.