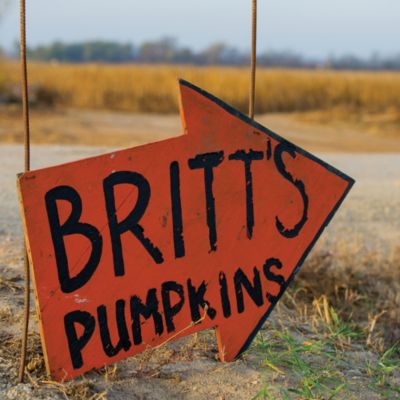 Each autumn, Britt's Garden Acres buzzes with activity and laughter as young children revel in the calves, ducks, goats, and other livestock in the petting zoo, young couples search their way through a complicated corn maze, and families pick out their Halloween pumpkins after enjoying a hayride.
In the middle of everything is the "Fun Zone" where youngsters can tumble in the inflatable bouncy house, climb hay bales and oversized tractor tires, crawl through large tubes, have pictures taken with life-sized cut-outs, and glide down a mountain-sized slide.
Cultivating fun has become as important to Richard and Angela Britt as cultivating corn, tomatoes, peppers, pumpkins, watermelon, cucumbers, and other vegetables on their Kansas farm.
Without it, they probably wouldn't be able to remain full-time, fourth-generation farmers.
AGRICULTURE + TOURISM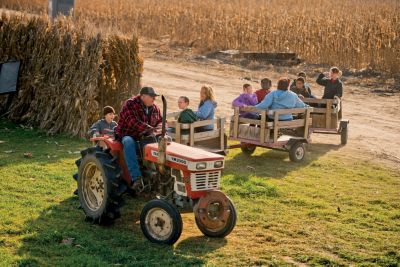 The Britt farm is one of nearly 24,000 farms across the United States that report income from agricultural tourism or agritourism — according to the U.S. Department of Agriculture's 2007 Census of Agriculture.
Agritourism allows farm operators to boost their income by adding a variety of activities, such as school group tours, pick-your-own crop harvests, festivals, hunting, and much more to their farm.
More and more small family farms across the country are embracing agritourism as a way to supplement their farm income, or to help make up for losses when crop prices go down or bad weather takes a toll on a harvest.
That pumpkin patch you visit with your children or grandchildren each fall? That's agritourism. So is the wedding reception held in a barn on a large farm or ranch, the instructional class on drying herbs and flowers, the waterfowl hunt, or a farm festival.
Many agritourism activities such as farm tours, petting zoos, and bed and breakfasts require little additional investment in labor to be successful, according to the Virginia Extension Service, so the farm owner is limited only by his or her own creativity.
And although those 24,000 farms represent more than $566 million in income, agritourism is not a get-rich prospect; 50 percent or more of those farms make less than $5,000 annually in agritourism income, census figures say.
For Richard and Angie, the agritourism piece of their farm, which they've steadily expanded over the past few years, represents from one-fourth to one-third of their entire business profits, Richard says.
"Right now," he says, "it's about perfect."
GROWING VISITORS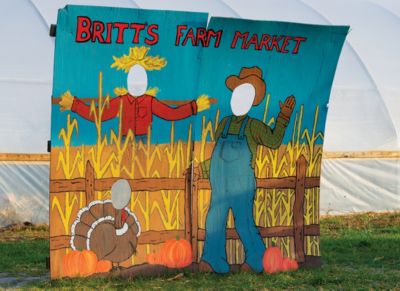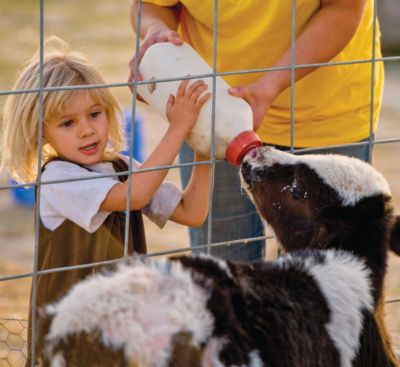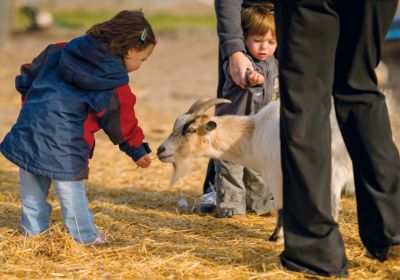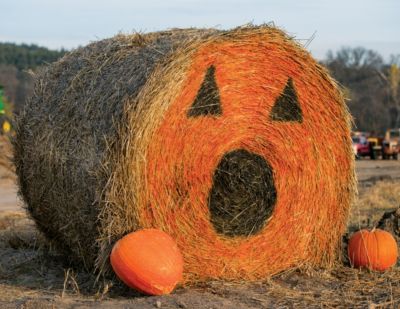 "Agritourism" actually began at Britt's Garden Acres long before the word originated.
Richard's grandfather built a farm store in the 1960s to sell their produce, which drew a steady stream of customers to their farm, located just outside Manhattan, Kan.
When the original store was lost about two years ago to a highway project, Richard and Angie moved operations about one-fourth mile up the road and built a new, larger farm store, where they sell their produce, including honey from their own hives.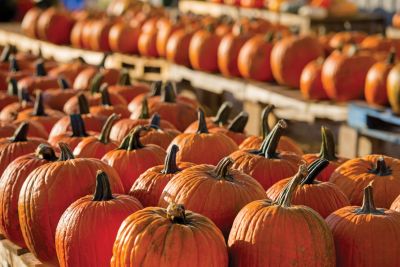 For decades, Richard's father and stepmother had practiced agritourism by inviting school groups out to see the farm, and growing a large pumpkin patch for Halloween, Angie says. She and Richard continued the tradition when they bought the farm in 2006.
Soon, they added a small, easy-to-navigate corn maze, which drew a significant number of visitors to their farm and opened their eyes to the possibilities.
"We were starting to understand what people wanted: an experience and time with their family," Angie says.
So they added the hayride, which became so popular that the lines grew too long. That's when they created the "Fun Zone," so children would stay entertained while waiting their turn on the hayride, she says.
Each year or so, they've added new entertainment elements to their farm's offerings so that visitors have plenty of activities from which to choose, including:
Barn parties
Private bonfires
Storytelling about how plants grow and farm animals
Farm tours
Pumpkin patch
Annual Haunted Scary Maze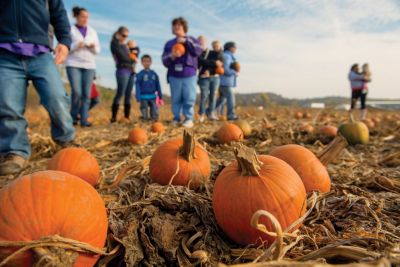 Richard has created a second corn maze that's larger and more challenging than the original 1½-acre maze. It covers about 10 acres and requires nearly 30 minutes to complete — that is, if you finish it correctly.
"I've had to go in and help a few out," he says with a chuckle.
Some have gotten so turned around in his tricky maze that they've ended up right where they started — at the entrance, Angie says.
The art to designing a challenging corn maze is to figure what people tend to do — and make them do the opposite, Richard says.
"I've been cutting these a lot of years and I know what messes them up," he says. "People are predictable and I know how to deceive them in the mazes."
As much as they want their guests to have fun, telling the story of how food grows is equally as important to the Britts, who encourage teachers and home-schooling mothers to bring their children to the farm to participate in Angie's puppet shows and learn how plants grow.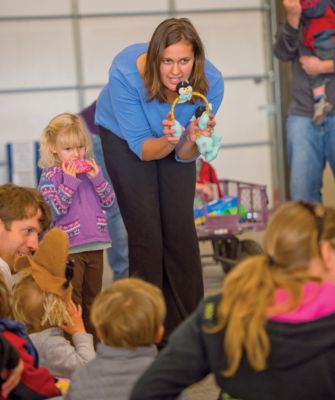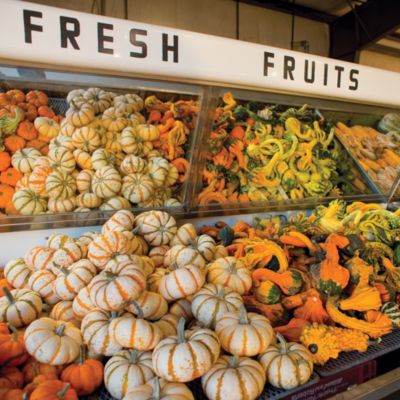 "Teachers like it because we are very educational," she says. "Yes, the kids have fun, but some of them don't have a clue about where their food comes from. Some of them don't even know that a tomato is green before it turns red."
So she walks them through the farm, where they get to pull an onion from the ground, pick a pepper from a plant, and tug zucchini and pumpkins from the vine.
"When kids have to pull a pumpkin off the vine, they learn all that went into growing it," Richard says. "It's something you can't get in a classroom. You can't learn something out of a book without experience it."
He pauses.
"Agriculture is good for the soul," Richard continues. "You should always know where your food comes from."
ALL IN THE FAMILY
Richard has always been aware of where his food comes from; after all, the farm has been in his family for four generations.
Richard's great-grandparents were the first to own the farm, producing primarily corn. It was handed down to Richard's grandparents, John and Lucile Britt, who were the first in the family to farm fruits and vegetables, which they sold from their front porch beginning in 1948.
The land was passed down to their son, Richard Sr. — Richard's father — who retired and eventually would sell to Richard and Angie.
Young Richard easily stepped into the role of landowner and farmer. He had been born on that farm, and was practically running it by the time he was 18. He happily drove tractors, harvested crops, and delivered produce. Back then, cantaloupe and watermelon were their biggest crops, although they also grew tomatoes, pumpkins, cabbage, potatoes, peppers, and much more.
Still, his father wanted him to experience something other than farming, so Richard got a welding degree from a technical school and built trailers for a plant.
"Then Dad got sick and asked which of us kids wanted to come back and help," Richard recalls. Of the seven siblings, Richard, who was 19 or 20 at the time, was the only one with the desire to work the farm.
He took over farming responsibilities while simultaneously getting a degree in fruit and vegetable production from Kansas State University there in Manhattan.
He soon met Angie, who was visiting the farm with a friend, and they eventually got married in 2005. They bought the farm the next year.
She was "not a farm girl," in the beginning, she says, but her ideas, a degree in management from Kansas State, and on-the-job learning have helped the farm stay profitable so it will be there should any of their three young children decide to farm when they grow up.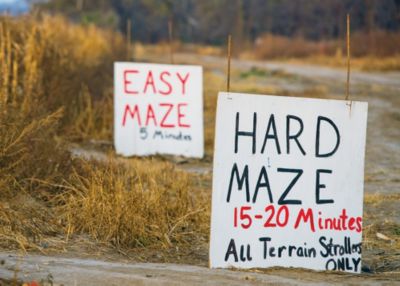 Profitable agritourism also means that neither Richard nor Angie must get an "off-farm" job to keep the bills paid — a luxury that not all farm families enjoy.
"As I posted on my Facebook page," Richard says, "I'm living my dream."
Out Here editor Carol Davis' favorite part of the Fun Zone was the baby animals.
MORE INFORMATION
For more success stories in agritourism click here.
Web Extra:
See more photography of Richard and Angie Britt's family-friendly farm by visiting this page.