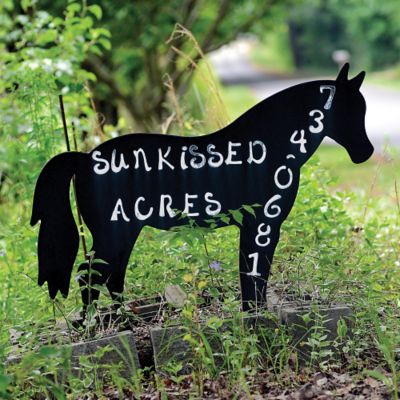 For horses living at Sunkissed Acres farm, being put out to pasture is most definitely a good thing.
This 60-acre spread nestled in the tri-state corner of Alabama, Georgia, and Tennessee is a peaceful slice of heaven to two dozen older horses, most of whom endured neglect and abuse before arriving at this scenic farm. Here, they're given the kind of sunset years all aging equines deserve.
It all started when owner Lori Yonts sent her own aging horse to what she thought was a reputable retirement farm about 10 years ago. Unbeknownst to Lori, the farm's owner never fed her horse and then took her to auction to be sold. When Lori found out that her beautiful gray mare was heading for what is commonly termed the "meat man" and certain death, she acted quickly.
"I bought her back for 50 cents," Lori says.
The neglect had taken a toll on Lori's horse, but Lori nursed the elderly mare back to health. "She's 33 now and quite fine," Lori says.
That incident gave Lori the idea of creating a real retirement farm where owners could keep their older horses and pay for basics such as feed. But before the modest paying venture could take off, the word got out that Sunkissed Acres was taking in senior horses, and immediately people just began dropping their older horses off, many of them abused.
Lori was now in another business — the rescue business.
"I think about the first 10 or 15 horses that came here for retirement were all starving to death and were just left," she says. "I had a lawyer very quickly talk me into becoming a (nonprofit)."
If Lori can find homes for these seniors, she does, but that happens rarely. Most are not "adoptable," meaning they can't be ridden.
So, when Zac Henderson and his wife Lynne, of Georgia, wanted a companion for their last aging horse, they asked Lori for one of her rescues. They then adopted two more from Sunkissed Acres just to give them homes. Henderson refers to Yonts and the farm's singular volunteer, Becky Byrd, as "horse angels."
"They have been so good to work with," Henderson says. "These are very special people on this earth."
SPECIAL CARE
Lori holds two fundraising events a year and the funds from those, along with some minor donations, help keep the aging bodies and souls on the farm together. And though she has to stretch those donated dollars, it's a misconception, she says, that the care of older horses costs more.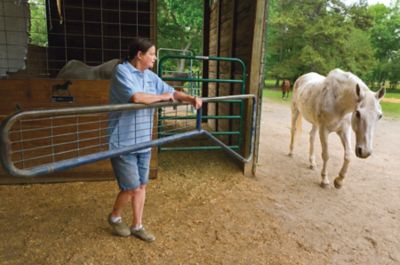 "It's really no more expensive to keep them, but it's a little more time-consuming," she says. "They are really quite easy if their living conditions are suitable … They just need a little bit of special care."
At Sunkissed Acres, all the horses are fed a formulated senior feed of rice bran, beet pulp, and extruded fats, which is gentler on their bodies overall.
"It's much easier on their stomachs and their digestive tracts," Lori says. "It's usually a little bit softer feed. Just like people, they are going to lose their teeth."
Stabling older horses is a little trickier, she admits, because older horses are vulnerable. They eat slower and can't defend themselves.
"A younger, stronger horse is very quickly going to beat them up and steal their feed," she says. "So, peace of mind is really imperative to keeping them all at their weight and keeping them healthy."
At Sunkissed Acres, each horse has his or her own stall and paddock for that reason and because they need to able to move about to keep arthritis at bay.
"The more they move around the better off they are," Lori says. "They like to lay down and stretch out, and they need room to get up, because it's not always graceful," she adds, laughing.
Apart from Becky Byrd's assistance, there's little help at the farm. A few folks in the region commit to a "work day" here and there for specific projects, such as fence fixing, but no one from the area volunteers on a regular basis. And if a volunteer can't commit to coming regularly, they can't be around the horses because these horses don't take to just anyone.
"These horses have suffered a lot. They don't just come up to a stranger. If I'm out of town, and if somebody comes in who doesn't know them, they won't even come into the stall," she says.
Matching her rescues together for companionship has proved easier and has turned up a curious phenomenon, says Lori, who is not sure how it happens, but believes it might have to do with a wisdom that comes with aging.
"I don't know how my gaited horses find every gaited horse, but they do," she says. "All the white horses hang with the white horses. Quarter horses hang with the quarter horses."
For Lori, who seems to personally feel each day of neglect these creatures have had to bear, knowing them so closely also gives her unique perspective on them.
"I came to the conclusion many years ago that all old horses are very nice and very smart, even if you don't see it right at the start, because if they weren't," she says, "they wouldn't still be around."
Colleen Creamer is a Tennessee writer.