Out in her pasture, Alda Owen watches her cattle, but sees only their vague shapes. The legally blind farmer isn't nervous about working with them, however, because her four-legged farmhand is at her side.
"Jo, bring 'em up," Alda tells her black border collie, Sweet Baby Jo, who creeps low to the ground toward the cows and herds them into another pasture. Alda also directs the dog through her chores with such commands as "walk up" and "get down."
"Her eyes are my eyes," Alda says. "I used to walk myself to a nubbin because I'd think a shadow in a bank was a cow." Worse, a bull once smashed into her leg when she couldn't close the pasture gate quickly enough.
With Sweet Baby Jo's help, Alda is independent and able to help her husband, Rick, with the livestock on their 260 acres in Mayville, Mo.
And Alda received her trained furry helper for free, thanks to Jackie Allenbrand, who founded PHARM Dog USA (Pets Helping Agriculture in Rural Missouri) in 2005. PHARM dog USA provides service dogs to assist farmers with disabilities in carrying out their daily activities on the farm.
Jackie, a farmer in Stanberry, Mo., created the program while working with the University of Missouri Extension's AgrAbility program, which helps to enhance quality of life for farmers, ranchers, and other agricultural workers with disabilities.
"People think that when a farmer is injured or has an accident they can't go on and do farming chores, but they can," Jackie says. "We have cattle and row crops on our farm and use dogs. Since I was working with farmers with a variety of disabilities, I thought, 'Why not go ahead and train the dogs for a specific purpose?'"
"Service dog training is nothing new," she says, "but what makes this program unique is it's training for the farmers. We look at the needs of the farmer and train the dog."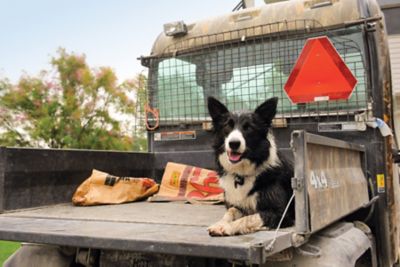 For Alda, having Sweet Baby Jo brings freedom and joy, although her family had to convince her to get the PHARM Dog.
"All my life, I felt I knew how to improvise," says Alda, whose optic nerves were damaged by histoplasmosis when she was 10. "I had a wonderful girlfriend who took notes and helped me through high school."
After she was diagnosed with breast cancer and underwent a double mastectomy in 2009, her family worried about her safety on the farm.
"I was feeling pretty low and washed out, but Sweet Baby Jo has the energy I'm lacking," Alda says. "She goes with me everywhere. I can stand at the gate and she'll bring the cattle up to another pen. If I have a cow that's hanging back, she knows it.
"She's more than a best friend," Alda adds, as the handsome dog gazes at her. "My purpose was always to be active and involved on the farm as my husband's partner. Sweet Baby Jo gives me back my purpose."
SUPPORTED BY GENEROSITY
Alda often accompanies Jackie to events to talk about the life-changing program. PHARM Dog is supported entirely by donations and trainers, such as border collie breeder Bobby Miller of Plattsburg, Mo. He donates his time, expertise, and even pups for the program.
While border collies are trained for herding, PHARM Dog trains Labrador retrievers, rescued from animal shelters, for other services the farmer needs.
Bruce Trammell, 55, is the grateful recipient of a golden lab named Odie.
In 2009, Bruce suffered a brain injury after being struck in the back of the head with a track hoe bucket while working on a railroad switch. For a year, he was too depressed and fearful of falling to leave his farm in Kingston, Mo. A stroke, multiple falls and concussions, and daily migraines kept him confined.
Then Odie came into his life. The dog is outfitted with a leather harness with a handle that Bruce grips to steady himself. If he starts to fall backward, Odie intuitively counterbalances.
"I haven't had any falls since he's been with me," Bruce says. "He's the smartest dog I've ever seen and he'll do anything I ask him to." Odie fetches buckets, shovels, gloves, bottles of water, and Bruce's cell phone — whatever object Bruce beams with his laser.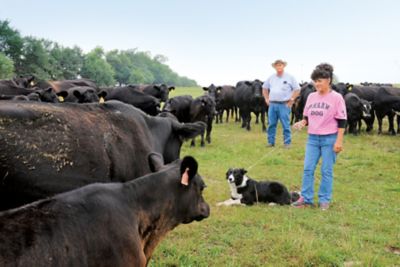 Bruce's wife, Linda, says she was amazed one day to see Odie pick up a level.
"This big level was longer than Odie is," Linda says with a smile. In addition to bringing tools to Bruce and helping with mobility, Odie offers emotional comfort.
"Bruce might be on the couch for two or three days with migraines and Odie will sit right there with him," Linda says.
His four-legged helper makes it possible to continue working around the farm, Bruce says. He tends the garden and makes building repairs with Odie beside him. When he wrestled sheets of plastic in the wind while trying to cover plants, Odie sat on one end of the plastic so he could finish the task.
"Without Jackie, I never would have gotten Odie," Bruce says. "She's put a lot of heart into this program."
So far, PHARM Dog has trained nine dogs that are helping farmers with disabilities and injuries. The trainer usually spends a week at the farm and makes follow-up visits to make sure that the partnership is working.
The program runs on goodwill. Jackie has received a couple of small grants and Cargill donates dog food. She and PHARM Dog supporters give talks, demonstrations, and hold fundraisers.
"There's a purpose for this program," Jackie says. "We're keeping farmers independent and every farmer that you can keep productive is paying back."
As for Jackie, well, she's paying it forward; she receives no monetary pay for her work with PHARM Dog.
But if you ask her, her work is priceless.
"When I look at the farmers and they cry when they receive the dogs and tell you how it gives them purpose and meaning," she says, "that's payment for me."
Marti Attoun is a Joplin, Mo., writer.
WANT MORE INFORMATION?
Find out more about PHARM Dog by visiting pharmdog.org.