The horse had somehow scratched his leg, causing swelling, and his young owner was concerned enough to drop by Dr. Morgan McCarty's veterinarian practice for guidance and maybe some medicine.
"Keep him walking," advised Dr. McCarty, "and I'll get some (antibiotic) cream mixed up and leave it in the mailbox."
Indeed, the practice of a rural horse-and-cow doctor is a bit different than that of a small-animal practice that centers on four-legged friends considered part of the family. Dr. McCarty's patients are usually much larger than she is and most have a job to do, such as providing milk or meat, pulling a wagon, building a herd, or winning competitions.
Practicing in a rural area also has its own originality. Where else could she leave antibiotics in a mailbox and be assured that they'd be left alone?
And where else could her real office be defined not by walls and examination rooms, but by dirt roads, corrals, and some of the most majestic scenery found anywhere?
Yes, being a rural veterinarian suits Dr. Morgan McCarty just fine.
TECHNOLOGY IN THE FIELD
Dr. McCarty's eyes light up as she spots some of her favorite patients — a herd of shire horses. This breed of draft horse is extraordinarily large, with stallions standing as tall as 17 hands — 68 inches — and winning world records as both the tallest and largest horse overall. Their hooves measure nearly the size of dinner plates.
"They are some of my favorite patients," she says.
These gentle giants generally have good dispositions, and Dr. McCarty always looks forward to providing checkups, administering vaccinations, and treating shires, even as they dwarf her.
At a recent examination, she used an ultrasound to check on a shire mare's pregnancy — an exam that wouldn't have been possible just a few years ago.
"We're not cutting edge, but we do stay up-to-date with medication and equipment."
Indeed, as technology has evolved in human medicine, it has followed suit in veterinary medicine.
"We're not cutting edge, but we do stay up-to-date with medication and equipment," Dr. McCarty says.
Though Dr. McCarty examines her patients in their own corral, she has easy access to all of each animal's medical records, now kept on computer.
Her digital X-ray system allows her to take X-rays on the farm, where the images instantly come up on her computer screen for immediate evaluation. The computer's Internet capability allows her to email X-rays to a board-certified radiologist, if necessary, for a rapid diagnosis so treatment can begin.
"The ease in which they can be shared is pretty remarkable," she says.
"That's a lot different than even 10 years ago, when you would take an X-ray with traditional film, take it back to the practice to develop it in the darkroom, and then drive back to the ranch to begin treatment," she says. "And if you didn't take a clear X-ray to start with, you had to do the whole thing again."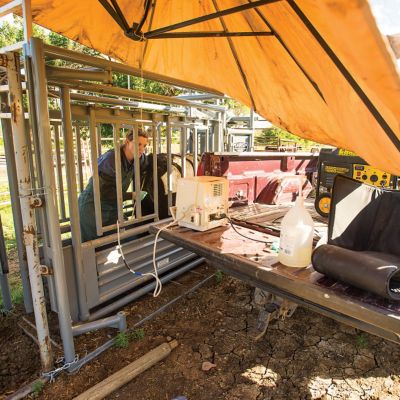 Ultrasound technology also helps Dr. McCarty determine pregnancy for both cattle and horses — and that includes whether the cow is pregnant, and whether she's carrying a little heifer or bull.
"For me, the ultrasound for cattle is a time-saver and I find that, for myself, quite a bit more accurate," she says.
It also raises profit margin for ranchers, who can sell a cow pregnant with a female calf for more than a cow that isn't carrying, or is pregnant with a male calf.
"Medicine," she notes, "is always changing."
STARTING HER PRACTICE
Most of Dr. McCarty's practice involves equine and cattle, although she will treat small ruminants, such as goats and sheep, for local 4-H kids. In fact, 4-H has been a constant in her life and may have played a part in her career choice.
Dr. McCarty and her sister grew up in Rhode Island around animals, where their mother had a horse and their grandfather was a harness and buggy dealer for local Amish residents. She got her own pony when she was just 3, her own sheep when she was 12, and steers and other animals after that for 4-H and FFA. In fact, raising Romney sheep paid for her first year of college.
She's not sure at what point she decided to be a veterinarian, but she does know that her focus was always on being a large-animal doctor.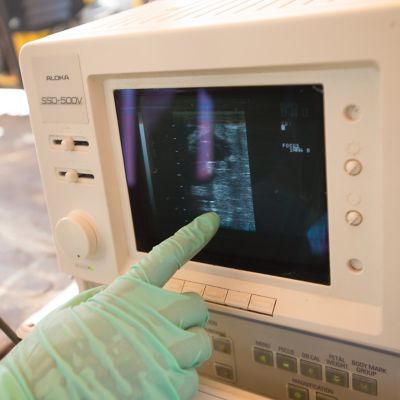 "I never ever thought I would be a small animal veterinarian. Ever," she says. "My interest was always in large animals and agriculture."
Her interest led her to Colorado State University and its renowned and world-class veterinary school, where she received her Doctor of Veterinary Medicine in 2007 and met Dan McCarty, who would become her husband. Not long after graduating, she moved to rural Fruita, Colo., in western Colorado, where she began practicing.
During that time, they received many calls for assistance from Garfield County — up the Colorado River about two hours east of Fruita — where a food-animal veterinarian had retired and livestock owners had no local vet.
Dr. McCarty and her husband decided to relocate to Garfield County and open her practice — Colorado River Veterinary Services, in Rifle, Colo. The move would be as beneficial to them as it was to local livestock owners: the beauty of the area was appealing, it had a strong customer base, and her husband's family lived there.
Now, her mother-in-law, Kathy, manages her office, located in the small building that once served as a town post office, and she and Dan, an associate director for the National Cattlemen's Beef Association, run their own herd of cattle.
On top of that, the state of Colorado designated Garfield County as having a need to attract and retain large-animal veterinarians, which qualified it for the USDA Veterinary Loan Repayment Program. That means that if a veterinarian applies for and receives a position where there is a designated need, then he or she is awarded $25,000 per year for three years to help pay off student loans for graduate debt.
For Dr. McCarty, that was "icing on the cake."
RURAL PRACTICE IS 'REWARDING'
Though certain areas, such as Garfield County, are designated as having a need for a large-animal vet, the perception that there's a shortage of such doctors is not altogether accurate, Dr. McCarty says.
"That is actually a heated debate," she says. "There's not necessarily a shortage of large-animal vets, but there is a shortage of areas that can support large-animal vets. There are a lot of areas with lots of livestock and agriculture that need a large-animal vet, but they can't support one."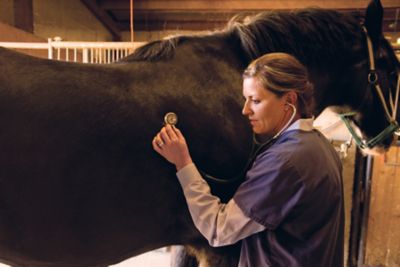 In essence, an area may need a large-animal vet, but the number of four-legged patients aren't enough to financially sustain a veterinary practice.
"There have been studies and papers by the AVMA (American Veterinary Medical Association)," she says, "and the conclusion is basically we need to retain the large-animal vets we have that are already established."
As a member of and officer in the Academy of Rural Veterinarians, which promotes the rewards of rural veterinary practice in rural America, Dr. McCarty encourages veterinary students to consider becoming a country vet.
"It's definitely a wonderful lifestyle," she says. "It's not an easy job — sometimes it can be hard — but it's fulfilling and rewarding."
Among her hurdles is managing her workload in a solo practice.
"It is challenging to get time off because of emergencies or someone has a question," she says. "So that is by far my biggest challenge: trying to continue to do my job but make time for myself."
And she has to replace her vehicle more often than most. She puts about 1,000 miles per week on her truck, although those miles are driven "in some of the most beautiful parts of the country," she says with a smile.
Indeed, being a country vet has provided the lifestyle that Morgan wanted and loves.
"For my particular practice, I get to work with some of the best people in the world," she says, "salt-of-the-earth folks who are dedicated to their animals and livestock and committed to producing a safe and wholesome food supply for America."
Out Here editor Carol Davis is from western Colorado and agrees with Dr. McCarty that it is one of the most beautiful parts of the country.