Painting furniture is a great way to upcycle old pieces found at thrift stores and yard sales and bring them back to life in a way that will uniquely fit into your own home.
Giving an old piece a new paint job doesn't take very long, but if you really want to create a special piece specifically for your home, then adding some typography is a great way to add personality to an otherwise plain piece of furniture.
This technique can be used on a previously or freshly painted table, as well as any type of furniture with a flat surface, such as a chest of drawers, cabinet, or even a barstool. Using old-school graph paper and a little paint, you can transform nearly anything into your own masterpiece.
Start with your furniture, and make sure the base coat of paint is in good condition. If your furniture is unpainted, sand it lightly, apply a coat of primer, and then apply two or three coats of a quality paint to ensure you have a good working surface.
1. You also need to find a graphic that will work on the shape of your furniture. This round table worked especially well with a stamp-style round graphic, but to get that shape, print out the words using any writing program, such as Notepad or Microsoft Word, so that the letters are on individual pages.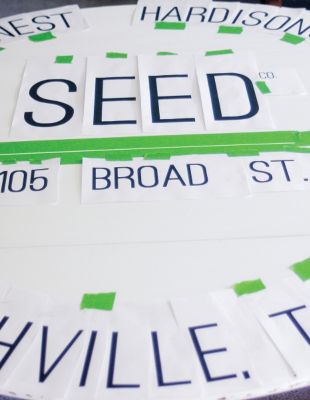 2. To get the measurements for the letter size you need, make a couple of samples and hold them up to your furniture so you can get a visual of what will work best. Try experimenting with different layouts, so you can see what works with your piece of furniture. Using different size fonts, as seen in the smaller letters in the middle of this table makeover, also will bring more dynamic to the graphic.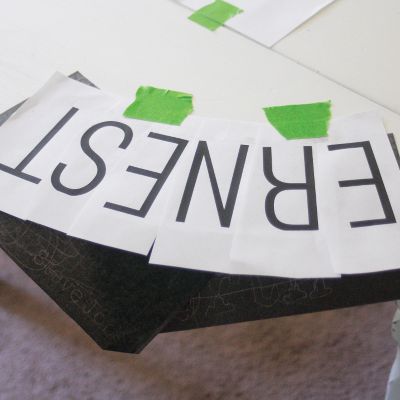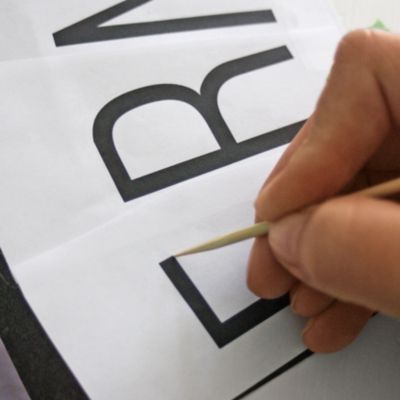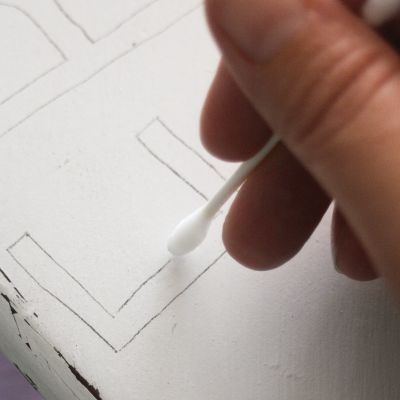 3. Arrange the letters on the surface of your furniture, to fit whatever size you need. Using a small bit of painter's tape, gently adhere each sheet of paper, trimming the excess as necessary to make the pattern flow properly. Square or rectangle furniture pieces are easier for beginners, but round pieces are not that much more complex. Tape down all of the letters so you can be sure your image is centered and exactly where you want it before beginning the transfer process.
4. Underneath each sheet of paper, place a piece of carbon paper. If your surface is lighter colored, then use black carbon paper, but for darker colors use white carbon paper. Using black or white paint (depending on the carbon paper used) will help to conceal any lines once the graphic is complete.
5. With the tip of a bamboo skewer, or any other pencil-like sharp tool, carefully trace the outline of each letter. On straight portions of letters, use a ruler as a guide to help keep the lines crisp. Just move carefully and remember that any mistakes can be fixed. The more practice you have at tracing, the easier it will be.
Any tracing mistakes can be erased with a bit of alcohol on a cotton swab, used as an eraser. Make sure the surface is thoroughly dry before filling in the letters with paint.
6. Once the entire graphic has been traced, take a small-tipped paintbrush and fill in all of the lines with latex paint. Some areas might need a second coat, but just move slowly and carefully to stay inside the lines and get a clean image. A flat brush is also helpful in filling in larger portions of straight lines, such as in the letter N or M. Patience is the key, and even an experienced painter can take a couple of hours to do a large image.
7. After your table is completely dry, seal the entire top of the furniture piece with a few coats of poly acrylic sealer, letting it dry between coats according to the directions. Sealing the graphic will ensure you can enjoy the furniture for years to come.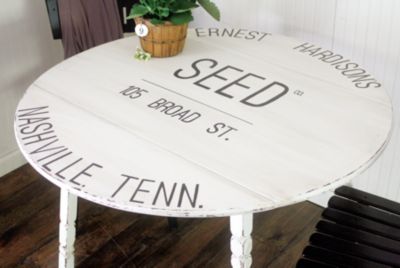 The beauty of this technique is that you can use letters, graphics, or anything else you want. By using the same steps to trace out the image and fill it in with paint, even a tiny table can be updated to fit into the scheme of your own home.
You can make this technique even more special by drawing from your family history.
My grandfather was a cotton farmer from south of Nashville, and this graphic was inspired by a vintage cotton seed sack, so his memory has a special place in our daily lives.
Gina Luker has all kinds of do-it-yourself projects and writes about them on her blog, The Shabby Creek Cottage, at theshabbycreekcottage.com.