Rosemary Miner — you just might call her Mother Goose International — has assembled her brood of nearly 700 waterfowl from far-flung corners of the globe.
Rosemary extends a sheltering wing to 65 species, including vulnerable, endangered, and protected species, providing a natural and protected habitat at her nonprofit Gooseneck Hill Waterfowl Sanctuary.
The 45-acre sanctuary is in Delavan, N.Y., 34 miles south of Buffalo, with forests, waterways, and landscaping. Seven acres with four spring-fed ponds are surrounded by fences and covered by nets 16 feet high, providing a safe environment in which the birds can swim, feed, and fly.
"We have birds from all over the world," says Rosemary, who tends the sanctuary with her husband, Milt Miner, a retired math teacher. "There are birds from Africa, India, South America, Europe, Siberia, Norway, Asia, Alaska, and Hawaii."
The birds — about half of them ducks and half of them geese, with a few swans — mingle freely and fly, at whim, from pond to pond. Unlike domestic fowl, which can bicker and be territorial, wild waterfowl get along well, Rosemary says, with the exception of a few aggressive species, which she purposefully does not raise.
Paddling, diving, and quacking in harmony at Gooseneck Hill are a veritable United Nations of waterfowl: Red-breasted geese from Siberia, Smew ducks from Scandinavia, European Widgeons, Mandarin Ducks from East Asia, and Hawaiian Nene geese.
The Nene is the world's rarest goose and the only goose on the Federal List of Endangered Species. The state bird of Hawaii once flourished on the islands but was hunted by people and preyed upon by introduced predators such as mongoose, cats, and dogs to the point where there were just 30 birds by 1952.
Conservationists bred the geese in captivity and they were reintroduced to their native Island home. Now there are about 800 Nene in the wilds of Hawaii and more birds in captivity in zoos and in private breeding programs, such as Gooseneck Hill's.
On site is an incubating room, and a bird hospital with an operating room. Veterinary services are donated by Dr. Carl Tomaschke, an avian specialist and a member of the board for Gooseneck Hill.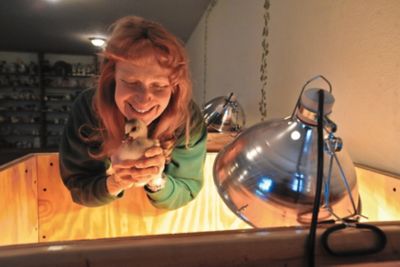 DAILY CHORES
Rosemary and Milt do almost all of the hard work of operating the sanctuary: feeding, cleaning, and groundswork. Every day when it's not freezing, Rosemary and Milt spray off the rocks and pathways around the ponds to keep them free of manure.
Winter brings more-challenging physical work. Waterfowl need open water in order to survive. In hard winters the ice on the ponds can get 4 feet deep — even with four de-icers running constantly — and the Miners have to chop it with Mattocks: metal tools that help break the sheets of ice into pieces small enough to be removed. New York winters can be harsh, and the winter of 2013-14 was a doozy. It got down to 60 below with the wind-chill factor.
In heavy snows, while the birds are in shelters under heat lamps, the Miners take long poles and knock the quickly collecting snow from the nets so they won't be damaged.
Every day, Milt feeds about 150 pounds of food to the birds at a cost of about $12,000 a year. A mill makes a special waterfowl formula, a pellet mix with the right ration of carbohydrates, protein, vitamins, and minerals. Then there are crumbles for the small birds and fish food for the diving ducks.
A local supermarket donates lettuce. Five-gallon buckets of various cleaned lettuces are distributed for the birds to pick through. They'll eat everything but iceberg lettuce, Rosemary says. "There's no nutrients in iceberg."
ADVENTURES WITH WATERFOWL
Raising waterfowl was an avocation in 1983 that grew into a full-time passion.
"We had two white call ducks that wandered onto our property and from there this whole thing got started," Rosemary says.
A few years later a friend moved to Florida and needed a home for 11 geese. It was around the time of Rosemary's birthday, and when asked by Milt what she'd like for a gift, she said, "Well, you could buy me those birds."
As her flock grew and her knowledge increased, Rosemary sought to diversify her species of birds.
That's how she ended up on four Alaskan egg-gathering adventures in the 1990s, in Prudhoe Bay and Kotzebue. Armed with the proper state and federal permits, Rosemary braved irritable moose, grizzly bears, whitewater rapids, a near plane crash, and a capsized boat in the Arctic Ocean to bring back the eggs of the Pacific Eider. Gooseneck Hill now has the largest collection of Pacific Eiders in the world: 125 of the sea ducks that during breeding season take on a black-and-white coloration.
Rosemary received the Southwick Memorial Award in 2004 for her efforts toward establishing Pacific Eiders in captivity in North America.
"They've always been kind of my favorite birds," Rosemary says. "They're the largest duck in the world; they weigh 4 to 5 pounds. They sound like little pigs, and the males look like they're wearing a tuxedo. They're just beautiful."
Bird-watchers, photographers, and those who just enjoy the bounty and diversity of nature will find a world of waterfowl in one place at Gooseneck Hill.
"And if you're a bird lover," Rosemary says, "this is the place to come."
Laurena Mayne Davis is a writer in Western Colorado whose own fowl have the run of her fields, garden, and irrigation ditches.
HOW YOU CAN HELP
Become a Patron: For $10 a year, Patrons receive one free visit to the sanctuary, special training and volunteer opportunities.
Adopt a bird: Receive a color photographs and adoption certificate, name your bird, and receive one free visit. Cost is $25 for a duck, $35 for a goose, and $50 for an Eider Duck or swan.
Find out more about the sanctuary at gooseneckhillwaterfowlfarm.com.