Finn the cat, Lusion the rabbit, and Jade the dog all have found loving homes through Tractor Supply's partnerships with local pet adoption programs. Finding homes for homeless pets is important to TSC; each of its more than 1,300 stores host frequent animal adoption events throughout the year.
Everyone loves a happy ending, and, thanks to TSC and PetFinder's large network of adoption programs Finn, Lusion, Jade, and countless other pets get to live that happy ending.
Here are a few of their stories.
AN AUTOMATIC BOND'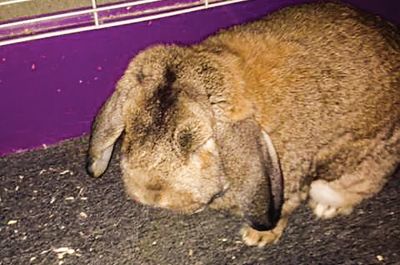 Kendra Fouse, of Jelly Beans Rabbit Rescue and Adoptions, in Lower Burrell, Pa., tells of one of her most touching adoptions:
"I have adoption events all the time at Tractor Supply. I find many rabbits good homes with these adoption events. But the one adoption that really touched my heart was the adoption of Lusion, a Mini Lop Rabbit that is almost 6 years old.
"I took Lusion with me in hopes of finding him a forever home after a lady that had him since he was a baby moved into an apartment and wasn't allowed to keep him. With Lusion being so laid back and mellow, I thought we wouldn't find a home that quick.
"But at Tractor Supply, I had a father and his 3-year-old son walk in. His son could not take his eyes off Lusion. So they went and did their shopping then came back to the table I had set up in the store. The boy's father asked if they could see Lusion, so I took him out of the pen for them to see him.
"It was an automatic bond between Lusion and the 3-year-old boy. Lusion just laid on the floor all content while the boy was petting him so gently. So they did the adoption contract, wrote down all the info I needed, and adopted Lusion that day.
"As the father finished the paperwork, he told me about how his son is autistic. The father told me they have a dog, two cats, and another rabbit and he never bonded like that with the other pets that quick. It broke my heart when I heard the issues the little boy has.
"Later on that evening, I got an email with several pictures of the boy and Lusion and my heart melted when I looked at them. The boy and Lusion are best friends. Lusion found his forever home and the boy found a best friend in Lusion.
"I get pictures from the family a lot and each picture puts a smile on my face."
NO MORE CHAINS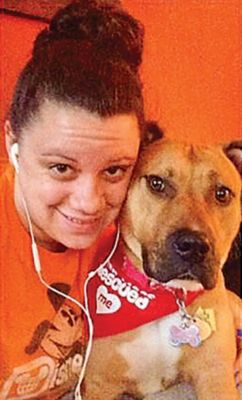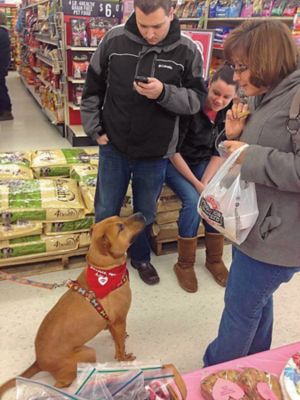 Jamie Hughes, of 2nd Chance Dog Rescue, in Waterloo, N.Y., was there when a dog and her new family made an instant connection.
"Jade was a 2-year-old pit bull terrier who, prior to rescue, spent her life chained outside to a small dog house.
"We rescued her in January 2014. She was chained outside with three other dogs and the temperature that night was to be -20 degrees. When we released the chain from Jade's neck, she instantly greeted us with a hug. She went on to become one of the sweetest dogs to ever be part of our rescue.
"We took Jade to Tractor Supply's "Love Your Pet" event the next month, and that is where Jade met her forever family. Danielle and Jimmy came to the event in hopes of adopting a puppy. However, after meeting Jade, it was an instant connection and she became all they could think about.
"A week later, Danielle and Jimmy made it official and brought Jade home to become a part of their family. In the two months Jade has been home, she has learned how to be a dog and even discovered what toys are and how fun they can be.
"Jade found her perfect family and we have Tractor Supply to thank for helping us make this family complete."
'COULDN'T GET HIM OFF HER MIND'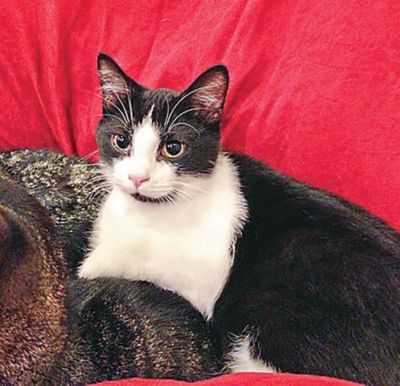 Sharon Lee, of Keeper Kitties, of Wayland, Mich., knows that good things come to those who wait, especially when it means finding the perfect home.
"How come he's not adopted? That's the question we got from the employees at our TSC in Hastings, Mich., for several weeks when we showed up with Finn time and time again.
"Finn is an adorable, outgoing Tuxedo youngster with a personality that reaches out and grabs you before you know it. He always got a lot of families that would look at him but nobody wanted to apply to adopt him. He became the TSC employees' favorite.
"One Saturday was different for Finn. A woman came into the store and took an immediate liking to Finn. She asked if she could hold him and she talked with him, telling him that she had a Tuxedo girl at home that she was thinking about finding a buddy for but she wasn't prepared to find one so soon. She said goodbye to Finn and finished her shopping.
"Before she left, she walked by him again and petted him. Several hours later the same woman came back to the store and asked for an adoption application for Finn because she just couldn't get him off her mind.
"The family passed our screening process, reference checks came back all good, and the home visit was successful. When we brought Finn to his new home, he walked out of his carrier with confidence, immediately started exploring his new home, met his new fur-sister, and never looked back.
"Finn lives with three generations of human women and a girl kitty happily ever after."
ON THE ROAD TO A HAPPY NEW LIFE
Bad weather turned out to be a blessing for one homeless dog, and an unforgettable memory for her, says Liz Kadin, adoption coordinator for LARAS House, also known as Limestone Animal Rescue and Adoption Shelter, in Mexia, Texas.
"It was last December, and the night before a pet adoption event at the Ennis, Texas, Tractor Supply, North Texas had a major ice storm. When I called the Ennis store that morning, they said Interstate 45 was clear there and they were hoping we would still come.
"A few die-hard volunteers agreed to show up and despite the weather, we took the Magic Pet Adoption Bus up to Ennis Tractor Supply. We were taking turns walking dogs and the nice folks at the store let us set up inside the store.
"While walking one dog named Harley, a couple approached the store and I called out, 'We've got some great dogs for adoption!' The couple asked the dog's name and I told them it was Harley. They stopped and looked at each other. The husband asked to visit with the dog. While they were visiting, the wife told me that they were newlyweds, and just a few weeks before the wedding, the husband's old dog named Harley had passed away.
"They had gone on a honeymoon cruise out of Galveston and were supposed to fly home, but due to the ice storm their flight was canceled. Since they needed to get home for work, they had rented a car. They had stopped at Tractor Supply in Ennis to buy a snow shovel, some road salt, and some extra blankets before driving farther north where the weather was worse.
"After talking, they decided to adopt Harley. They bought a collar, leash, dog food and bowls, and a big dog bed, and loaded Harley into the back seat of the rental car.
"Harley originally was rescued and brought to our shelter with 13 puppies. All, but three have since been adopted."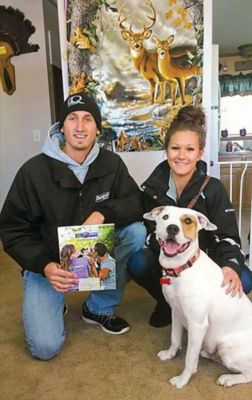 'NON-STOP PLAYING' FOR PETEY
"When Petey was chosen by his new family, that included his new "fur-brother," as well, says Misty Kosmerick, president of Refurbished Pets of Southern Michigan, in Coldwater, Mich.
"On a Saturday last February, Petey went for a meet-and-greet at the Tractor Supply store in Coldwater, where he met his possible brother, Tank. Petey's foster brother, Shadow, came along to give Petey confidence with other dogs. They both were welcomed with a wagging tail by Tank.
"During the meet-and-greet, it was very evident that this would be Petey's new family. That Monday, Petey's new family, Skyler and Danni, came to pick up their boy. Petey was a happy boy to go with his new family.
"Reports back from Skyler are that it has been "non-stop playing with Petey and Tank."