When disaster strikes, Brenda Payne knows what she'll do with her dogs, cats, horses, chickens, ducks, and rabbits. Whether it's a tornado, chemical spill, or flood, she's got a plan.
It's her job. But she wants people who don't work in emergency preparedness to get their ducks in a row too, so they aren't caught off-guard without supplies for their valued companions.
Brenda, director of the Marion County, Tenn., Disaster Animal Response Team (DART) specializes in planning for the worst and hoping it never happens.
Her team formed in response to legislation adopted after Hurricane Katrina in 2005. President George W. Bush signed the Pets Evacuation and Transportation Standards Act into law after the abandonment of pets received media attention, directing FEMA to address the needs of animal owners during a major disaster. In turn, state and local emergency managers created plans and resources to accommodate domestic animals.
Under Brenda's guidance, DART is a group of certified volunteers who oversees the welfare of domestic animals during a disaster — whether it's man-made or natural.
The dozen-member team includes a veterinarian and farmers, among other professions.
Among their goals is to set up temporary shelter as close as possible to a Red Cross shelter, so animal owners can evacuate with their pets.
"People will not evacuate, they will not go to a shelter if they have to leave their pets," Brenda says.
The main goal is to keep animals and owners together, and to manage the animals' welfare until the "pet parents" arrange for other shelter or return home.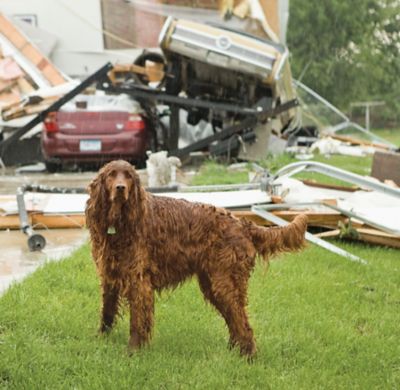 Whether it's a cat, rabbit, or racing pigeon, the team is prepared. But the planning required to evacuate pets and reach the shelter falls on individual animal owners. For this reason, Brenda suggests planning ahead — evaluating your particular situation, knowing your risks of disaster and the needs your animals have.
Then developing a plan is important — deciding the best course of action in various scenarios.
Putting together a "go-to" kit is vital. Being able to grab a kit containing three days of essentials for your animals and evacuate immediately saves time and error.
The kit should contain everything an animal would need for three days. "You need one kit for you … and you need one for your fur angels," she says.
The kit should be specific to your animals, and contain three days' food supply, any medicines needed, a first-aid kit, and medical records. You might also consider animal bedding, bags for waste, toys, and something to chew on.
While putting together a kit for a rabbit or cat might seem fairly simple, large animals are another matter. Because of their size, care and transportation of livestock in a disaster requires extra consideration.
What happens to cows, horses, llamas, and other livestock when disaster strikes? Often, other nearby livestock owners lend a hand, Brenda says. Whether animals need to be evacuated to a safe place, shelter at another farm for a period of time, or the owners need supplemental feed, DART is prepared to brainstorm and help with logistics. But having a way to transport your livestock and feed animals for three days helps a lot.
Practice is also important, she notes. The day a crisis occurs is not the day to try out your plan.
"If you're trying to load a horse into a horse trailer and you've never done it before, they're not going to load into that trailer," she says. "They'll sit down on you."
She suggests trial runs so it's not unfamiliar. Even giving horses feed in their trailers occasionally might make them more comfortable.
A go-to kit is a good start, but Brenda says it's important to consider all the steps in planning for crisis, and to be thorough in preparing your plan.
"It's better to have it and not need it," she says, "than need it and not have it."
Colorado writer Erin McIntyre is assembling a go-to kit for her five chickens and one dog, and hopes she never has to use it.