Patty Mays, of Cedar Hill, Tenn., is known around her area for the ornamental touches that make her interior decorating extra special.
Her specialty, however, is Christmas, and many homes around Cedar Hill contain beautiful wreaths, both simple and showy, that she's made.
Pine cones are a favorite of wreath-makers and Patty has agreed to show Out Here readers how to make a pine cone wreath to suit your taste and holiday décor.
You can make this using fresh evergreen branches, or, if you want it to last for several years, purchase a garland of evergreens from your favorite hobby store.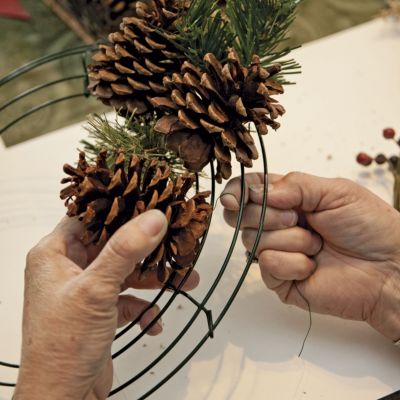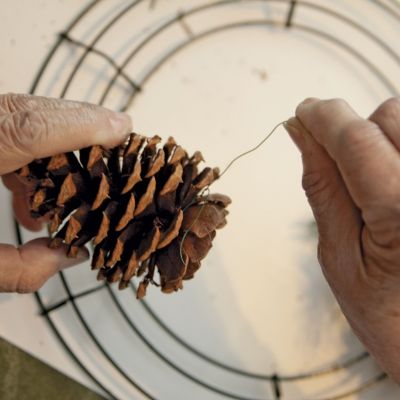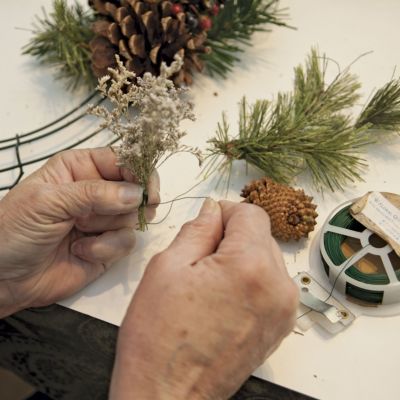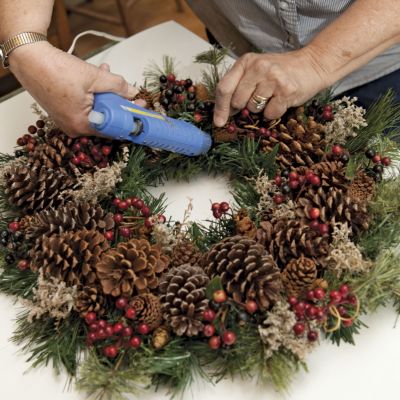 MATERIALS:
12-inch wire wreath frame with four wires Floral wire
Assorted size pine cones — about 16 large and 16 small
4 strands of red berries cut to about 4 inches
1 bag of dried statice (or baby's breath, if you prefer, but statice lasts longer)
Short pieces of assorted fresh evergreens or one garland of evergreens
Wire cutter
Glue gun
Ribbon — bow, raffia, or wired ribbon
INSTRUCTIONS:
Cut about 4 inches of floral wire and wrap it around the base of a large pine cone. Tightly wire the large pine cone to the second or third ring of the frame.
Add two or three more large pine cones by repeating step 1.
Add small pine cones by gluing them to large pine cones. Place them among and around the large pine cones where it looks like filler might be needed, and by how full you want to fill it the wreath.
Wire together two pieces of 6-inch cut evergreen and then wire them inside and outside the wreath frame among and around the pine cones. Be sure to cover all the wire so that none shows.
Wire berries together and then, using the hot glue gun, affix the berries inside and outside the wreath frame, using as many or as few as you like.
Wire small pieces of dried statice together and then glue them to greenery where it looks like filler is needed. Again, use as much or as few as you like.
Repeat these steps as you move around the frame.
After the wreath is complete, decide if you want to add a bow. If so, either make a bow, or use a pre-made one, and position it several ways on the wreath — at the top, bottom, or along a side — to see what looks best to you. Once you've decided, wire it to the wreath.
Now that you've made a wreath, use these simple steps to create one that's truly your own. Your Christmas wreath can be large or small; simple or showy; modern or traditional; or completely personalized.
Patty has made them all. And so can you.
Out Here editor Carol Davis prefers her wreaths simple.
SAFE STORAGE
If you construct your wreath using artificial greenery, keep your wreath in perfect condition from year to year by placing it in a plastic bag and then boxing it up.