When business traveler Bill Starr detoured through tiny Leslie, Ga., en route from Americus to Atlanta, he discovered a piece of Americana that honors a gadget that changed the world.
"I saw a little sign along the road pointing out the presence of a telephone museum, and I thought, 'Wow, who knew?'" he says.
Curiosity led him to a former cotton warehouse that now houses the Georgia Rural Telephone Museum, and when he walked through the door, Starr was astonished at what he saw.
"I was expecting a few telephone booths and old telephones, but there turned out to be hundreds of them, from all periods, going back to the 1870s," Starr recalls. "I was just kind of stunned."
That sense of awe is familiar to Helen Killcrease, who has worked for 14 years as a tour guide at the museum opened in 1995 by Tommy C. Smith, the longtime CEO of Citizens Telephone Co. in Leslie.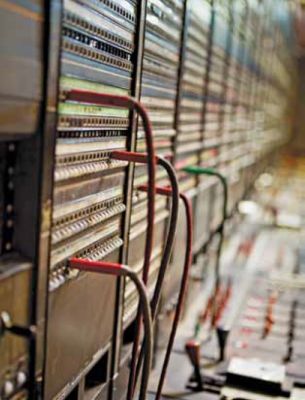 "I'll never get tired of walking through here and wondering about things," she says, as she stands at a glass case containing samples of the very first telephones, handmade by Alexander Graham Bell and Thomas Watson in their Boston workshop in the 1870s.
From these early beginnings, museum visitors trace the rapid development of the telephone from Bell's famous Gallows model — named for its resemblance to a hangman's scaffold — to a 'liquid transmitter" telephone that runs frequencies through a jar of acidulated water, Thomas Edison's game-changing introduction of a carbon transmitter, hand-cranked models, candlestick phones, and party lines, to rotary dials, touch tones, and wireless.
Throughout the museum, striking murals and lifelike scenes of mannequins working massive switchboards or repairing hanging telephone wires, along with working model telephones, add a whimsical and interactive element to the exhibits.
The museum bills itself as "the largest collection of telephones and telephone memorabilia in the world" for good reason.
Growing up in Sumter County, Ga., Smith saw the power of telecommunications to connect rural areas such as Leslie to the wider world, so following his service in World War II, he bought the Leslie-DeSoto Telephone Co. and created Citizens Telephone in 1946.
"He always had a very fond love of phones and phone systems," museum docent Jimmy Ledford says, "and as the business got going, he wanted to start collecting, and eventually his collection got to the point where he wanted to start the museum."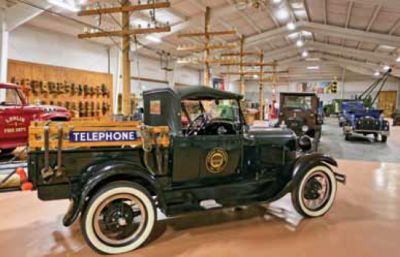 Since 1995, Smith's singular collection has grown to fill every room in the expansive warehouse, including, most recently, a hangar-like space filled with rare mid-20th century telephones and phone booths and beautiful black-and-white prints of switchboard operators hard at work.
It also contains a collection of material related to former President Jimmy Carter — whose Plains, Ga., home is just down the road — including two switchboards installed in the Carters' home to provide a secure line to the White House from Georgia.
Ledford relishes pointing out the fine details of the extraordinary collection while leading museum tours, as well as noting the revolutionary changes that telecommunication brought to rural America at the turn of the 20th century.
"It was like the Internet," Ledford explains. "Once it got started, it just exploded. When the telephone first came to this area, most folks were still on horses and riding in wagons, and suddenly they could communicate all over the country."
Matt Miller is a Georgia writer.
WANT TO SEE MORE?
See more of what the Georgia Rural Telephone Museum has to offer here.