On a 5,000 square-foot patch in Adams, Tenn., Nick Pappas grows hot peppers. He also has a few sweet varieties along with some tomatoes and squash, but 80 percent of his crop consists of the really hot stuff — peppers with sweat-inducing names such as ghost, cayenne, habanero, and scorpion.
A few years ago, Pappas began turning those peppers into his own pizza oil after a trip to the south of France with his wife, Michelle. She was from Cologne and they went every few years to visit family after they married in 2000.
"I bought a pizza at the local pizzeria one time and in the box were these little packs of pizza oil," Pappas says. Since that trip he took to growing his peppers and creating his own oil.
"We would make our own pizzas and really enjoyed it," he says.
But when Michelle was diagnosed with pancreatic cancer in 2009 and passed away in 2010, Pappas was at a loss. So he turned to his pepper patch to create commemorative bottles of their special pizza oil to gift to her family and friends.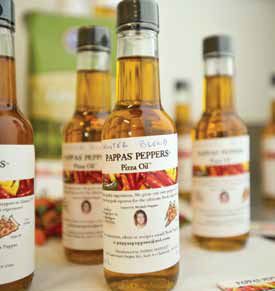 "I ordered the bottles and made some labels and after that, I wondered how to make it into a real product," Pappas says. "I had no idea what to do."
Someone told him about a local commercial kitchen that could help him, and when he called he got in touch with Karla Keane, the horticulture extension agent with Tennessee State University. From then on, she and her colleague Martha Pile have helped him turn a loving gesture for his late wife into a viable business, Pappas' Peppers Pizza Oil.
Kean and Pile run a program called The Gathering, a small food-based business incubator that has given help to hundreds looking to give legs to a start-up. With the assistance of grants, Pile is able to answer questions about insurance and regulations, while Kean directs agri-business food producers to the right classes to get educated on food safety.
"All the rules and regulations can be very intimidating," Kean says. "We can explain it in a much more straightforward way."
They also offer up a licensed commercial kitchen for people to use to produce their products, test out new recipes, or even just see if mass production is right for them.
The kitchen is in an empty school building that was gifted to them in 1999 when their extension office in downtown Clarksville, Tenn., was destroyed by a tornado.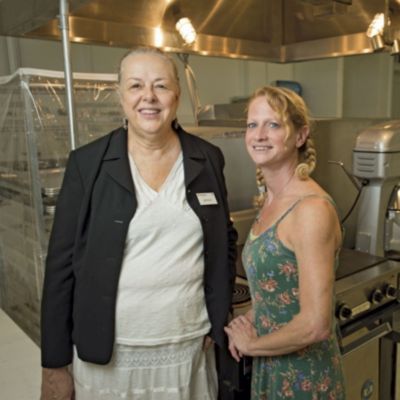 "We are kind of known as the first stop for food business," Pile says. "Come out and practice, then decide what you want. We will work with you right until the date you are making the product for resale."
A batch of Pappas' peppers yields 45 bottles, and when he uses the kitchen he doubles that. Customers can email him to order a bottle, and he also carries them at his local farmers' market, where customers can sample the spicy condiment.
He doesn't sell mass amounts of his product, but without the support of The Gathering, he says he probably would have forgotten all about making the oil, relegating it to occasional Christmas gift status.
"The kitchen made it a reality," he says. "These are awesome programs helping small businesses build a Tennessee tax base. These programs need to be maintained and it needs to get bigger."
"I think it is great not just for small business, but for the education of people to learn how to make food products properly," Pappas says. "I had a real rough time after (my) wife died. And these people here and this program served as a source of resurrection."
Hollie Deese is a Tennessee writer.