When Cliff Ricketts tells you that he can make a car run on water, he's not just blowing steam.
Ricketts, a dairyman's son who is now an agriculture professor, is indeed doing what he says he can do — and in a very big way.
Last March, Ricketts and a team of students from Middle Tennessee State University in Murfreesboro, Tenn., where he's taught since 1976, drove from the Atlantic to the Pacific, consuming only 2.15 gallons of gasoline among the three vehicles that were used to span the country. Powering them were ethanol fuel made from corn, electricity from solar panels and high-tech batteries, and his favorite alternative energy, hydrogen fuel, formed by removing the "H" from H2O.
"My passion was always to run engines off water," Ricketts says. "I don't know what caused that, or why. I just wanted to do it."
An advertisement for a hydrogen-powered dental torch in a magazine led him to consider splitting the molecules of water.
"I said, 'well, if by gosh a dentist can do braces with hydrogen, I can run an engine off of hydrogen,'" he remembers thinking.
Ricketts smiles at the memory. He was a young, untenured assistant professor in the vocational agriculture department, asking the administration to buy him a $1,600 dentist's device that he could tear apart to see how it worked.
Ricketts' pitch must have been a home run, because he got the money.
"So we got down to the guts of it and it was basically a high school chemistry electrolysis unit that had the cathode and anode and so forth and so on," he says. Electrolysis is the process that separates the hydrogen and oxygen in water.
On Oct. 14, 1978, Ricketts was ready to turn water into auto fuel. But the system didn't work. Something was amiss.
"I said, 'maybe we're not getting enough hydrogen,' so using our high-tech research funds we got a balloon, two pieces of plywood, and some duct tape," he recalls. "That's what every farmer has to do."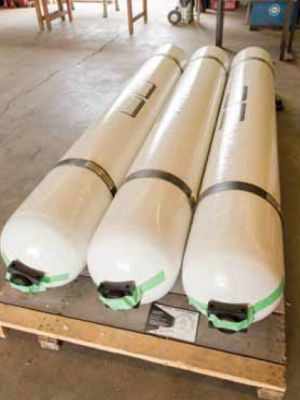 Ricketts and his student helper used duct tape to connect the matching pieces of plywood on one end. "We made an instrument to squeeze that hydrogen into the engine and, guess what, it ran for eight seconds," he says.
The next day they fashioned a bigger "squeeze" box, used a bigger balloon, and the engine ran for two minutes.
An experiment on the volatility of hydrogen, when it mixes with oxygen, gave him pause, however. He ignited a small mixture of the two gases and "it shook the building. I said, 'whoa. That's why they had problems with the Hindenburg.'"
So, in the name of safety, he and his students set out to find a way to produce, package, and consume hydrogen in a manner that wouldn't destroy the vocational agriculture building on campus.
An electrolysis unit big enough to produce the amount of hydrogen needed for his experiments was purchased; then came the tinkering with a variety of internal combustion engines so they could run on hydrogen.
"A lot of people think I'm a mechanical genius, but I'm not. I'm an educator," Ricketts says.
"Basically, I know the concept I want. If I believe it'll work then I assign one of my gifted mechanical students to it and tell 'em what I want and just get out of their way. I become their coach," he says.
Their first project was a tractor, followed by other engines.
In 1991, when Ricketts was invited to enter a vehicle in a hydrogen-powered speed test at the Bonneville Salt Flats, MTSU 's modified truck reached 108 mph, setting a record that stood for many years.
Ricketts plans to drive another fule-alternative car across the country next year; that vehicle again will be sponsored by Tractor Supply.
"My goal next year — and if I do this, I think I've made my contribution to mankind — I think if the American public saw (that) a professor at MTSU went coast to coast on sun and water, people would say, 'well, it can be done, let's just make it work.'"
Environmental sustainability is important to Tractor Supply, and we applaud others who feel the same way. That's why we're regularly featuring some of our customers and friends who are good stewards of the land. For more information on our Stewardship Program, click on "Environmental Sustainability" at the bottom of our TractorSupply.com home page.
Indeed, that's his hope: millions of cars powered by hydrogen and solar energy.
Alternative fuels have been part and parcel of Ricketts' academic career. It's what he's known for. That's fine enough of a career for him, says the professor, who plans to retire in two years.
Not that retirement means an end to his "thinking and tinkering."
He'll continue to promote hydrogen as a fuel, Ricketts says. He's also a consultant on a green algae biofuels project that could provide farmers with an alternative to high-priced diesel.
Running a tractor on algae?
Ricketts simply nods his head, not surprised at all.
Longtime writer S.L. Alligood also teaches at MTSU, where he is a journalism professor.